Marijuana infused chicken breast recipe
---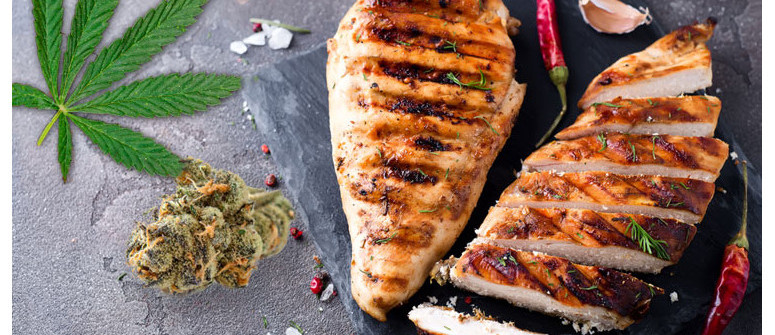 Cooking with cannabis can really spice up your dinner party with friends. Check out our recipe for marijuana infused chicken breast recipe! Hell yeah!
Cooking with cannabis is a thing that any weed-lover should try at least once. And if you are not the person who likes the usual pot brownies and marijuana infused gummy bears, maybe a hearty meal with a little kick is the way to go.
If you learn how to make cannabis butter, you can basically cook a thousand different things that will have you enjoying your food with an extra kick. How about cannabis burgers? Or a nice portion of canna pancakes on your Sunday morning?
Well, to keep things interesting, we will teach you how to make a meal that is made with chicken. And no, we didn't have to get any chickens high for this recipe.
N.B. The following recipe is with an estimated amount of marijuana. Remember that edibles can hit harder then you expect, so feel free to judge the amount according to your own experience. It is strongly advised to first learn how to calculate the strength of edibles.
MARIJUANA CHICKEN BREAST
Eating too much red meat is not exactly good for your health, so if you like meat and want to go for a healthier option, you can make use of some chicken breast. This easy recipe that is not only tasty, but leaves quite a strong kick, as well.
Ingredients:
4 tbsp. cannabutter
4 boneless and skinless chicken breasts
¼ cup of dry white wine or chicken broth
½ cup of heavy cream
¼ tspn. of pepper
¼ tspn. of salt
2 tbsp. of Dijon mustard
1 tbsp. of dried tarragon
Preparation:
The first step is to lay the chicken breasts down on some tin foil and season them with the salt and pepper. Then using a large skillet, heat the cannabis butter over medium heat. As the butter melts and simmers, and in the seasoned chicken breast and sauté for around 11 minutes until it is fully cooked on both sides.
The next step is to take the wine or broth, pour it into a hot skillet, and stir until half of the contents are left from the cooking. As the liquid simmers, add the cream, mustard, and tarragon and mix them all together using a whisk for two minutes, or until the sauce thickens.
This sauce should then be drizzled over your meat to add in the flavor. Once added, you can now indulge in this (sort of) healthy meal.
---