5 cannabis strains to go with 5 olympic sports
---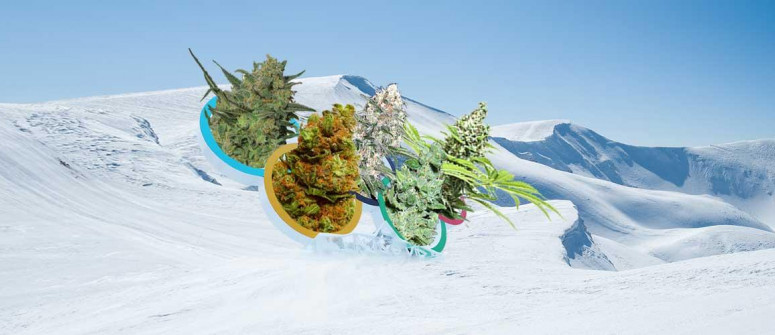 Winter Olympic games are ready to be complemented with that superb weed. 5 Olympic games get perfectly matched with the suitable strain.
The 2018 Winter Olympics are here, taking place in Pyeongchang, South Korea. The competition is fierce, and everyone's excited to see their favorite athletes doing cool stuff in the freezing cold. Every Olympic sport can be spiced up with a perfectly suited cannabis strain. Getting high while observing athletes breaking the records and limitations of human capabilities is definitely a breathtaking occurrence. Let's rip those bowls, and align the perfect cannabis strain with the following Olympic sports.
BOBSLEIGH - JAMAICAN DREAM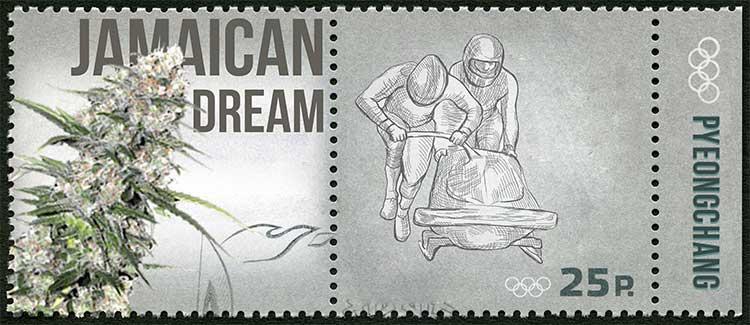 Get ready for the Bobsleigh, a notorious sport included in the Winter Olympics, where athletes ride down the icy track in a bobsled. It's a high-speed sport, filled with excitement, bumpy turns, and team spirit.
In 1988, an epic occurrence took place in the Bobsleigh world, placing the sport in the mainstream media. The first Jamaican Bobsleigh team was established, creating a very unlikely yet legendary moment in the history of Winter Olympics. The film "Cool Runnings" was created to tribute the Jamaican athletes who poured their agility, speed, and sportsmanship into the Bobsleigh, and became pioneers in their own right.
For the upcoming Bobsleigh competition, make sure to get hold of the Jamaican Dream, a classic sativa variety that will inspire you to pursue your hopes and dreams, no matter the obstacles. The sweet tropical flavors are reminiscent of the Caribbean, where the Bobsleigh team spends their days persevering with blood, sweat, and weed. Jamaican Dream deserves a gold medal for the sheer weight of its yields. Make sure to cheer for the Jamaican Bobsleigh team and inspire yourself with that Jamaican Dream.
Read more about Jamaican Dream.
SHORT TRACK SPEED SKATING - EARLY SKUNK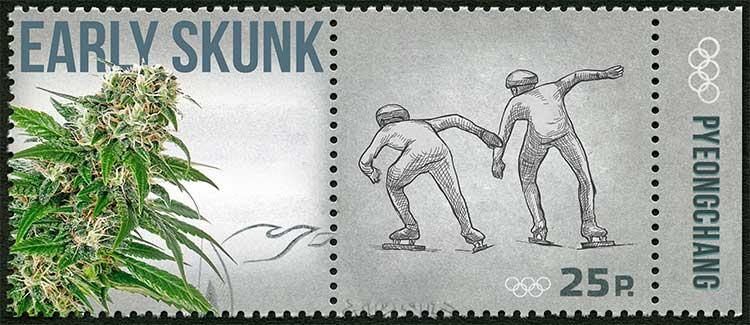 Speed and fierceness is all that matters. Short track speed skating generates a lot of excitement amongst the audience. It's the kind of winter Olympic game where someone's dad takes off his T-shirt and fights someone else's shirtless father.
Early Skunk is a perfect strain for a sport where arriving early at the finish line is everything. This strain derives from Skunk #1 and Early Pearl, which are renown varieties in their own right. This cerebral yet relaxing strain cools down those nerves, generating harmony amongst the audience while energizing the positive cheering momentum for one's favorite short-track-speed-skater-athlete.
Does that title fit on their business cards, we don't know. However, what we do know is that for us cannabis enthusiasts, speed is not as important as quality. We like to take our time, and enjoy the process of life. But sometimes, just sometimes, rolling that joint in the speed of light is all that matters.
The flavors and aromas of this strain are quite flowery, and growers receive some serious yields. Early Skunk received its name for its fast flowering time, which delivers mature buds as rapidly, as Charles Hamelin, a gold medalist in the 1500 meter run in Sochi 2014, finished the race.
Read more about Early Skunk.
FREESTYLE SKIING - LSD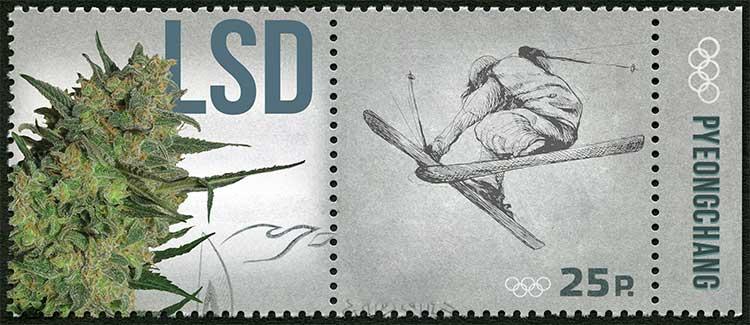 Freestyle Skiing comprises of athletes that defy the laws of gravity. When they glide into the air, their movements look like something that shouldn't be possible on the physical plane. Nevertheless, we're grateful that this trippy sport is included in the Winter Olympics. We have the Mogul skiing, Ski ballet, Skicross, Half-pipe skiing, and other branches of this amazing sport.
After a meticulous selection process, we decided that a perfectly trippy sport should go together with a perfectly trippy strain. For that, we chose LSD, the ultimate cannabis strain to accompany this outlandish sport. This 70% indica dominant variety is just as psychedelic as it sounds. It allows us to understand the true meaning of the story behind all the moves and tricks. LSD derives from Original Skunk and Afghani genetics. It's a very potent strain, with musky and nutty flavors emanating from those delicious buds.
Remember to smoke in trace amounts during the Freestyle Skiing competition, you don't want to think that the athletes are flying aliens - unless you do, then just go for it.
Read more about LSD.
CURLING - G-BOMB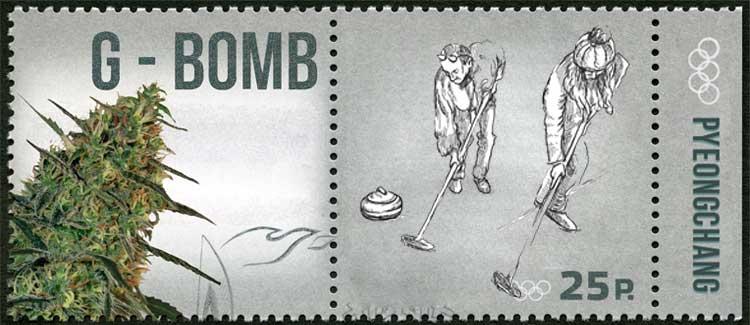 Curling has the reputation for being the most unexciting Olympic sport in the history of mankind. Curling is played on an ice-field, called the "curling sheet". The sport is based on an athlete sliding on his specially designed shoes, pushing a heavy stone along the curling sheet. Once the stone is released, two professional cleaners broom the ice to reduce friction between the ice and the stone, which allows the stone to travel further. The aim is for the stone to come as close to the "house" as possible, which is a fancy curling term for bullseye.
When you sit in the audience during this boring game, smoke that G-bomb to go to sleep. This strain is a 90-100% indica dominant couch-locking powerhouse. Curling Olympians are not used to upbeat and highly energetic cheers, it's more of a strategic game, requiring silence from the audience. With this strain, you'll be quiet, completely passed out, and chill as the curling sheet. To really get those narcotic effects from this strain, it should be left in the flowering stage for an extra week or so, until some of the trichomes turn amber. Don't forget to bring your G-Bomb sleeping medication for the next Curling session.
Read more about G-Bomb.
BIATHLON - AK-47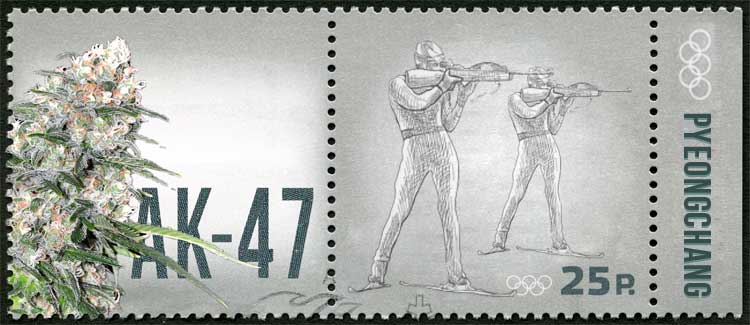 The Biathlon is a very exciting sport as there's loads of action involved. There's skiing, shooting, then skiing, and more shooting later on. During the Viking days in Scandinavia, according to Norse mythology, Ullr was considered the deity of snowshoes and hunting. This belief evolved into a sport, which in turn evolved into military exercise to train the Norwegian army. In Norwegian, this sport is called "skiskyting", which literally translates to "ski shooting". This is exactly what it should be called, because it sounds cooler than Biathlon.
To earn that gold medal at the Olympics, the AK-47 strain is necessary to provide the athlete with the weapon and ammo to push through the obstacles ahead. This very popular cannabis strain is a sativa dominant beast, that derives from Afghani and Thai genetics. The citrus, pine, and Skunk flavors transport you to the Scandinavian woods, watching the Biathlon unfold while drinking a lemonade to cool the nerves.
AK-47 induces happy, focused, and sociable effects, perfect for mingling with other Biathlon aficionados while the ski shooters do their job. AK-47 won many gold medals at prestigious Cannabis Cups, which shall hopefully translate into gold medals for your favorite Biathlon athlete. This strain is easy to grow, perfect for a sport that's so hard to attempt.
Read more about AK-47.
Get your rolling papers ready and let the games begin!
---