Review - heavy duty rig
---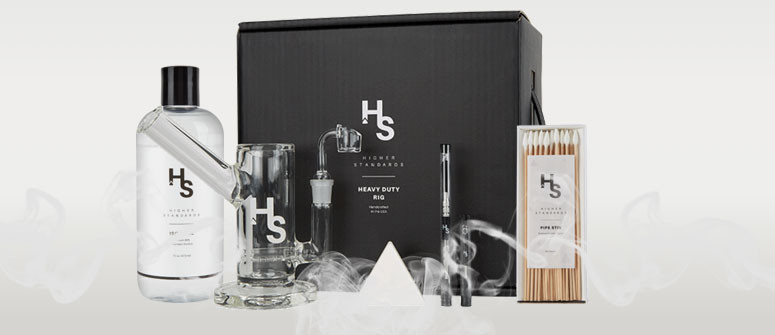 If you're looking for a compact glass dabbing rig, look no further. The Heavy Duty Rig has it all, and will get you high as never before!

If you're looking for a small dabbing rig with all the high-end features you demand, check out the Heavy Duty Rig by Higher Standards. It's definitely not over-engineered, but it'll get the job done without taking up a lot of space. Plus, it has a nice clean look that's simple to maintain.
WHAT'S IN THE BOX
The Heavy Duty Rig comes packed in a custom-designed storage box. The foam insert features fitted cutouts that hold each piece securely to protect the glass from damage. The designer thoughtfully included multiple finger pockets so you won't have to fight the packaging to remove each piece. It's the perfect way to store your oil rig when it's not in use.
When you unbox your rig, this is what you'll see:
1 Heavy Duty Rig with a 14mm female glass joint
1 Quartz banger
1 Large dab tool
1 Small dab tool
1 Four-compartment dab puck
Box dimensions = 9.80 x 10.45 x 4.25in (25 x 26.5 x 10.8cm)
Rig weight = 2.5lbs (1.13kg)
Rig height = 5in (12.7cm)
THE GOOD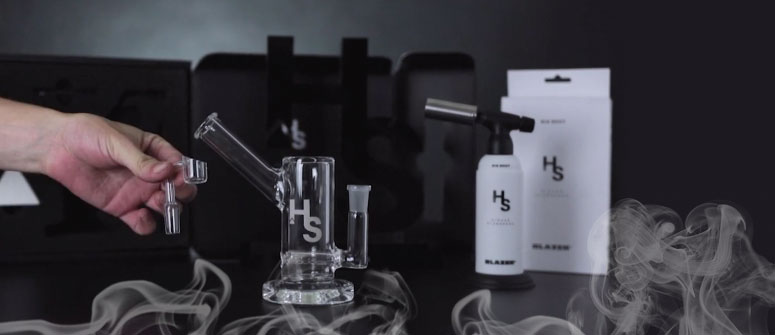 You wouldn't think a rig this small would have so many great features, but the Heavy Duty Rig ticks all the boxes for high-end glass. Let's take a look at each one.
1. SIMPLE BUT FUNCTIONAL DESIGN
Unlike more complicated glass, the Heavy Duty Rig doesn't look like you need a science degree to use it. It has exactly what it needs to produce forceful, water-cooled rips and nothing more.
Everything from the wide, stable base to the angled mouthpiece is designed to make this oil rig easy and comfortable to use. Even the banger is positioned with ergonomics in mind. From base to top, it stands less than 13cm tall, so it's easy to handle and not too bulky to travel with.
2. TOP-NOTCH CONSTRUCTION FOR A DURABLE RIG
This small oil rig is durable too. It's handcrafted in the US using extra-thick medical-grade borosilicate glass and quartz. That means it won't shatter or crack the first time it gets a little tap. As long as you're not slamming it on concrete, it should get you high AF for years.
3. FINE DIFFUSION IN THE STEM FOR COOL, MOIST RIPS
Higher Standards thought of everything! The stem has tiny slits built into the tip so that it splits the vapor stream into tiny bubbles as it enters the water chamber. As more of the vapor's surface area is "washed," it's cleaned, filtered, and cooled for smoother hits.
4. SEALED VAPOR PATH MINIMIZES DRAG FOR DIRECT LUNG HITS
The airpath was thoughtfully designed to be airtight, with tight passageways that direct vapor from the stem to the mouthpiece using a short, efficient path. Even the mouthpiece is flared for a superior draw and naturally deep inhales. You'll experience minimal drag for maximum potency.
5. QUARTZ BANGER RETAINS HEAT LONGER, MINIMIZES COMBUSTION
Although this banger is made from extra-thick 100% quartz (able to withstand temps well above 1000°F/538°C without damage), this one is designed to retain the nice, low heat you need to vaporize dabs for an extended period of time. By reducing the chance that you'll scorch your extract, the Heavy Duty Rig does its part to make sure you get the most from your waxes and oils, all while protecting the flavor.
If you decide you'd like to change out this banger for a different one, you can. This rig has a standard 14mm female joint.
THE BAD
This mini rig does have a few downsides, but they're no different from what you'd find with any glass rig you need to heat with a torch.
Compared to modern e-nails, heating a banger with a torch can be inconvenient, and it takes most people a few tries to get it just right. As with anything that creates an actual flame, using a torch can be dangerous if you're not careful or you're impaired. You obviously can't push a button to set it to temp then walk away until it heats up. It requires constant attention during use.
THE BOTTOM LINE
If you're looking for a sturdy piece of glass with a small footprint that's durable, easy to use, and capable of producing smooth, potent vapor, you'll be more than satisfied with the Heavy Duty Rig by Higher Standards.
The build quality is exceptional and you can't go wrong with the materials used to handcraft each individual rig. It doesn't offer the same level of convenience and safety as a digital equivalent, but if that's what you were after, you wouldn't be on this page.
---