How to make your own cannabis hard candy
---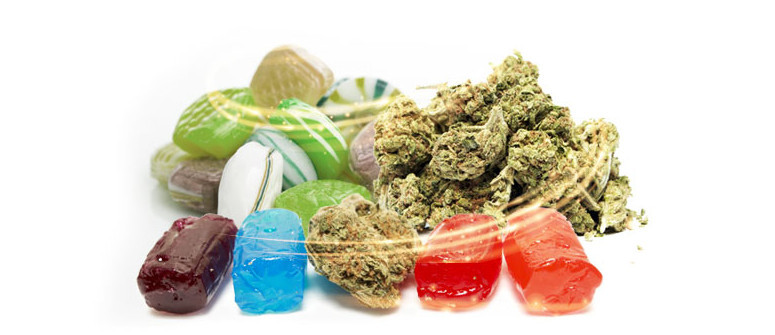 Edibles are a great way to medicate, and come in all shapes and varieties. But one form of edibles is still king to many; cannabis hard candy. Find out how to make it yourself with our easy recipe.
Cannabis hard candy is not only delicious, but holds many benefits for medical users. The amount of THC/CBD in each candy can be measured with precision, and they're easy to eat, especially for people with throat or mouth issues. This recipe will walk you through how to create a whole tray of weed candy for you and your loved ones!
When deciding which edibles to make, you'll face a wide range of possible candidates—cannamilk with cereal, cannabis burgers, cannabis popsicles, cannabis soup, and, of course, the perennial weed brownies.
But despite this dizzying landscape of choices, cannabis hard candy stands out. It's popular and holds a mystique that is absent from, say, mashed potatoes with weed. Hard candy has a few special features that make it compelling—it's simple to consume, easy to carry around, and as a cherry on this cake of benefits, cannabis hard candy is downright delicious!
The recipe takes about two hours and requires prepared cannabutter. It's not rocket science, but does require active attention and fast hands. You have to be on your toes for this one, but the final product is well worth it!
INGREDIENTS
1 cup cannabutter
2 cups white sugar
¾ cup water
¼ cup honey
½ cup corn or rice syrup
½ tsp. sea salt
1 tsp. vanilla or almond extract
2 tbsp. regular butter or coconut oil
HARDWARE
Candy thermometer
Candy molds
Saucepan with lid (err on the side of deep edges for this recipe)
Aluminum foil or wax paper
Lollipop sticks
INSTRUCTIONS
Heat your honey and cannabutter to the point that they're in liquid, pourable state. Set aside.
Use the regular butter or coconut oil to coat your candy molds.
Heat sugar, water, and corn/rice syrup in a saucepan. Cover without stirring and bring to a boil.
Once the mixture is boiling, use a candy thermometer to check heat until the temperature reaches 132°C, the "soft-crack" stage. This should take about 15 minutes past the point of boiling.
Stir in cannabutter, salt, and honey and continue heating until the mixture reaches 148°C. This is the "hard-crack" stage, and now the mixture should bubble to the edges of the pot.
Turn off the heat, wait for the bubbles to subside, and stir in the vanilla or almond extract.
Pour the mixture into the molds. If you're using lollipop sticks, place one end in the mold with the candy.
Allow the candy to cool for 30–60 minutes. Press the candy out of the molds afterwards.
Wrap the candy in aluminum foil or wax paper and refrigerate.
N.B. Remember that edibles can hit harder then you expect, so feel free to judge the amount of cannabis you use to make the butter according to your own experience. 
Calculating dosage with edibles is important, but not that difficult. If the molds are all the same size, you'll be able to measure the amount of THC in each candy with a high degree of precision—just take the amount that went into that initial cup of cannabutter and divide it by the number of molds. This is an especially useful feature for anyone looking to medicate in a precise and controlled way.
Also, as is the case with all edibles, keeping your stash out of the wandering hands of kids is important. Especially since you are making candy shaped edibles, you might want to take extra caution in storing your medicine.
---