Review - Crafty vaporizer
---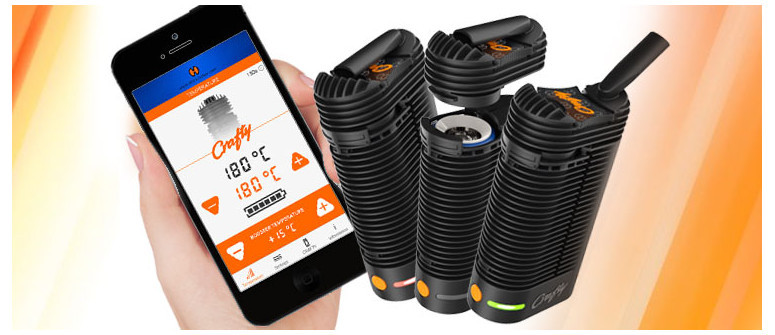 Meet the Crafty, one of Storz & Bickel's top-notch portable vaporizer devices. Is it for you? Check out our review and find out.

Producer: Storz & Bickel
Country: Germany
Warranty: 2 years
Vaporizer company Storz & Bickel produces top-of-the-line devices for vaping your favorite herb. One such vape is the Crafty, a portable unit that utilizes both conduction and convection heating.
The word "portable" is widely used in the industry, though perhaps too widely. Vapers in search of a true portable vaporizer are looking for three things: strength, convenience, and ease of use. Is the Crafty really a vape that's best suited for on-the-go consumption based on these three musts?
The Crafty costs just under 300 bucks, so it's not a vaporizer you want to drop money on until you know what it's all about. For those who want a vape that's fit for action and won't hold them back, the Crafty vaporizer was made to keep up with you and isn't at all complicated. It does come from the brand famous for their easy-to-use vapes, after all.
HOW DOES THE CRAFTY VAPORIZER WORK?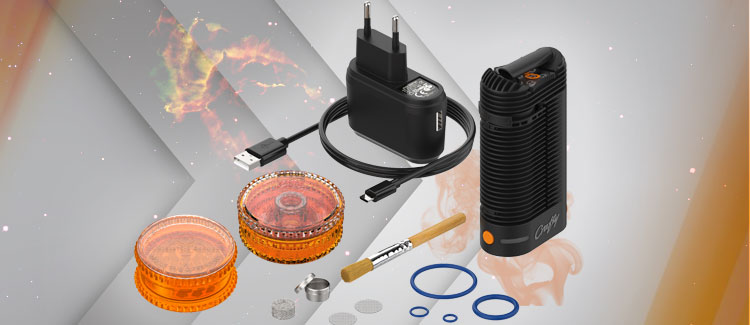 The Crafty is one of the most simplistic vapes on the market. It has no screen or plus/minus buttons, just a single button that controls everything.
After packing the oven, which can be accessed by merely twisting off the top, you can power-on the Crafty by holding the button down until you see the flashing red LEDs. Once it's ready for action, the lights will turn green. To active Boost Mode, you double-press the button to shoot the temperature up from 185 to 195 degrees Celsius. After a minute, the device shuts off automatically, unless you hit the button once more to extend the session for 60 more seconds.
The Crafty also has a Bluetooth app that allows you to customize your temperature as low as 40 or as high as 210 degrees Celsius, right from your cell phone. You can adjust the vibration and light levels using the app as well. Other than that, that's as fancy as this vape gets.
Here's what you get inside the box along with your Crafty vaporizer:
Power Adapter & USB Cable
Instructions
Filling Aid
Herb Grinder
Dosing Capsule
Cleaning Brush
Spare Screens
Spare Seal Rings
Liquid Pad
THE GOOD
The best thing about the Crafty is that it's a genuine portable vape. It's easy to use, features a durable, pocket-sized body, and is built to last. Speaking of which, the Crafty's battery life (lithium-ion) is exceptional. On a full charge, the Crafty is set to vape for up to 90 minutes.
You can vape while the Crafty charges too. The device will even preserve your battery life with its 60-second automatic shutoff feature, which again, can be reset with the press of a button.
Another attribute that makes the Crafty a high-quality vape is its smooth, chill vapor. The device features an integrated cooling unit in its mouthpiece to make vapor less harsh and more flavorful.
THE BAD
There aren't a lot of bad things to say about the Crafty, except for its price. It can cost upwards of $279, which doesn't appeal to every budget. However, this is a unit that practically lasts a lifetime, so bear that in mind with the price. Would you rather pay a lot of money once for a vape that will keep up, or would you prefer to keep spending money on cheap vapes that don't perform half as well?
THE BOTTOM LINE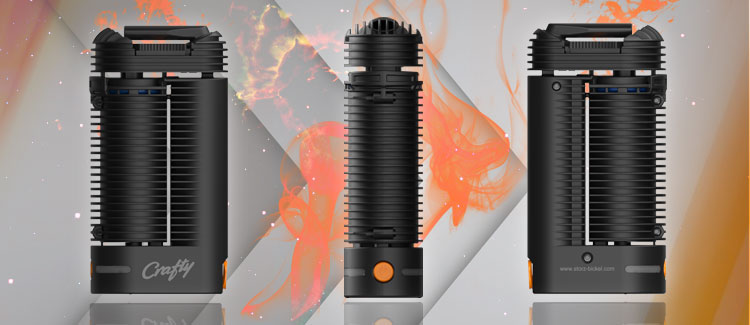 Thanks to its ease of use, the Crafty is recommended for anybody looking for a reliable device for vaping on-the-move. If you're looking for a fancy vape with a lot of customization, then the Crafty isn't for you.
The Crafty makes for the perfect vape while tending to housework, or for when you have plans to do anything the heart desires, from mountain biking to a quick walk in the park. It's not a unit that will break easily, and if by chance it does get damaged, then it comes backed by a 2-year warranty, so you're covered.
---