Review - mighty vaporizer
---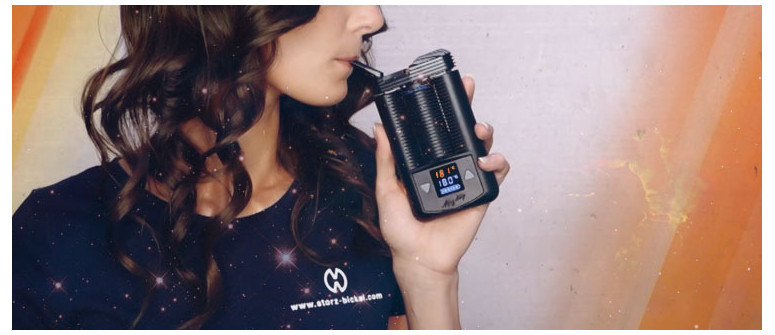 It isn't cheap, but there's a lot to love about this nifty vape, and after discovering its ends and outs, you might find that the Mighty Vaporizer suits you perfectly, or maybe even a friend or relative.

Storz & Bickel is a vaporizer company that's famous for the Volcano Vaporizer, a quality desktop unit that delivers bags full of delicious vapor. Aside from that monster, Storz & Bickel has vapes that are more compact, and fit for on-the-go use. One of them being the high-performing, pocket-size Mighty Vaporizer.
The Mighty Vaporizer is among the immense variety of portable vaporizers on the market today. This pocket-size vape features a subtle, durable design, is compatible with dry flower and liquids, and is said to be one of the most powerful vaporizers available.
With a steep price tag of $349, you can't help but wonder if it's worth dropping that much money. There's a lot to love about this nifty vape, and after discovering its ends and outs, you might find that the Mighty Vaporizer suits you perfectly, or maybe even a friend or relative.
HOW DOES THE MIGHTY VAPORIZER WORK?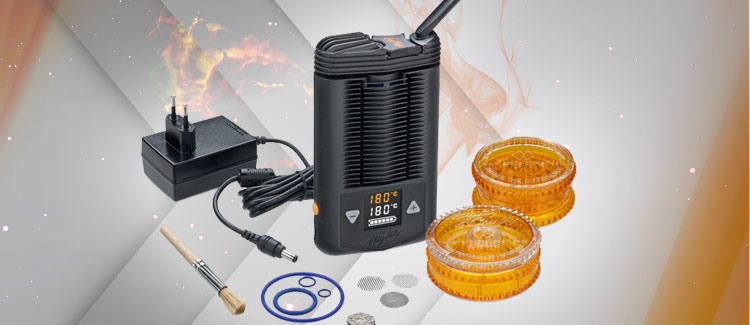 The Mighty Vaporizer comes inside a semi-petite box along with its many tools and accessories. The company even throws in a grinder. Everything you possibly need to have a stellar vaping experience is included with the unit. Here's what's inside the box:
1 pc. Mighty Vaporizer
1 pc. Power Adapter 110 Volt
1 Set of Spare Seal Rings
3 pc. Spare Screen
1 pc. Drip Pad
1 pc. Filling Aid
1 pc. Herb Mill
1 pc. Dosing Capsule
1 pc. Cleaning Brush
1 pc. Instructions For Use
Despite the overwhelming amount of extras the Mighty Vaporizer has, controlling this vape is simple, thanks to its prominent LED display, as well as its plus and minus buttons. To power up the device, all you do is hold down the power button for around two to three seconds, and the LED lights will then flash. Almost immediately, you may begin adjusting your settings according to what kind of vaping experience you like best using the plus and minus buttons.
Before all that, you, of course, need to load your herb. If you're vaping with dry flower, you'll want to give it a good grind. That way, it heats nicely and even and tastes better to boot. To load your herb, twist off the top of the Mighty Vaporizer. You'll notice the chamber at first glance, which is where you'll drop in your bud. Once it's packed, replace the vape's top, and you're all set. When the Mighty Vaporizer has reached the desired temperature setting, it'll let off a slight double vibration to signal that it's ready to go and you're good to inhale.
Using the liquids pads and dosing capsules for your favorite concentrates is just as easy. Just place a liquid pad inside the dosing capsule, fill it up, drop it in the chamber, and replace the vape's lid. That's all there is to it.
THE GOOD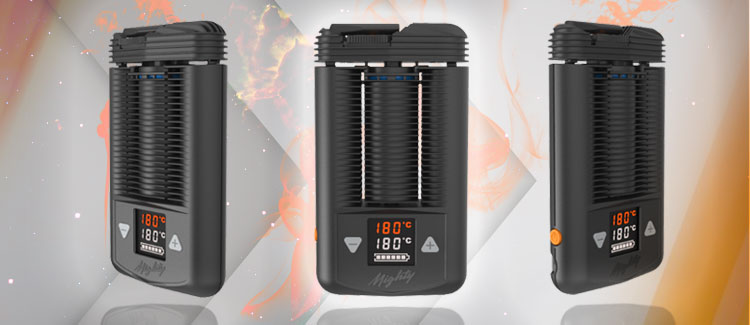 Again, there's a lot to love about the Mighty Vaporizer. For one, it features heavy quality and has an eye for detail. Its design isn't anything fancy but is still impressive and unique at the same time.
The Mighty Vaporizer is also extremely powerful. It has two high-performing lithium batteries to produce mighty amounts of vapor. No pun intended. Even without batteries, the vape works phenomenally plugged into an outlet, so you never have to stress about drained batteries interrupting your sessions.
When it comes to taste, the Mighty Vaporizer delivers delicious flavors. You can really taste the weed with every hit, without the plastic/burnt flavor that you get from some vapes.
Something else to love about the Mighty Vaporizer is its adjustable temperature settings. The vape offers a 104°F – 410°F (40°C – 210°C) range, allowing even the pickiest vaper to get the setting they want for the experience they desire.
The Mighty Vaporizer's LED screen is a plus, especially for those with bad vision. You don't have to squint your eyes to see your current temp setting as the numbers are bold and clearly visible.
Just at first glance, the Mighty Vaporizer is an impressive sight. It looks top-notch and cool through and through.
Cleaning the Mighty Vaporizer is a cinch, which is a perk considering it's recommended that you wipe it down at least once a week. All of its parts are easy to remove, and again, a cleaning brush is included, which is handy for getting around the nooks and crannies.
Although lots of accessories isn't a bonus for some, many consumers will enjoy trying them out. Not to mention, it makes its high price tag worth it as you get everything you possibly need to vape, including a grinder.
Finally, the Mighty Vaporizer is one of the easiest vapes to use on the market. Novices will have no trouble learning its ropes, and experts will love not having a ton of fancy features slow them down from partaking in an excellent vape sesh.
THE BAD
Truthfully, there aren't a lot of bad things to say about the Mighty Vaporizer, except its bulky size makes it less of a true portable vape, and it's expensive. Moreover, it does take approximately two minutes to heat up. That's pretty slow for a portable vape. Other than those three things, we have no complaints.
THE BOTTOM LINE
Overall, we give the Mighty Vaporizer a 4 out of 5. It is costly, but all in all, you get every bit of your money's worth. You get all of the accessories, unbeatable flavor, ease of use, and more. It might not be the best vape to carry in the pocket of your skinny jeans, or the best for consumers on a budget, but for everyone else, we say go for it. You won't be disappointed.
---