Review - firefly 2 vaporizer
---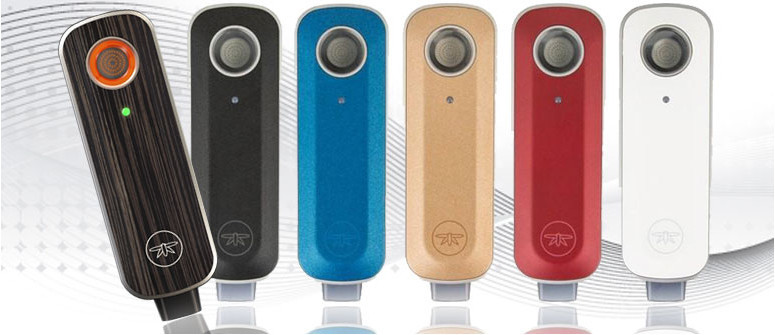 The new and improved Firefly 2 makes a lot of promises regarding its quality. So, does this portable vape live up to its hype?

Firefly Vapor gained quite a reputation following the release of their popular Firefly vaporizer. Now, they've revamped a smaller and lighter version of the original vape. This is the Firefly 2, a lightweight, portable convection vaporizer designed to be used with both dry herbs and concentrates.
This new vaporizer is nothing like the simpler (and cheaper) vape pens you'll find elsewhere. And it doesn't try to be. The Firefly 2 literally promises to provide "the best vaping experience in the world." And truth be told, it comes pretty close.
HOW THE FIREFLY 2 WORKS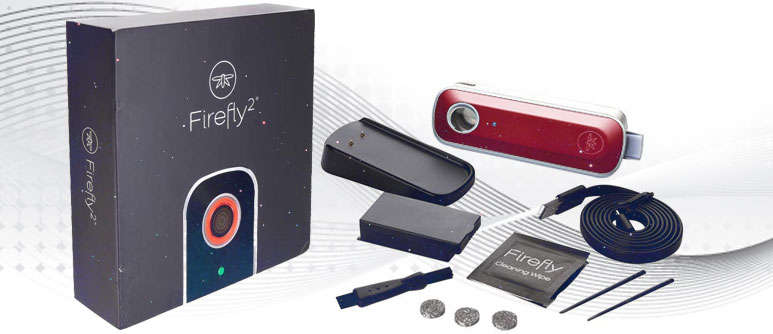 The Firefly 2 comes in a set together with 2 rechargeable batteries, a charging dock, a USB cable, a cleaning kit, and 3 concentrate pads. It's also available in 6 different colours: Zebra Wood, Oak, Black, White, Blue, and Jet Black.
The quality of the product is evident just in the quality of its packaging. If you didn't know any better, you could mistake the Firefly 2 for the newest Apple gadget. But don't worry; the money you spend on this doesn't just go towards great packaging.
The technology inside the Firefly 2 is top-notch. It features a convection heating system, meaning you can rest assured your herbs/concentrates are heated evenly and to the right temperature. This ensures you extract the most out of whatever it is you're vaping.
The heating element is activated via 2 touch-sensitive buttons on the side. Once activated, the Firefly 2 is ready to go in just 3 seconds, at which point you can start enjoying rich, yet smooth hits of vapor.
You'll notice that the Firefly 2 has no buttons except the 2 responsive buttons used to activate the heating element. The rest is all done from a mobile app, which needs to be paired with your vaporizer before you start using it.
THE GOOD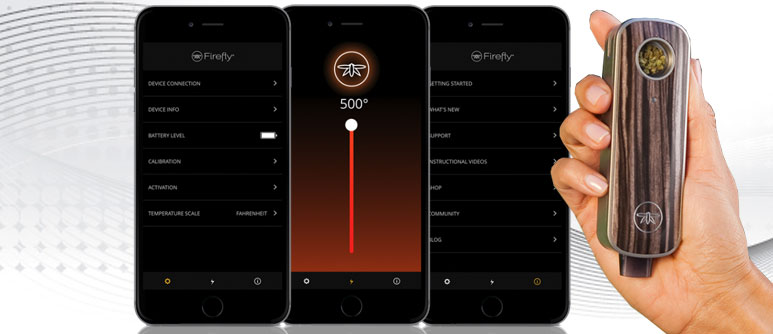 The Firefly 2 is obviously a very professional piece of equipment. Not only does it feature a great design, but it also boasts a level of quality that anyone serious about vaping will be looking for. It is a very compact portable vape, making it the ideal accessory for those looking to vape on the go without sacrificing quality. It's also extremely lightweight, meaning you can easily throw it in a bag or purse without it weighing you down.
Taking only 3 seconds to heat up to 400°F (204°C), the Firefly 2 makes portable vaping really simple and enjoyable. Charging time is only about 45 minutes, meaning you'll be ready to vape in no time.
Almost all of the parts that come with the Firefly 2 can be bought separately, which is another great bonus. Portable vape batteries will eventually degrade, and most vape enthusiasts will admit they've lost at least 1 (if not more) mouthpieces, charging cables, or cleaning kits in their time; so it's good to know you'll find everything you need online.
Finally, the hits you get from the Firefly 2 are exceptional. While not very thick, you'll notice that they are rich and full of flavor. And, as with any high-grade vape, the hits from the Firefly 2 are extremely smooth.
THE BAD
Like most vapes out there, the Firefly 2 isn't without its cons.
Right off the bat, you'll notice that the heating chamber is quite small, holding only about 0.2g. This means the Firefly 2 is really only suited for smoke sessions of 1-2 people max (unless you want to be refilling every couple of minutes).
Another major downside to the Firefly 2 is its poor battery life. Due to a powerful 50W heater (which is what gives the device its ultra-fast heating time), you'll only get about 12-20 complete draws (the equivalent needed to clear roughly 2-3 bowls) off a full charge. Nonetheless, given the battery's fast charging time and the fact that the Firefly 2 comes with 2 batteries, this should never really be a huge issue.
Another downside to this vape is the lid. While it's made from magnesium alloy, borosilicate glass, and featuring a quartz window, the lid is quite light and easy to lose/break, especially if dropped or left lying around on the bottom of your bag.
Finally, many users also complain about the airflow of this device, saying it is a little restrictive. While the flow is fine for the odd toke here and there, you'll likely feel a little restricted when you're trying to kick back and enjoy a more relaxed session.
THE BOTTOM LINE: THE FIREFLY 2 IS ONE HELL OF A VAPE
Despite its small chamber and few other downsides, the Firefly 2 is one hell of a vaporizer. It's extremely lightweight and small, yet still offers high tech features that make for an enjoyable vaping experience no matter where you are.
While it is pricey, the Firefly 2 is worth it for any vape enthusiast looking for a top-shelf, reliable, and portable solution.
---