Review - magic flight launch box
---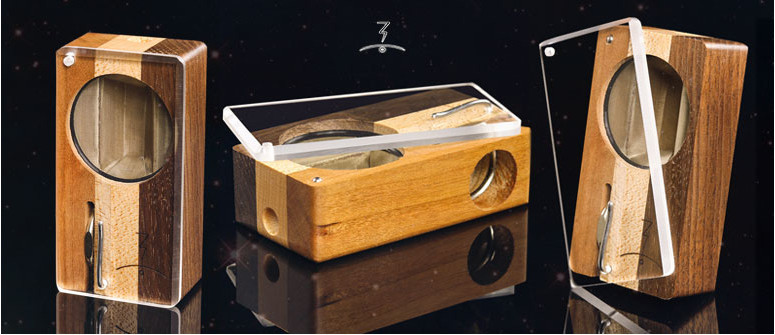 The Magic-Flight Launch Box is a solid portable vaporizer sold by a great company for an affordable price. Check out our review at CannaConnection!

Magic-Flight gained quite a reputation the last few years. Their products are brilliantly unique and they pay strict attention to every detail, even their eye-catching logo.
This curious icon has three or more different meanings depending on how you look at it including the initials of the company, a goddess/burning man figure and a symbolic representation of vapor.
If they can put that much effort into their branding, can you imagine what went into their signature vape, the Magic-Flight Launch Box? This deceptively simple portable device is a high-quality, American-made product with a cult-like following and an affordable starting price of just $119, but it gets the job done whether you go with their original maple version, upgrade to a more exotic wood or choose one of their specialty versions.
HOW THE MAGIC FLIGHT LAUNCH BOX WORKS
The Magic-Flight Launch Box comes as a kit with everything you need to get started except weed and a grinder. Everything is neatly contained in an attractive tin with Magic-Flight's logo and catch-phrase embossed on the surface. Inside you'll find:
Launch Box
2 Rechargeable Batteries
Battery Charger
Glass Draw Stem
Cleaning Brush
Flight Guide
To use it, grind your weed to a very fine consistency, slide the cover away from the top of your Launch Box, fill the trench inside the circular hole with herb, then replace the cover.
Slide a fully charged battery into the side of the unit, nipple end first, and hold it there until you see vapor. If the battery goes in correctly, the inside of the box will light up and vapor will start to form in 3-5 seconds.
Insert the glass draw stem in the end of the box, keep the box level, continue to hold the battery in, and slowly inhale. Once the vapor is gone, release the battery, shake the box to redistribute your weed and start over. When all your herb is an even brown color, it's time to empty and reload.
THE GOOD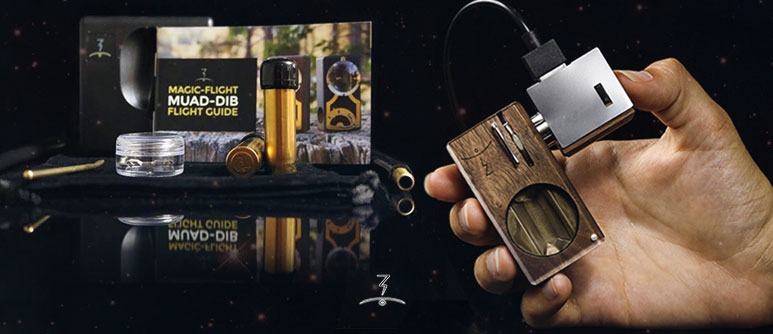 You can really tell that Magic-Flight cares about the products they sell. They obviously put a lot of thought into the Magic-Flight Launch Box and spared no attention to detail.
It has a solid, sturdy feel with no wiggly, fragile parts that make you almost afraid to use it. If you do have any problems, they have a very helpful customer service department and a lifetime functional warranty on all their products.
Of course, you're probably going to break the glass tube that comes with it, and the batteries will eventually wear out, but that's nothing to worry about. You can order just about any spare part you need from the Magic-Flight website along with a wide range of accessories, and they're all very affordable.
Once you've got the hang of it, the Magic-Flight Launch Box is simple to use, and we really liked its small size. You could easily slip it your pocket if you needed to or even conceal it inside your hand. The vapor quality is pretty good, too.
Cleaning is a breeze! The only thing that really needs to be maintained is the glass tube. A pipe cleaner and a little isopropyl alcohol will get the job done in a few minutes, or at $2.95 each, you could just as easily keep a few spares on hand.
The looks might not be everyone's cup of tea, but we really like the Launch Box's slightly retro, steam-punkish style. And, you can't beat the price. Where else can you pick up a reliable starter vape for around $119? Their most expensive version is just $189, and it can usually be found on sale.
THE BAD
We couldn't find too many problems with the Magic-Flight Launch Box, but we would add a locking mechanism to hold the batteries in and an on/off switch to make it even easier to use.
The Flight Guide tells you everything you need to know, but there is a learning curve with this vape. If you don't like to read instructions before you use a new product, you might get really frustrated with the Launch Box until you catch on.
Finally, this isn't a huge deal, but it might bother some people. This is a portable, hand-held vape, so most people will carry it around with them. All models come with a clear top that doesn't disguise the contents one bit. If anyone gets a good look, they'll know you're carrying weed.
THE BOTTOM LINE
Overall, we really like the Magic-Flight Launch Box and we wouldn't hesitate to give it a thumbs up. New vapers will get a nice, high-quality vape at an entry-level price that's not too hard to use, while more advanced users like that it's a more zen-like experience compared to standard push-button vapes.
Plus, we really like the friendly, helpful vibe at Magic-Flight. The fact that they make all their products by hand using local craftsman alone deserves our support - and yours!
---