Double-infused guacamole recipe
---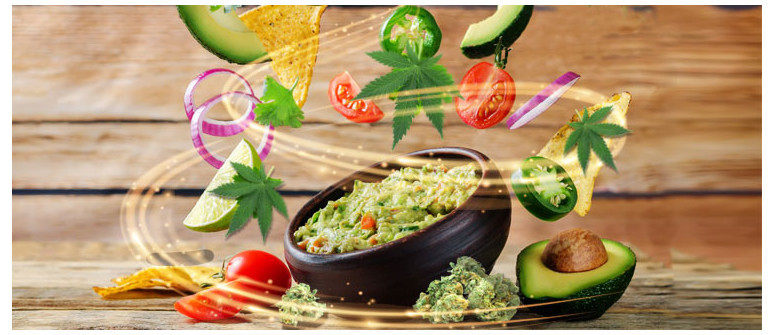 We all know that avocado is a fruit bursting with health-boosting properties. Why not supercharge this superfood by adding not one, but two helpings of cannabis! Read on to find out how.
Avocado is a superfood packed full of amino acids, protein, and a generous helping of fiber. Add another feather to avocado's cap by infusing it with cannabis to create double-infused guacamole! You will reap all the health benefits avocado has to offer, while also enjoying the buzz provided by our favorite herb.
We made this recipe with infused olive oil, but also added some fresh cannabis, which presents an excellent opportunity to make the most of a terpene-rich strain like Lemon Haze. The low baking temperature will retain the majority of terpenes and further enhance the taste of your guacamole.
If you decide to try this recipe at home, make sure you know how to dose edibles as consuming them can hit harder than smoking a joint or a bong. Also make sure that anybody you serve this dish to knows that your guacamole is infused with cannabis.
INGREDIENTS
3 tbsp cannabis-infused olive oil
4 avocados, peeled, pitted, and mashed
6 tbsp lime juice
1 red onion, finely diced
⅓ cup cilantro, finely chopped
4g ground cannabis
2 plum tomatoes, chopped
1 garlic clove, finely chopped
OPTIONAL
1 tsp chili flakes
1 tsp black pepper
1 tsp coarse salt
1 tsp paprika
HARDWARE
Baking tray
Parchment paper
Medium-sized mixing bowl
Cling film
PREPARATION
Start by spreading the ground weed evenly over a baking tray lined with parchment paper. Preheat the oven to 110°C/225°F. Place the baking tray with the ground cannabis in the oven for 45 minutes.
While your cannabis is being decarboxylated, combine the remaining ingredients in a medium-sized mixing bowl. At this stage, add in one, all, or a combination of the optional ingredients. The choice of which seasonings you include will be a matter of personal taste. The amounts can also be adjusted depending on how spicy or prominent you want certain flavors to be.
Once the marijuana has finished decarbing, stir it into the avocado mixture.
Cover the bowl with cling film and place in the fridge for at least one hour before serving.
If you want to save the infused guacamole for later, transfer the mixture into smaller airtight food tubs before placing in the fridge.
---