Amsterdam coffeeshops: 15 tips for first timers
---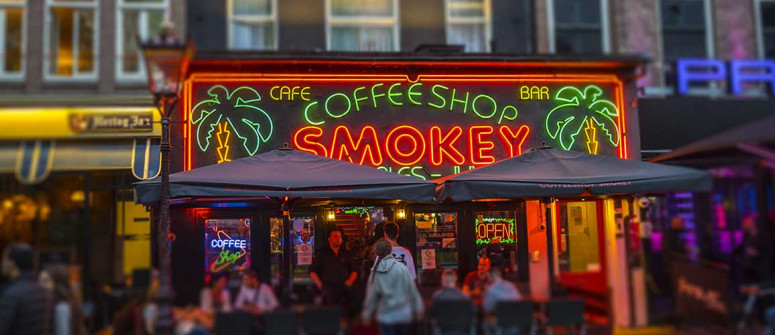 Are you planning a trip to Amsterdam to check out the city's infamous coffeeshops? Click here for a handy list of tips for first timers.
Amsterdam is like a Mecca for cannabis enthusiasts. The country's lax approach to cannabis use and the iconic coffeeshop scene makes for a really unique experience that almost any recreational cannabis user will want to check out for themselves.
But just how should you behave in one of these famous coffeeshops? What is weed culture really like in The Netherlands and how can you make sure you respect local customs while simultaneously having a great time? Read on for 13 simple tips for Amsterdam coffee shop tips for first timers.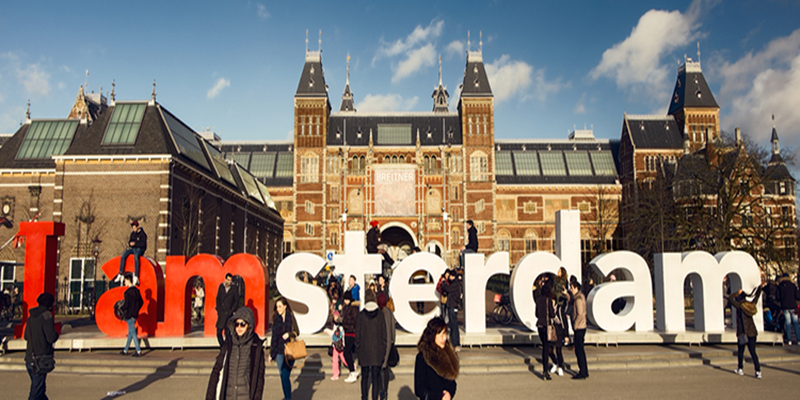 UNDERSTANDING CANNABIS LAWS IN THE NETHERLANDS
Before we look at some coffeeshop tips for first timers in Amsterdam, it's important to go over the laws governing cannabis in The Netherlands.
In short, it is perfectly legal to buy and consume cannabis in a coffeeshop (given the coffeeshop allows for on-site consumption). However, coffeeshops technically operate in a grey area, as the people that supply them with weed technically are not allowed to sell or produce cannabis. However, this doesn't really affect end users.
It is technically illegal to consume cannabis in public places, but these laws are rarely enforced. As long as you play it cool, behave yourself, and avoid drawing unnecessary attention, most people won't bat an eyelid if you choose to smoke on the street or in a park.
Other "soft drugs," like magic truffles (a psychedelic derived from traditional psilocybin mushrooms), peyote, and salvia, are sold through "smartshops." The sale and possession of these products is also legal.
1. WEED IS ONLY SOLD AT COFFEESHOPS
In Amsterdam, establishments that sell weed are called "coffeeshops," not coffee shops or cafes or coffee houses. Cafes are basically just regular bars, while coffee shops or houses are establishments that serve coffee but not weed.
There are literally hundreds of coffeeshops around the city where tourists and locals can legally buy cannabis.
However, don't expect any signage advertising marijuana or brownies and anything related; advertising cannabis is illegal in The Netherlands. Instead, look for the word "coffeeshop" printed on a window, or simply ask a local to point you in the direction of one if you feel stuck.
Oh, and never, ever, ever, buy weed from a dealer on the street. Cannabis can only be sold legally through coffeeshops.
2. BRING YOUR ID
To enter a coffeeshop in The Netherlands, you need to be an adult. This means 18+. Coffeeshops are legally obliged to make sure you are an adult and many establishments will ask you for an ID. So even if you look 80, you might still want to bring your ID, because you might not get in otherwise.
3. ALWAYS CONSULT THE MENU AND ASK QUESTIONS IF NEEDED
Once you're inside a coffeeshop, ask to see a menu to see what kind of weed is on offer. Coffeeshop menus won't be very detailed (they generally just list the name of the strains/products on sale), but they'll at least give you a basic idea of what's available.
Due to the advertising restrictions on cannabis, coffeeshops in Amsterdam tend to keep their menus at the counter. Some are even kept behind a glass display. If you see a loose menu, always politely ask before picking it up, as some establishments take the restrictions very seriously.
If after consulting the menu you'd still like bit of extra information about the products on sale, don't hesitate to direct your questions to the budtender. Coffeeshop staff is generally very friendly and are more than happy to tell you more about the products they offer and help you find the right smoke.
4. PRE-ROLLED JOINTS IN AMSTERDAM CONTAIN TOBACCO
It is a very common custom to mix weed and cannabis in Europe. Most coffeeshops in Amsterdam will sell pre-rolled joints and, unless noted otherwise, these will contain tobacco.
If you prefer a pure smoke, ask for a pure joint. If you don't see these on the menu, you're best bet is to stick to buying flower and rolling your own joints. Most coffeeshops will provide you with a few rolling papers and a cardboard strip for a roach free of charge. Alternatively, you can also buy branded papers for a small fee.
5. IF YOU DON'T KNOW WHAT STRAIN TO BUY, TALK TO THE BUDTENDER
If you're unfamiliar with cannabis, you're a irregular consumer, or it's just been awhile since your last smoke, we recommend you talk to the budtender at your coffeeshop to find a suitable strain.
Remember, The Netherlands (and Amsterdam in particular) is the home of some of the most iconic seed banks in the world. These seed banks are lead by expert breeders who have managed to produce some of the most potent cannabis strains currently available, with THC concentrations reaching 20% or even higher.
To avoid ordering a strain that's too strong for your liking, we suggest you talk to the budtender at your coffeeshop to find something suitable. If you're still stuck on what to choose after speaking to the budtender, we suggest choosing a sativa hybrid.
Sativa cannabis varieties are renowned for producing energetic, uplifting, cerebral effects. Indicas, on the other hand, tend to produce a stronger body stone that inexperienced users might find overwhelming.
6. GO ORGANIC!
Organically grown cannabis is making its way onto the shelves of most quality coffeeshops in Amsterdam. This is great news for any users looking to avoid strains grown with chemical pesticides/herbicides or synthetic fertilizers.
While it's always a good idea to be a little skeptical about how cannabis is marketed, you can talk to budtenders at coffeeshops to find out if they stock some proper organic weed. Remember, the aim of being at a coffeeshop is to have a positive experience with weed. So, don't be afraid to ask more about what you're buying and the way it's been produced.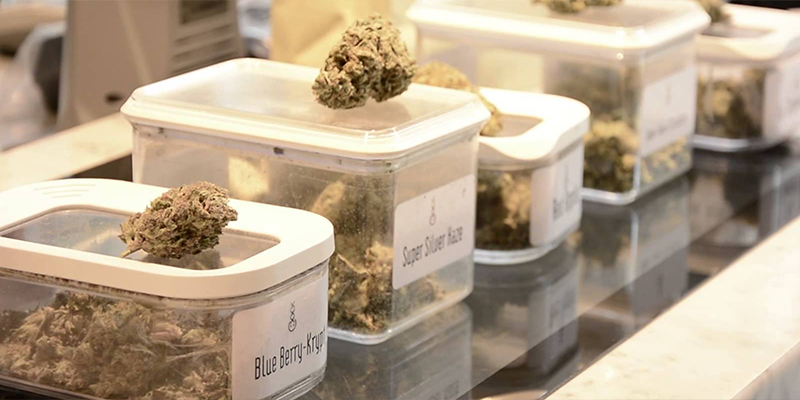 7. ALWAYS INSPECT YOUR WEED BEFORE BUYING
Once you've finally found your smoke of choice, make sure to inspect your bud before buying. While Amsterdam is often thought of as a weed capital renowned for some of the best ganja on the planet, low-quality bud still makes its way onto the shelves of the city's coffeeshops.
Hence, always ask to see your bud before paying for it and make sure it lives up to your standards. If you're a rookie, here are some simple things to look for to ensure you're buying good weed:
Plenty of trichomes. These appears as fine white crystals that should entirely coat each nugget.
Well trimmed buds with no unnecessary stems and zero seeds.
A strong, pungent aroma. New weed strains can have very elaborate aromatic profiles combining everything from fresh pine to diesel fuel and even cheese.
Good moisture content. You're buds obviously shouldn't be wet, but you also don't want them to be super dry. They should be slightly spongy to the touch and shouldn't be hard or crack when you handle them.
8. DON'T FALL FOR THE TOURIST TRAPS
As we mentioned earlier, The Netherlands' lax policy on cannabis and other "soft drugs" attracts thousands of tourists from all corners of the globe. Unfortunately, this influx of tourism has lead to the opening to some coffeeshops serving up low quality bud at expensive prices.
If possible, try to speak to some friendly locals and ask them for recommendations on which coffeeshops to check out. If that's not an option, be sure to shop around. Remember, there are literally hundreds of coffeeshops spread across the city, and most of the products they sell aren't exclusive (meaning you're likely to find the same strains at multiple shops. So, if you don't like the price, quality, or service at a particular place, simply seek out another.
9. ALWAYS ASK BEFORE YOU LIGHT UP
Most coffeeshops in Amsterdam have a smoking area. Some might even allow you to light up anywhere inside the shop. Others, however, don't allow any smoking on-site. To be on the safe side, always ask the staff at the shop before sparking up.
10. TRY AN EDIBLE OR A VAPORIZER
Edibles are a great way to enjoy the effects of cannabis, especially if you don't like smoking or you're concerned about your health. Most coffeeshops in Amsterdam sell "space cake" which generally consists of a slice of chocolate brownie infused with cannabis.
When experimenting with edibles, it is important to realise that you're taking in a much stronger dose of THC than if you were to smoke or vaporize. Plus, the effects of edibles can take up to 1 hour to kick in, so it's important not to get carried away.
To be on the safe side, we recommend eating half an edible, waiting roughy 45 minutes to see how you feel, and then eating a little more if needed.
Vaporizing is another growing trend in the cannabis world, and some of the coffeeshops in Amsterdam have quickly caught on. If you like vaping or are keen to try it, ask the staff at your coffeeshop if they rent out vaporizers.
Vaporizers are designed to extract the cannabinoids and terpenes from cannabis plant material without actually combusting it. This creates a thick vapor that contains higher concentrations of THC and other compounds found in the cannabis plant but is free of the carcinogenic particles found in regular smoke.
11. DON'T CONSUME CANNABIS ON AN EMPTY STOMACH
Always make sure you eat something before consuming cannabis, especially if you're planning to try an edible. People generally find the effects of cannabis are stronger when taken on an empty stomach, and edibles are generally best enjoyed when you've had something to eat and drink beforehand.
Luckily, most coffeeshops will sell light snacks and nonalcoholic beverages. Some also offer homemade juices, sandwiches, cakes, and a variety of other products.
Also remember to stay well hydrated while enjoying cannabis, and avoid mixing alcohol with your weed. While coffeeshops are not allowed to sell alcohol, most bars are smoke-friendly, meaning it's pretty easy to combine the two.
12. BRING CASH
Unfortunately, not all coffeeshops accept credit or debit cards, so be sure to have some cash on you. The average price of weed in Amsterdam is around €10-12 per gram. Joints generally go for about €5.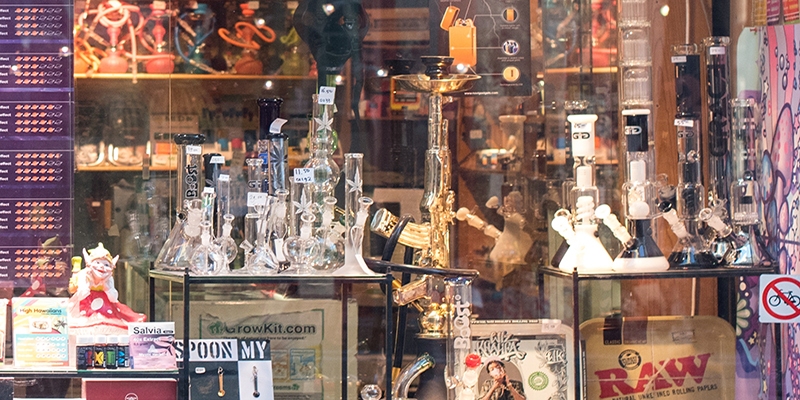 13. BRING YOUR PIPE/BONG
If you prefer smoking through a pipe or bong, make sure you bring yours with your. Most coffeeshops surprisingly don't sell cannabis paraphernalia.
Luckily, there are plenty of head shops around the city where you can easily get a hold of a pipe or bong at a decent price.
14. NEVER BRING ANY ALCOHOL OR DRUGS INTO A COFFEESHOP
As we mentioned before, coffeeshops are not allowed to sell any alcohol. This means that the consumption of alcohol is also not allowed inside the establishment.
Another very important thing to know is that even though Amsterdam is seen as a good place to party and there are plenty of drugs going round, you should never bring any drugs into a coffeeshop. And with drugs we mean anything else than cannabis.
Hard-drugs are forbidden in The Netherlands and they are a great reason for the police to shut down a coffeeshop. And once again; with hard-drugs we mean anything other than cannabis.
So leave your pills or bags or whatever anywhere else than in your pocket when you enter a coffeeshop, because the police does sporadically enter coffeeshops to search the place for drugs. And you don't want to be the person who will be held responsible for closing down a coffeeshop.
15. HAVE FUN!
The most important part of going to a coffeeshop in Amsterdam is having fun. Make sure to take in the unique energy and atmosphere of the place you're in, and don't feel pressured to consume cannabis; it is perfectly fine to just enjoy a coffee, juice, or a light snack, and relax.
---