Royal Queen Seeds presents F1 hybrids to industry giants
---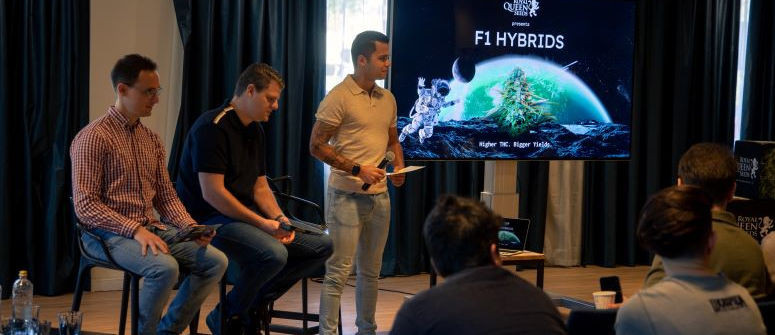 From left to right: Andreu Francés, Maikel de Bresser and Shai Ramsahai
Last updated Published
One of the owners of Royal Queen Seeds and two biologists from F1 Seedtech (an initiative of Royal Queen Seeds) recently presented their F1 hybrids process and strains to leaders of the cannabis industry in Barcelona.
On March 10th at 9:30 am, Royal Queen Seeds held an event at the Novotel Hotel in Cornellà to showcase their newly released F1 hybrid varieties. The event was located near Spannabis, the world's largest annual cannabis fair, and the company's team managed to secure the attendance of 50 prominent individuals, including influential figures in the sector such as cultivators and journalists.
After a 30-minute breakfast, allowing guests to interact and network with each other and RQS founder Boy Ramsahai, one of the owners, Shai Ramsahai began the presentation with an introductory speech about the business journey.
This was followed by Maikel de Bresser, a molecular biologist and the mind behind the F1 hybrid project, explaining how the F1 hybrid breeding project started and how F1 hybrids as a concept have impacted other agricultural crops such as corn. Finally, plant geneticist Andreu Francés, also from F1 SeedTech, explained the process involved in creating F1 hybrid seeds, from selecting desirable parental material to developing inbred lines (IBLs). Francés also informed guests about the benefits of F1 hybrids and differences compared to traditional seeds.
The event ended with a Q&A session where breeders, journalists, and authors had the opportunity to ask any questions to Royal Queen Seeds representatives and clarify any doubts they had about the company's new horticultural technology.
Who are Royal Queen Seeds?
Royal Queen Seeds started as a small seed bank but quickly established itself as one of the largest seed banks in Europe. Recently, the company has expanded into the US and Thailand and now supplies high-quality cannabis genetics worldwide.
RP - Aroa Taberner
+34 657 645 120
[email protected]
royalqueenseeds.com
---