Explore Royal Queen Seeds' brand-new strain roster for 2021
---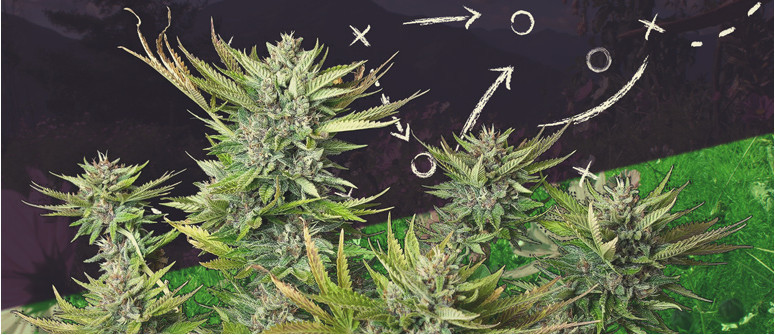 Looking for something new to grow? Check out Royal Queen Seeds' fresh lineup of potent and productive cannabis genetics. Discover ultra-potent feminized strains that produce dense flowers every time, autoflowers that pack high THC levels and big yields, CBD-rich cultivars, and durable regular strains. There's something for everyone in 2021.
Royal Queen Seeds has released their 2021 range of cannabis genetics. As one of Europe's leading seed banks—with a fair share of awards under their belt—we've come to expect great things from this exciting company. After exploring their strain roster for 2021, saying we're impressed would be an understatement.
Check out Royal Queen Seeds' brand-new feminized, autoflowering, CBD, and regular varieties. These strains are chock-full of tasty terpenes and bursting with cannabinoids, offering great yields and an easy growing experience to boot.
Feminized Strains
Of all their new releases, RQS' feminized strains impressed us the most, setting a new standard for both potency and flavour. Producing enormous levels of THC paired with complex terpene profiles, these strains are anything but shy.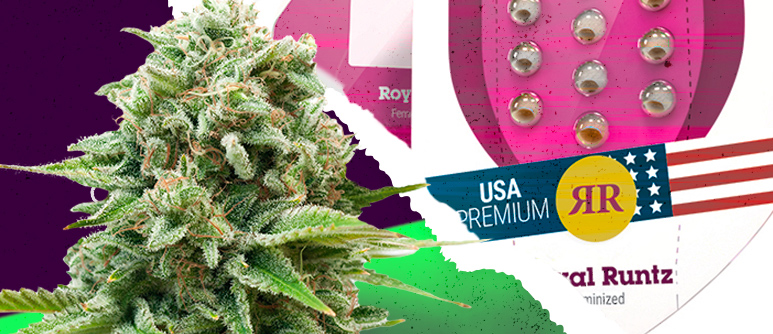 Wedding Crasher
Wedding Crasher serves as a fine addition to the RQS archive, especially for smokers seeking equilibrium between indica and sativa. Breeders crossed renowned parent strains Wedding Cake and Purple Punch, giving rise to a progeny that is just as impressive in the grow room as it is in the stash jar. Featuring 55% sativa genetics and 45% indica, she triggers a high filled with laughter and physical relaxation. You can thank a solid THC level of 21% for her long-lasting effects.
In the garden, Wedding Crasher's bright and colourful flowers impart a dreamy feel. Her dense nuggets display varying shades of pink and purple, making them the centrepiece of any growing space. A flowering time of 9–10 weeks is a small price to pay for what she delivers. Prepare to harvest 450–500g/m² indoors, and up to 600g/plant outside.
Royal Runtz
Royal Runtz has already made her presence known in the RQS catalogue. A monstrous THC level of 27% makes her impossible to ignore, and sweet and sugary terpenes add elegance to her formidable high. As the offspring of Gelato and Zkittlez, Royal Runtz boasts a perfect balance of sativa and indica genetics. Her high soothes the body while revving the engine of the mind. It only takes a few hits to feel your creative juices start to flow.
This strain blooms dense flowers coated with trichomes over a period of 8–9 weeks. The terpenes within give off a strong aroma of fruits, and offer tastes of candy and sugar when inhaled through a joint or vape. Her impressive yields will ensure your stash jars remain full for at least a few weeks. Expect 450–500g/m² from indoor plants and up to 450g/plant from those grown outdoors.
Automatic Strains
As the years go on, autoflowering strains are getting faster, stronger, and more productive. Royal Queen Seeds is leading the charge, and their 2021 autos are certainly representative of this innovation. Now, both beginner and veteran cultivators are eager to exploit the many benefits of autoflowering strains.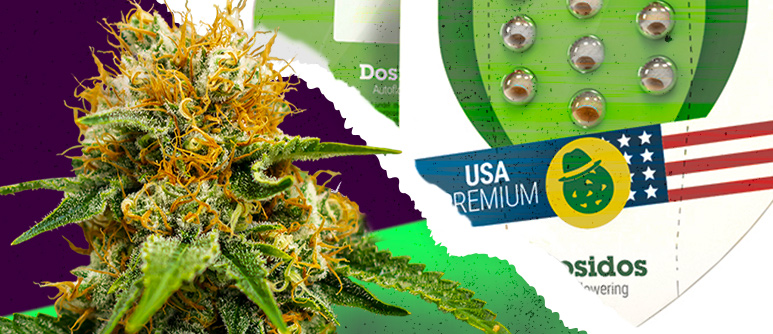 Purple Punch Automatic
Purple Punch Automatic weighs in with a THC level of 19%. Her potency is on par with the average photoperiod strain, yet she delivers a harvest in a fraction of the time. Upon putting a flame to the tip of a joint, this indica-dominant variety sends a wave of relaxation crashing over the body. Reserve these buds for afternoons when chilling out is the main focus.
Purple Punch Automatic grows to a stealthy height of 60–100cm, producing up to 400g/m² indoors and 80–130g/plant outdoors. With a total life cycle of 9–10 weeks, you won't be waiting long to harvest these dark purple flowers.
Mimosa Automatic
Some growers seek sheer power from their autos, while others are on the hunt for flavour. With Mimosa Automatic, you can enjoy supreme potency and delicious tastes from the same buds. Boasting a THC level of 21%, she's definitely on the upper end of the potency scale. Adding to this, each hit delivers fruity terpenes that make her ideal for crafting edibles and extracts.
Not only does she produce potent buds, but she does so in respectable quantities, and in just 10 weeks from seed. Enjoy a harvest of 350–400g/m² indoors and 80–130g/plant outdoors from plants that reach up to 160cm tall.
Sherbet Queen Automatic
RQS breeders successfully transitioned Pink Panties into the autoflowering world with Sherbet Queen Automatic. By crossing her with Cookies Automatic, they created a cultivar that ticks all of the boxes. She offers good yields, potency, and speed. Her thick, tapered colas provide 20% THC and relaxing terpenes that round off an overall soothing high.
If you're looking for a stash as soon as possible, plant these seeds in the soil and prepare to make the chop just 8–9 weeks later. Yields of 325–400g/m² indoors and 100–150g/plant outdoors are a sweet deal given plants rarely exceed a metre in height.
Watermelon Automatic
Watermelon Automatic brings good vibes and tropical tastes that will make any day feel like the height of summer. This indica-dominant strain will have you strolling along the beach, swaying in a hammock, and enjoying deep conversation with your fellow weed-lovers. She inherited her fruity and sweet terpenes from parent strains Tropicanna Cookies and Lemon OG. Bake these buds into edibles to get a true taste of what she has to offer.
Grow this strain indoors for a highly respectable harvest of 450–500g/m², and keep plants as small as 80cm using LST. Outdoor plants grow to 100–120cm and produce 50–90g/plant. Her blissful buds will be yours just 8–9 weeks post-germination.
Do-Si-Dos Automatic
Have a penchant for Do-Si-Dos? Try growing the autoflowering version to reduce the wait until harvest (and save on space). This potent lady brings a THC level of 20% to the table, and retains all of the terpenes that underpin the original variety. Her indica genetics pull the mind into the present moment and work great before meditation and yoga sessions. Do-Si-Dos Automatic goes down great in joints and blunts, but her candy and citrus flavours come to the fore when vaped.
Her small stature makes Do-Si-Dos Automatic a great candidate for an indoor ScrOG setup, where she'll provide a harvest of 350–400g/m² in 9–10 weeks from seed. Alternatively, try growing her outdoors amongst companion plants for a yield of 100–150g/plant.
High-CBD Strains (And Other Novel Cannabinoids)
RQS' new CBD strains put the company's innovative spirit on display. Not only do they pack impressive levels of cannabidiol, but they also possess novel cannabinoids rarely found elsewhere.
Royal CBG Automatic
Royal CBG Automatic offers a clear-headed and relaxing experience, thanks to high concentrations of the non-psychotropic cannabinoids CBD and CBG. Instead of getting stoned, you'll find yourself more focused, productive, and functional. A THC level of 0.09% means there is essentially zero risk of getting high.
Royal CBDV Automatic
Royal CBDV Automatic offers something different from other CBD-rich strains. The addition of CBDV brings increased mental clarity to the scene by activating the endocannabinoid system in a unique manner. Stay productive and fully sober all day long with these low-THC flowers.
Both the CBG and CBDV are new and novel strain concepts, with very few other options on the market having such high concentrates fo these cannabinoids. It's an excellent choice for those wanting to explore their cannabis experiences.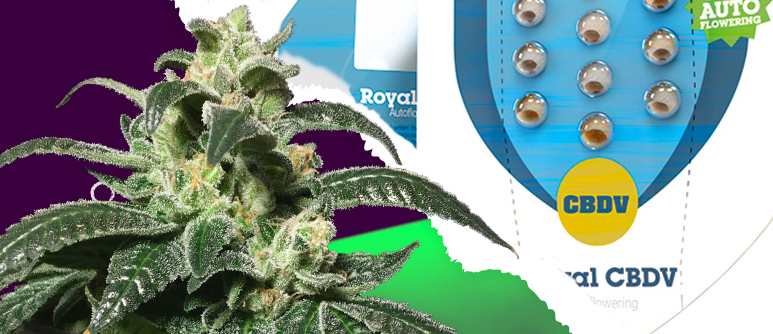 Regular Strains
RQS' regular strains offer a 50-50 chance of producing male or female plants. The latest additions are the regular versions of some of their most popular feminized and reliable stains. These plants are fantastic for breeding purposes, highly productive, and provide durable clones. If you're planning on taking cuttings, regular genetics are the only way to go.
The company's 2021 regular strains include:
• White Widow regular
• Skunk XL regular
• Amnesia regular
• Shining Silver Haze regular
• Critical regular
---