Top 12 coffeeshops to visit in Amsterdam
---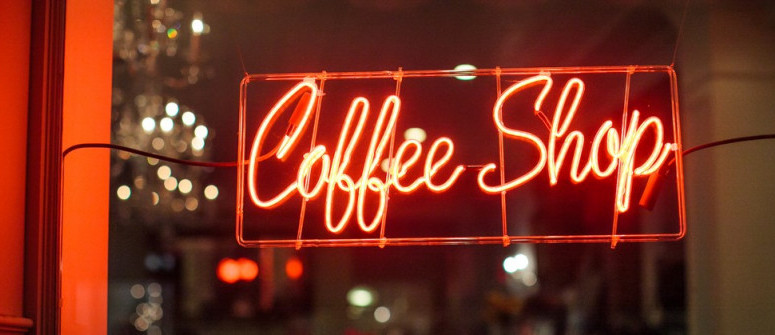 To ensure a top-tier cannabis experience in Amsterdam, finding a quality coffeeshop is crucial. Allow us to present our picks for the top 12 coffeeshops in the city. Learn what makes each establishment worthy of at least one visit.
When travelling to Amsterdam, visiting one or more coffeeshops is almost imperative if you wish to enjoy the full A'dam experience. The history of Dutch coffeeshops dates back to the early 70s. Since then, a multitude of coffeeshops have opened throughout the country, with the Dutch capital being particularly crowded.
But how to choose which coffeeshops to visit? This article will guide you in the right direction with our 12 favourites.
THE IMPORTANCE OF FINDING A GOOD COFFEESHOP
Finding a good coffeeshop in Amsterdam isn't always easy, but it is important if you want to get the most out of the experience.
A good quality coffeeshop will not only set an atmosphere that makes the experience all the more enjoyable, but it will also provide expert knowledge, a selection that suits your tastes and prices that suit your wallet. This is all the more important if you are a newbie, as a good coffeeshop will guide you in your selection and make sure you are comfortable.
No matter your experience, without research, you run a high risk of falling into a tourist trap—where the weed is sub-par, the vibe is off, the staff are surly and the prices are high.
12 AMSTERDAM COFFEESHOPS TO GET YOU STARTED
We did some extensive research (including some field studies), and have put together a list of coffeeshops you should definitely check out when in Amsterdam.
Without further ado, here are the 12 best coffeeshops in the Dutch capital, according to the CannaConnection staff.
BOEREJONGENS
In Amsterdam, there are four Boerejongens coffeeshops, the first of which opened in Baarsjesweg. Many locals say Boerejongens coffeeshops have the best and strongest buds in town. For sure, they have a huge selection, and many customers come from far away to sample their award-winning strains. As you step into the finely furnished venue, budtenders will welcome you in elegant white coats. Of the four coffeeshops, only Boerejongens Center has a smoking room. Last but not least, keep in mind that each of the four branches has something unique to offer: visiting one does not mean you visited all.
Try out their scintillating sativa Choco Banana Haze, or pick up a Green Magic preroll.
GREY AREA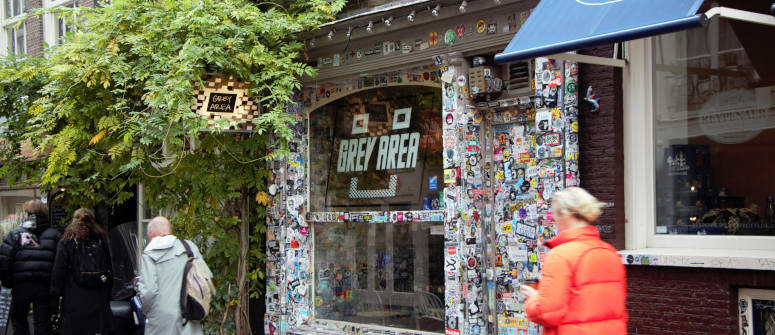 Getting a seat inside Grey Area can be quite challenging, as the venue is small. That said, paying a visit to this coffeeshop is definitely worth a try (or two, if needed). The atmosphere is very friendly and welcoming, and the offers are prime: although the selection may not be as wide as Boerejongens', the curation of strains has been assembled with superb attention to detail. A plus is that when the weather is nice and temperatures allow it, Grey Area will open the big front window so you can enjoy your joint while doing some healthy people-watching.
Try out Grey Area's Nepal Creme hash, or their very own Grey Haze.
TWEEDE KAMER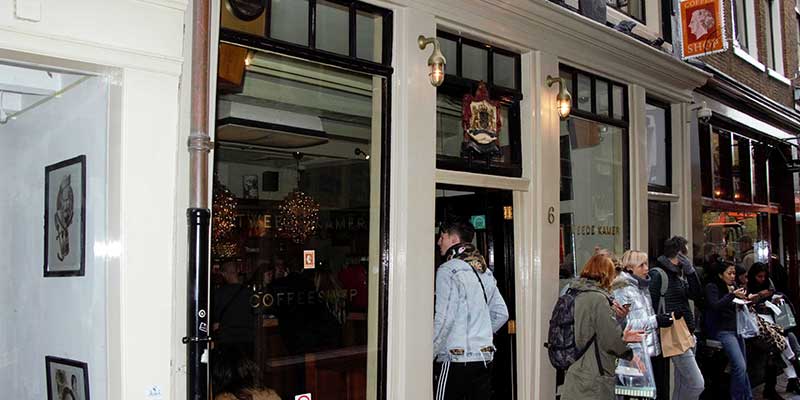 This place has been running since 1985, operating every day from 8 AM till 1 AM the next day. The staff is friendly and competent, and the atmosphere is cosy and relaxed. Like some of the others on this list, getting a seat at this tiny coffeeshop can be difficult, but if you succeed, you'll never want to leave the space again. And if you get the munchies and want to try something not on the Tweede Kamer menu, there is a delicious option right outside: the best cookies in Amsterdam, those by Van Stapele Koekmakerij.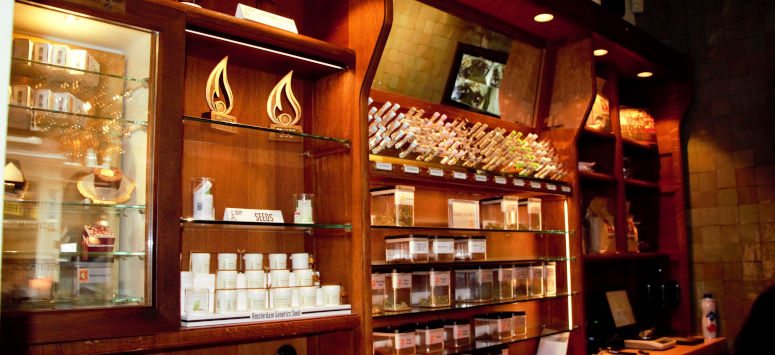 Tweede Kamer has many flavourful offerings, including Choco Skunk and Banana Cough.
BARNEY'S COFFEESHOP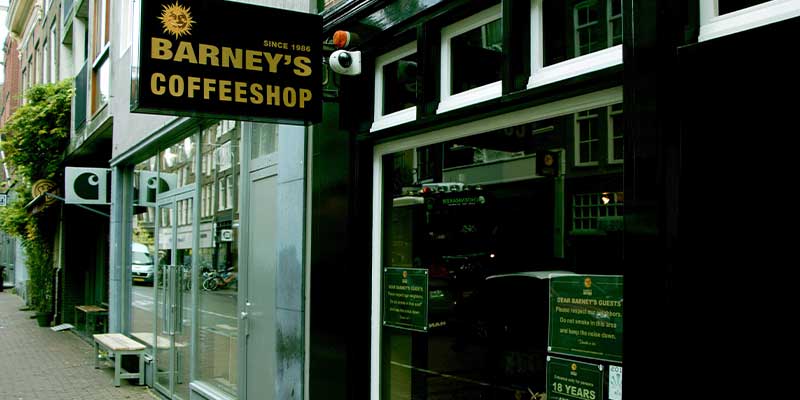 Barney's is one of the most respected coffeeshops in Amsterdam. It is an award-winning establishment that combines quirky aesthetics with a prime weed selection and excellent service. The location alone makes it worth a visit. In fact, Barney's is located inside the ground floor of a 16th-century building and is laid out like an old-time apothecary, creating a picture-perfect backdrop for smoking sessions. As its menu is centred around prized strains, the weed at Barney's Coffeeshop is slightly more expensive than elsewhere in the city, but well worth the extra cash.
Some of Barney's current offerings include King Hassan hash and Blue Cheese.
COFFEESHOP AMSTERDAM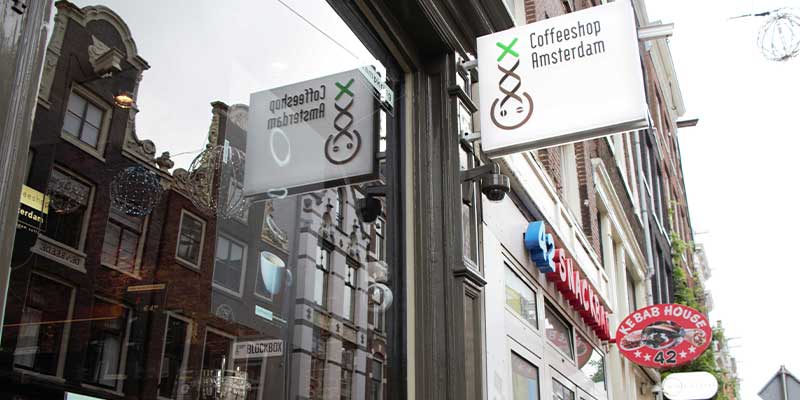 The welcoming atmosphere of Coffeeshop Amsterdam, once named Dampkring, is a bright and airy three-story venue that can host up to 90 guests. It's only a few minutes away from Amsterdam Centraal, which makes it an ideal first stop when you arrive in the city. They offer a broad selection of cannabis products, and both the friendly staff and a comprehensive menu allow visitors to make informed choices. Around the corner is Coffeeshop Amsterdam's own pub, where you can have a seat and smoke a joint while sipping on an alcoholic drink. This is a clever stratagem, considering that Amsterdam coffeeshops cannot sell alcoholic drinks inside their premises.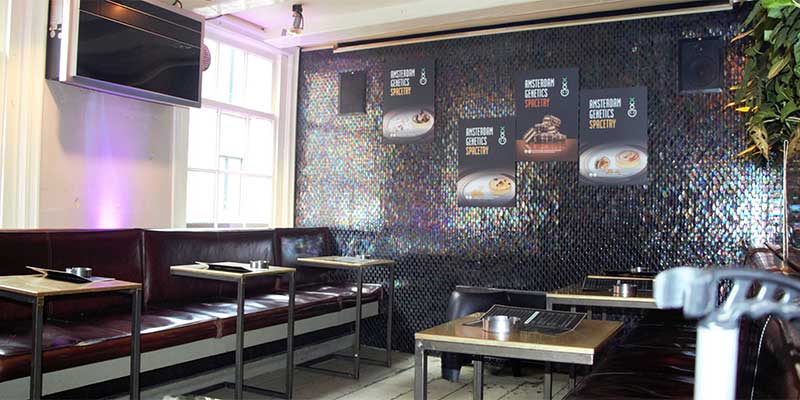 Coffeeshop Amsterdam's extensive menu currently features such strains as AK 47 and White Fire.
GREEN HOUSE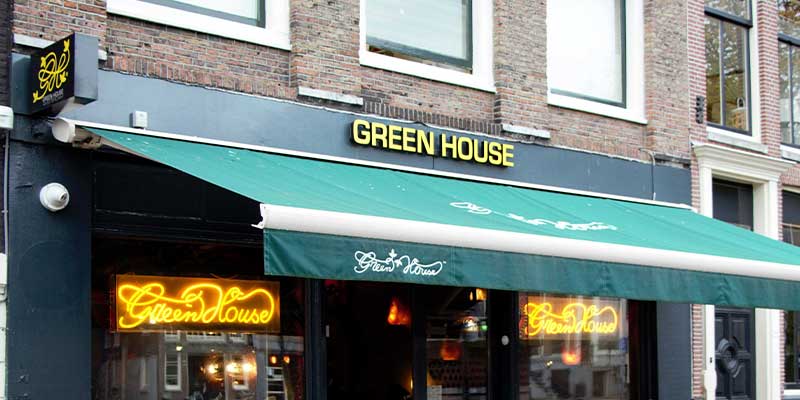 This tiny coffeeshop is situated in the red light district next to the canal, making it a nice option for those visiting Amsterdam looking to do some sightseeing. Green House Seed Co. has won the High Times Cannabis Cup several times for different strains, which immediately signals that the quality of their offerings is superb. And this is only further verified by legions of dedicated supporters and pleasantly surprised tourists.
Currently, they're stocking such favourites as Amnesia Cream hash and Super Lemon Haze pre-rolls.
BULLDOG THE FIRST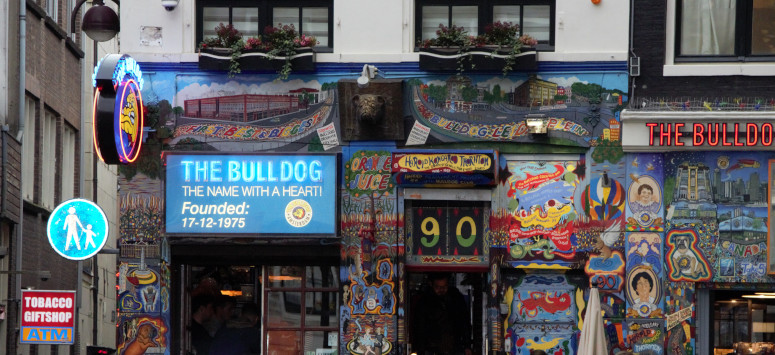 After the closing of Mellow Yellow, this coffeeshop gained the title of longest-running coffeeshop in Amsterdam. It was founded way back in 1975. Its historical significance makes it a monument for the entire weed community in Amsterdam. Entering its hall is like being in a time machine that brings you back to the early underground days of the coffeeshop scene. If you decide to visit, keep in mind that it can be very crowded, especially on weekends.
Try out their Gorilla Glue or Temple hash.
AMNESIA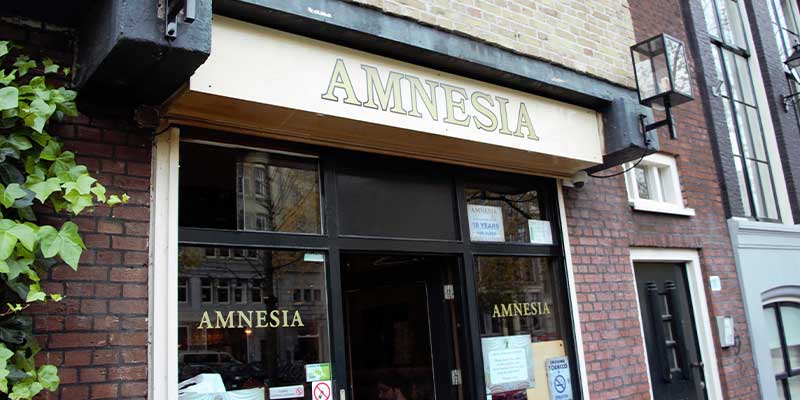 This place has a killer space cake (beware of the strength, though) as well as quality pre-rolled joints. Amnesia is another coffeeshop that doesn't offer much space, so the risk of crowdedness is quite high. On the other hand, these guys opted for a cosy atmosphere—deep red interior, low-hanging, soft lights, and mellow music—which makes it worth a visit. It is located next to one of the main canals, the Herengracht, and if you manage to get a seat outside (weather permitting), the chance of enjoying a joint with a view of the boats passing by is high.
Amnesia is currently stocking Natural Sin ice-o-lator and pure Amnesia joints.
THE STUD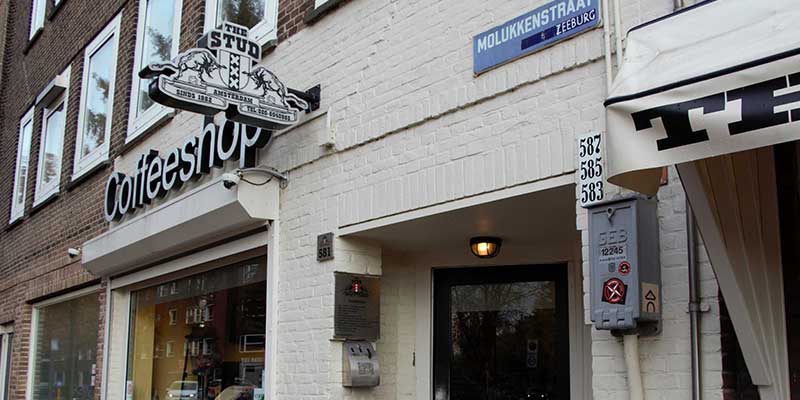 Located in Amsterdam East, The Stud is a go-to coffeeshop for locals and experienced internationals. This means two things: affordable prices and superb quality. Speaking of which, The Stud works with Amsterdam Genetics, which means you will truly be getting your money's worth with every purchase. The Stud jumped right into the 21st century, equipping themselves with a digital touchscreen menu you can consult.
On this menu, you will find offerings such as Big Buddha Cheese and Champagne Maroc hash.
PARADOX
Paradox is located in Jordaan, one of the hip districts in Amsterdam. Beloved among the locals and still quite off the beaten track, this faithful cross-section of local city life will make you feel right at home. Venturing outside the central area—a.k.a. the canals that circle the city centre—grants fair prices for good quality, which you will enjoy in a venue that is not too crowded.
Paradox is currently featuring Thai pre-rolls and Super Pollen hash.
420 CAFÉ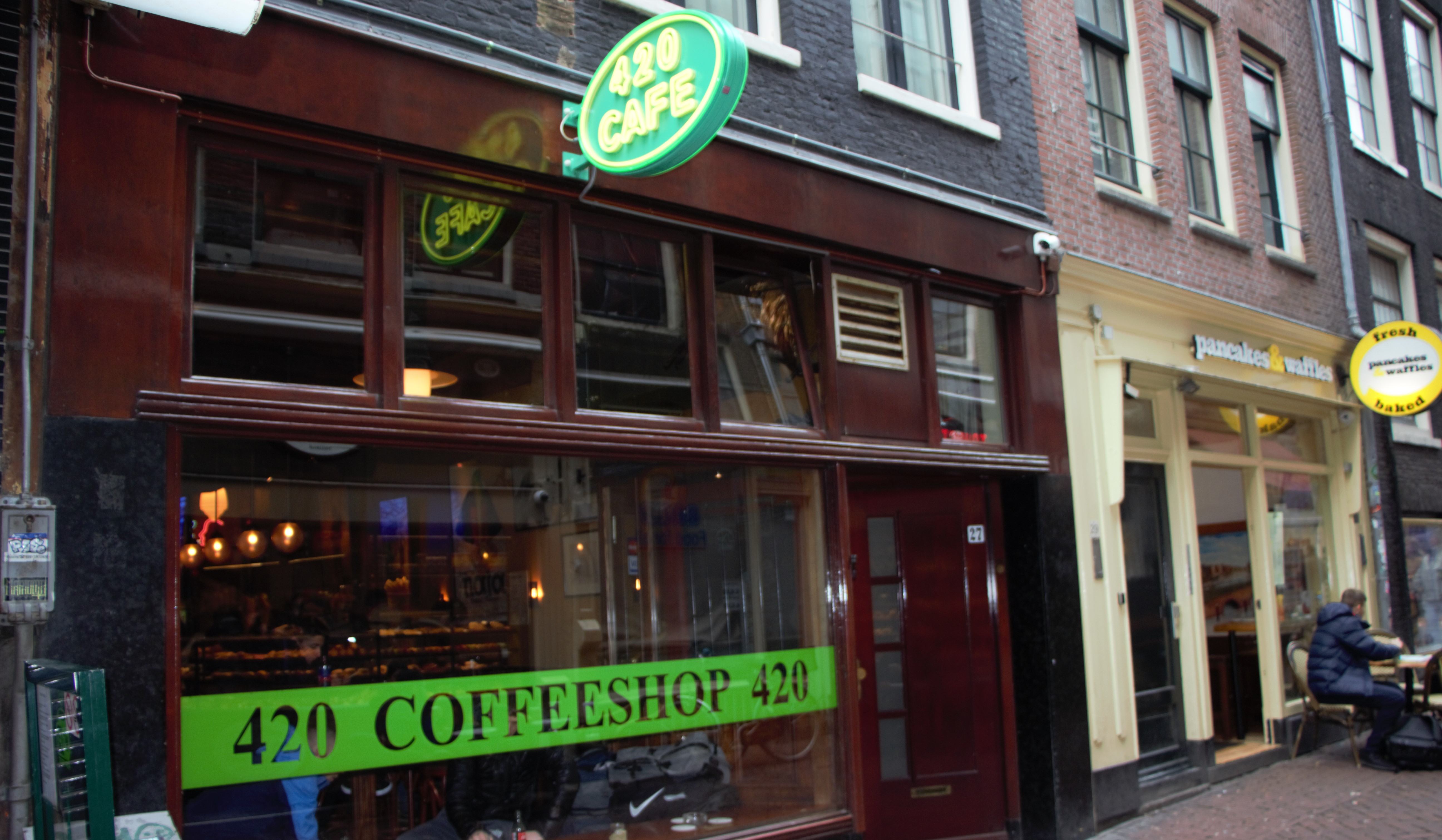 This coffeeshop's dark, wooden interior makes it look like a typical "brown café", a traditional Dutch pub. Although they do not sell beer, they do have a quality selection of well-priced cannabis products. The staff is attentive and helpful, and besides weed, hash, and space cakes, they also sell some nice juices to pamper your throat after a fat jay.
Give their Maroc Red hash or NY Diesel "grass" a try.
1E HULP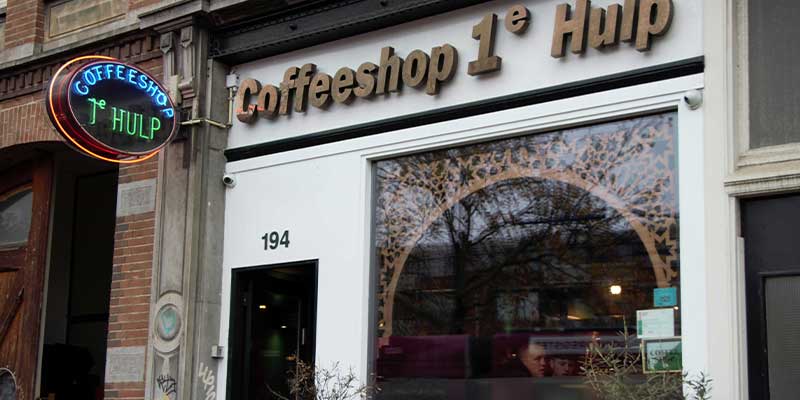 This coffeeshop is located between the must-see neighbourhoods of Jordaan and Da Costabuurt. They offer a huge selection of cannabis products, among which are their famous moonrocks. The prices at 1e Hulp are decent compared to the majority of Amsterdam's coffeeshops. It is a popular venue, particularly among the locals. The interior is also quite compelling: they opted for a Moroccan style, which creates a very relaxed and cosy atmosphere.
Right now at 1e Hulp, you can find strains like Mochi and Lemonade.
THERE ARE MANY MORE COFFEESHOPS IN AMSTERDAM TO EXPLORE
While we have provided some of our favourites, you are far from finished with your exploration of the city's coffeeshops!
A few good practices to keep in mind during your hunt are:
• Venture outside the touristy areas of the city. "Tourism" equals crowded coffeeshops and higher-than-average prices.
• Have a look at our map tool. Amsterdam has so much to offer when it comes to this subject, and we won't claim to have covered it all. This map is really easy to use. Click on the link and view a whole list of the most popular coffeeshops in town, as well as a super practical city map with their location. You can also filter results according to a list of parameters ranging from coffeeshops that offer vaporizers or sell hemp clothing to those that host educational or consultancy services within their premises.
• If you are new to the whole business, it's best to start slow. Perhaps choose a sativa strain, if possible, as this should give you enough energy to go about your day, as opposed to sinking into the couch. Also, do not overbuy. Amsterdam cannabis products can be quite strong, and instead of taking too much, start out with smaller amounts. You can always buy more (up to 5g per day).
Now it is time to start your journey. Rest assured that this magical city won't disappoint! Travel safely and enjoy the ride.
---