Zamnesia launches "zamnesia 2. 0" - huge discounts!
---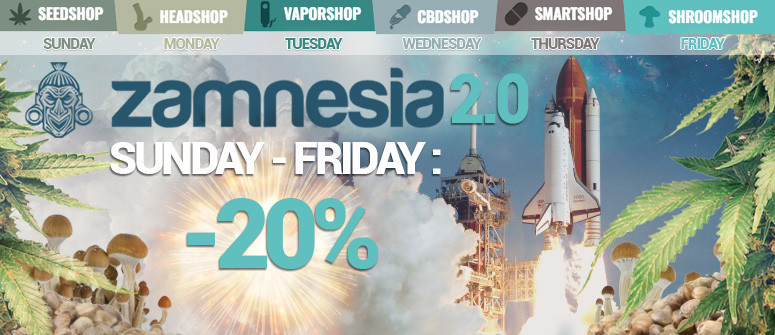 You should take advantage of this :)
To celebrate the launch, Zamnesia is offering six consecutive days of discounts across all of its web shop subcategories: cannabis seeds, headshop, vaporizers, CBD products, smartshop and the shroomshop.
New website from Zamnesia triggers a period of exclusive discounts
Online smart shop Zamnesia celebrates its revamped website with a period of never before seen discounts. Europe's leading e-commerce site for all things cannabis and psychedelic is launching a new and improved website design that promises to implement several usability upgrades for desktop and mobile users. This is Zamnesia's first significant website overhaul, since the current design was implemented in 2012.
To celebrate the launch, Zamnesia is offering six consecutive days of discounts across all of its web shop subcategories.
WHO ARE ZAMNESIA?
If you have never heard of Zamnesia before, In operation since 2002, Zamnesia is an e-commerce site that specialises in cannabis seeds and cannabis' related goods. You can find a comprehensive selection of 3000+ products, across six major categories:
Cannabis seeds

Headshop

Vaporshop

CBDshop
Smartshop
Shroomshop
The product ranges are vast, and each subcategory is likely to have something that will be of interest.
Feminized, regular and autoflowering seeds can be found in the Seedshop, while vaporizers and their associated accessories can be located in the Vaporshop. For those that have an interest in wellness, the CBDshop has a range of high-quality CBD oils and supplements. Alongside the expansive shop categories, Zamnesia offers a vast collection of digital content. This includes growing guides, how-to videos, professionally written articles and more.
ENJOY AN EXCLUSIVE PERIOD OF DISCOUNTS
Zamnesia's exclusive period of discounts will apply to each shop subcategory, one at a time. Starting on the day their new website launches—14th of April—each shop subsection will offer all products at a 20% off. The event begins with the Seedshop, before changing each day to another category.
With several of the website's features experiencing an upgrade, and usability being improved for desktop and mobile, navigating and shopping on Zamnesia's website is going to get a whole lot easier. Add in the improved organisation of their digital content alongside the exclusive period of discounts, and smart industry enthusiasts are bound to find a reason to visit the site.
---