4 tips on how to not smell like weed after smoking
---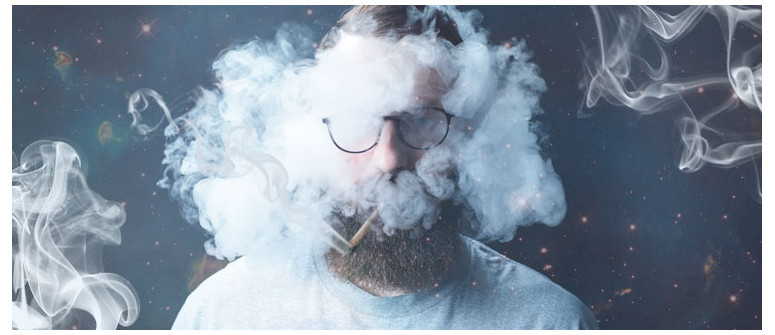 The smell of cannabis is something most stoners thoroughly enjoy during a smoke session. Unfortunately, this smell can land you in trouble depending on the circumstances. Here's how to get rid of that weed smell after you smoke.
It's no secret that cannabis has an extremely strong and recognizable smell. Well, so does the smell of cannabis smoke. And without knowing or realizing it, you most probably smell like weed after each time you have been smoking a fatty.
The intense odor of weed can linger on your clothes, skin, breath, and hair, making it quite apparent to others that it wasn't long ago since you were smoking a joint or hitting the bong. This can be quite the issue, especially when smoking before work or formal gatherings. But by using the following tips to mask the scent, you ensure you smell fresh for the occasion.
1. FRESHEN YOUR BREATH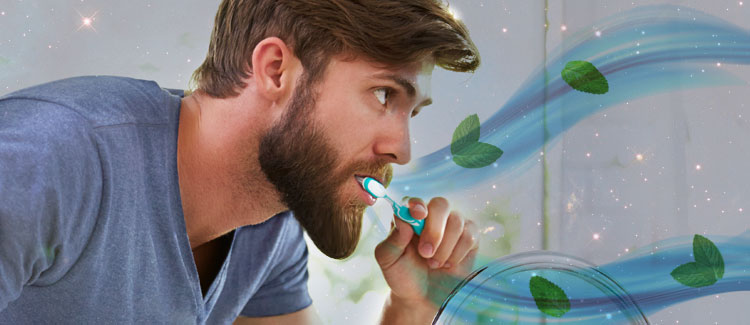 The smell of smoke can linger in and around the mouth. Showing up at work with breath smelling of weed-smoke can make it quite obvious that you've been toking up. What's more, it might also be seen as quite unprofessional and will certainly work against your best interests when trying to make first impressions and talking with coworkers or clients.
Luckily, it's super easy to freshen the breath in a short period of time. If you enjoyed a smoke before leaving your house, then simply head to the bathroom and intensively brush your teeth. If you lit up your spliff whilst on-the-go, then chew some gum or mints. Using a face wipe will also remove the smell from around your mouth and the rest of your face.
2. REMOVE THE SMELL FROM YOUR HANDS
The smell of smoke can linger on the fingers for hours after having a smoke. You might have noticed this when supporting your head with your hand at your desk, catching a whiff of the terpenes still hanging around from hours prior.
To get rid of this smell, head to the nearest sink and hope they have some strong cleansing soap available. To avoid having to rely on soap even being around, carry a scented hand cream and apply it after rinsing your hands with some water.
3. SMOKE UP IN A VENTILATED AREA OR UPWIND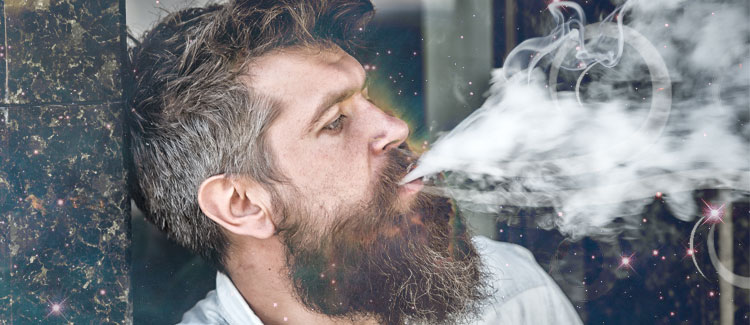 Smoking in a stuffy room with stagnant airflow is going to make spliff smoke stick to your body and clothes more easily. If you're smoking inside, then crank open a window and try and get a draft started. This will create an airflow to push the smoke away from you, minimizing the lingering smell afterwards.
Lighting a scented candle or an incense stick in the same room will help to rid the smell even more and may add a masking scent to your clothes. If you are smoking outside, turn your back against the wind to make sure the fumes are carried away from you.
4. KEEP YOUR CLOTHES AND HAIR SMOKE-FREE
It's easier to keep clothes free of smoke than to try and mask the odor afterwards. If it's not too cold, remove any outer layers and place them in another room, or away from you if smoking outside. If all you have on is a base layer, then carry around some deodorant or cologne to freshen up after the session. Spraying your clothes with a fabric freshener is of course better than spraying perfume on them.
Better still, if you plan ahead, you can avoid the issue completely by wearing an entirely different set of clothes for your smoke, then changing into a completely fresh outfit for work, school, etc. Some people have a special smoke jacket, one that you wear only when you go out to smoke up.
Furthermore, those people with long hair should remember to tie it up before enjoying a smoke in order to prevent the smell from soaking in. And if you're one of these men with a big moustache or a firm beard, you might want to give that a little soak.
---