Cannabis-infused jam and marmalade recipe
---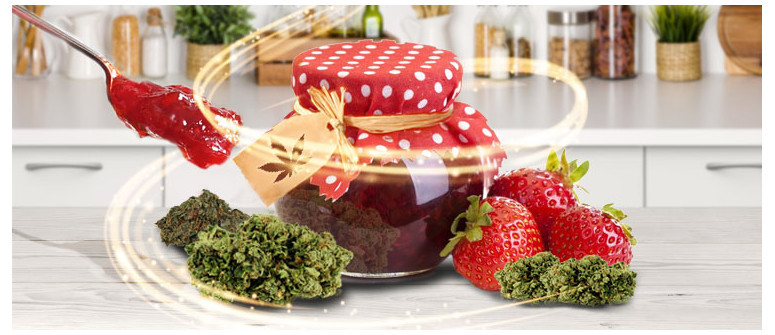 Cannabis-infused jam or marmalade is a long life and multi-purpose way to get your edibles. This easy to follow recipe makes a sweet fruit jam or tart citrus marmalade.
Jams and marmalades come in all flavors and varieties, but how about spicing up grandma's recipe with your favorite herb? Sounds good right?
Besides being tasty. making your own jam or marmalade is actually super easy! To be clear, the difference between jam and marmalade is that for the latter usually sour citrus fruits are used, and some of the peel is added.
So if you have some spare fruits and some spare weed, have a look at our recipe for sweet fruit Mary Jane Jam. If you prefer sour fruits, this recipe works just as well making a Marijuarmalade.
The following recipe is made with cannabis-infused honey. Remember that edibles can hit harder than you might expect, so feel free to judge the amount of cannabis you use according to your own judgement and experience. Also make sure that anybody you serve this jam to knows that your delicious jam is infused with cannabis.
Preparation time: 30 minutes
Makes approximately 2 cups of fresh jam
INGREDIENTS:
2 small mason jars with lids. Be sure they are sterilized.
A small saucepan, preferably with a heavy base.
A wooden spoon. Stirring with a metal spoon wrecks the texture.
2 cups of sugar.
4 cups of a fruit of your choice. Strawberries or plums, figs and the rest of the berry family work well. For a marmalade, dice up citrus fruits of your choice including half the rinds.
¼ cup of lemon juice.
4 tablespoons of cannabis-infused honey.
PREPARATION:
Place two tablespoons of honey in each sterilized mason jar.
Put sugar and lemon into the pan over a low heat. Like really low. The art of a good jam is low heats for a long time.
Stir continuously until the sugar is dissolved. If the lemon juice is browning, the heat is too high.
Add the fruit and stir through the lemon syrup.
Continue heating and stirring the fruit mix for 20 mins or until the fruit begins to break down. Less time for a chunky mix. More time for a smooth mix.
While the mixture is still hot, divide equally into each mason jar.
Stir well until the honey is completely mixed through.
Allow to cool and serve, or put the lid on and refrigerate.
Use your jam on toast, scones, biscuits or ice cream or as a filling for a really happy birthday cake. Enjoy!
---