Grow house (2017): review
---
Grow House is the creation of DJ Pooh and hit the big screen in 2017. The film is the story of beginner growers trying to start up a cannabis grow. They run into some extreme encounters along the way, and even get Snoop Dogg on board.
Grow House is a classic weed movie that may have earned its place among the pantheon of cannabis films along with How High and Half Baked. The film features two novice growers who have intentions of starting a lucrative cannabis business. The only obstacle in their way is that they have zero ideas of how to go about it. Starting from square one, the duo set out to obtain a medical marijuana card and eventually even secure funding from weed smoking icon Snoop Dogg.
Grow House is the creation of DJ Pooh, otherwise known as Mark Jordan, who is well known for his work as a record producer working with artists such as Ice Cube, King Tee, and Del tha Funkee Homosapien. Away from his work in the music scene DJ Pooh also heavily contributed to the classic cannabis film Friday.
The movie is ultimately the tale of two novice growers trying to make it big. Their journey lands them in some hilarious encounters, including run-ins with a sexual neighbor and a stoned meeting with Snoop Dogg.
THE GOOD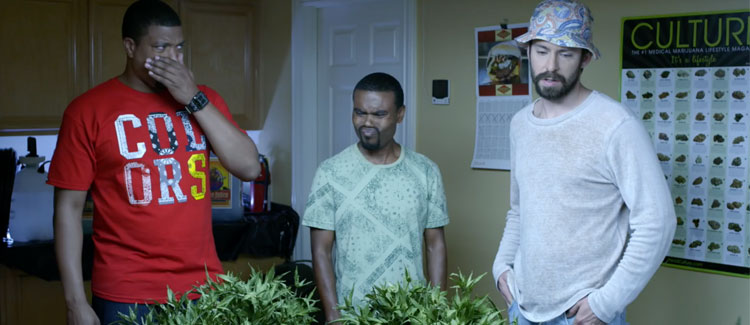 Grow House is a light-hearted comedy film filled with all the humor and awkwardness you can imagine. DeRay Davis and Lil' Duval who play the two main characters are pretty funny together and scenes such as the duo attempting to secure a bank loan for a cannabis business will have high viewers giggling to themselves.
Their intentions to keep the grow concealed along with house fires and growing mistakes bring an air of tension into the constant jokes and humor. Some hilarious slapstick moments are the icing on the cake.
THE BAD
Despite being mostly funny and rather chill, some of the humor featured in Grow House can be quite tiring and cliche. There's only so many "hell yeah"s and "hell no"s some viewers will take before they remain straight-faced. If you're a fan of more complex humor, then the childish sexual references and slapstick moments might not be your cup of tea.
THE BOTTOM LINE
When Grow House initially came out in 2017, we were maybe a little too baked and never got around to see it in the cinema. Afterwards we heard mostly that the film was not that funny and never bothered anymore.
But after watching it now we must say that it's actually a pretty decent movie that is worth your high.
Although the humor may appear immature at times, watching this film with a blunt in hand is guaranteed to make you laugh as sometimes there is just nothing better than watching a film about weed while getting a little buzz on yourself.
---