How to make cannabis and cbd lubes
---
Cannabis-infused lube is a hot trend in the hunt for better sex and multiple orgasms. Read on to learn the difference between high-THC lube and high-CBD lube, and try out our simple recipe for DIY cannabis lubes.
Cannabis and sex is a classic combination, but there's more than one way to mix the two. Now you can experiment with cannabis-infused lube. Read on for all the details, plus a recipe on how to make your own cannabis or CBD lube at home.
SHOULD YOU TRY CANNABIS OR CBD LUBE?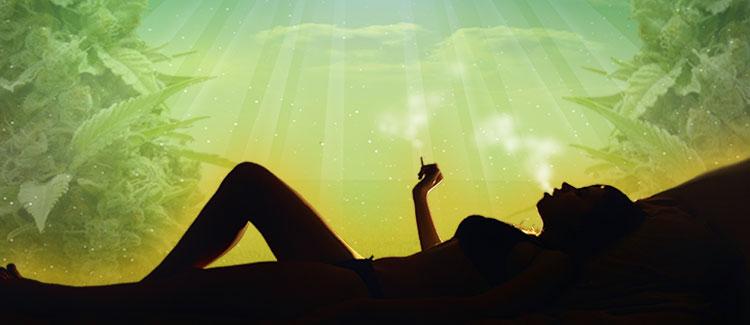 Cannabinoid-infused lubes are gaining popularity as a way to intensify pleasure during sex. People use them to heighten the sensory experience, increase blood flow to the genitals, and relax tense muscles. Anecdotal evidence suggests they may stimulate production of the body's natural lubricants. Women in particular seem to benefit, and research has invoked the endocannabinoid system for its role in female sexual arousal.
Just keep in mind that cannabis lubes are oil-based lubes, so they can't be used with latex condoms or certain sex toys.
Advantages of using cannabis or CBD lube:
• Increases blood flow to genitals
• Relaxes mind and body
• Easy to make
• Works for all genders
• Can be made with high-THC or high-CBD strains
DECIDING BETWEEN HIGH-THC OR HIGH-CBD LUBE
THC and CBD have different effects. A key distinction is that CBD is not psychoactive and THC is. Since CBD can't get you high, it's widely legal around the world (though it's always good to check your local laws).
Can THC lube get you high? Lube is a topical, so not really. That said, if you engage in oral sex after applying THC lube, you might feel some mild effects. Compared to CBD lube, many users report that THC lube is more of a noticeable aphrodisiac, heightening sensations during sex. Some have found it stimulates more intense or multiple orgasms. For the most powerful result, use a strong strain with over 20% THC.
CBD lube is perhaps less assertive in its effects, but it could get you in the mood by relaxing you. If you tend to get anxious during sex, CBD lube might be a good option to help you get out of your head. It's also been anecdotally reported to ease painful sex. To make your own CBD lube, try one of these popular CBD-laden strains.
HOW TO MAKE CANNABIS OR CBD LUBE
Here's an incredibly easy recipe for cannabis lube. It can be made to be high in THC or CBD, depending on your preference and the strain you choose.
INGREDIENTS
• 225–230g extra-virgin coconut oil
• 4g of finely ground cannabis (your strain of choice)
HARDWARE
• Ovenproof saucepan
• Fine mesh strainer
• Small tinted jar with lid
DIRECTIONS
1. Preheat the oven to 140°C (280°F). Place your ovenproof saucepan on the stove over medium heat. Melt the coconut oil in the saucepan, then add the ground cannabis and give it a good stir.
2. Transfer your saucepan and mixture to the oven on the middle rack. Continue to heat in the oven for 6 hours, stirring occasionally.
3. Remove the mixture from the oven and strain out the plant matter. Use the back of a spoon to push it into the strainer so you squeeze out the maximum amount of liquid. The oil should have a slightly green hue.
4. Pour the strained liquid into a small tinted jar (if it's too difficult to pour, use a small funnel). Your lube is now ready to go!
5. Store the jar in a cool, dark place.
HOW TO APPLY CANNABIS OR CBD LUBE
Start with around 1ml of oil at a time. Apply it to you or your partner's genitals 15 minutes to 1 hour before sex. Unlike traditional lubricants, cannabis lube needs time to produce its effects. Use it as an excuse to take it slow and really build up to things. Great foreplay usually makes for better sex anyways.
Cannabis or CBD lube can also be applied topically to other areas of the body. It makes an excellent massage oil for sensual exploration or relaxation.
FINAL TIPS AND TRICKS FOR MAKING CANNABIS OR CBD LUBE
• If you notice any plant matter floating in your finished oil, keep straining until it's gone. If you're having difficulty achieving the desired smoothness with a strainer, try filtering it through a few layers of cheesecloth.
• The beauty of this recipe is its simplicity. Don't muck it up by adding essential oils or other unnecessary ingredients. If you keep it clean, you can even bake with it.
• Make sure the jar you use to store your lube is tinted, or it will lose potency fast.
• The process can be quite fragrant, so ventilate as much as possible. In a pinch, try cooking something else at the same time to mask the smell.
• Repurpose our recipe as an edible—just snack on it a bit and wait for the effects to take hold.
• Remember, oil-based lubes shouldn't be used with latex contraception as oil degrades latex. Polyurethane is a better choice.
• If you can't find a high-CBD strain, or want to do a trial run before making your own lube, experiment with a high-quality commercial CBD oil. This, however, is best reserved for external use.
---