The good and the bad snacks to feed your munchies
---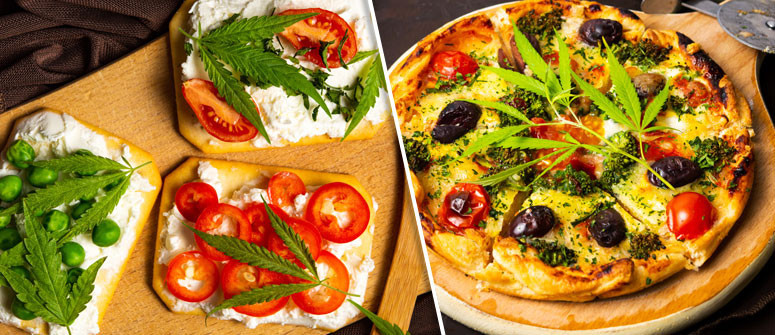 What are the best kinds of foods to satisfy the munchies? Do they all have to be full fat and high calorie? Let us surprise you.
It is a cannabis smoker's rite of passage. Toke up. Feel great. Have the unbelievable urge to raid the fridge. But what are the best foods to feed the munchies? And what are those really great snacks that you might regret afterwards? You might have some ideas. But there are lots of foods to fall back on beyond pizza.
But what food just "feels" right? Orally. Brain wise? What are the smoker's go-tos and are there any healthy options on the list?
The answers might surprise you as we selected some of your typical and not so typical munchies treats.
Here is the other thing. Fat consumption while high is not a bad thing. It helps the body process THC more efficiently. But eating a couple of buckets of ice cream might still not be the best way to silence your hunger after a smoking session.
AH YES, FAST FOOD
Pizza and cannabis go together like Russ Meyer and babes in hardly any clothes.
That said for all the stereotypes, there are just some moments when the only thing that will hit the spot is a pizza pie. Plus of course, in most jurisdictions, they also deliver. No muss, no fuss. Want a cheeseburger to go with that? Fully loaded nachos anyone?
Just remember, you will pay the price for overindulgences. Do this sparingly.
COMFORT FOOD
Comfort food is always a perennial go-to for the famished cannabis smoker. Particularly food with high carbohydrate and fat content. That includes spaghetti, lasagne and meatloaf. Macaroni and cheese anyone?
Anything with potatoes is also an instant fave. Remember in this case, however, your eyes are always bigger than your stomach. Indulge in this habit too often however, and your stomach will definitely be looking bigger.
ETHNIC FOOD
These days, there are ethnic food joints just about everywhere. Including take-out and fast food service. That alone makes this option a nice convenience to the late-night pot-fest. Plus of course there are all sorts of spicy and other exotic options.
Burritos are satisfying to the stoner palette and gut for a number of reasons. The flavours and spices all work to stimulate the palate. This includes the pepper and the avocado. Plus of course there are also always those salsa and chip sides.
Chinese or Vietnamese is also a great idea. There is a range of tastes to appeal to a THC-enhanced palette. And don't forget eating noodles with chopsticks is an unperfected art.
Greek and Turkish wraps are also reliable late night standbys.
SWEETS, CHOCOLATE & ICE CREAM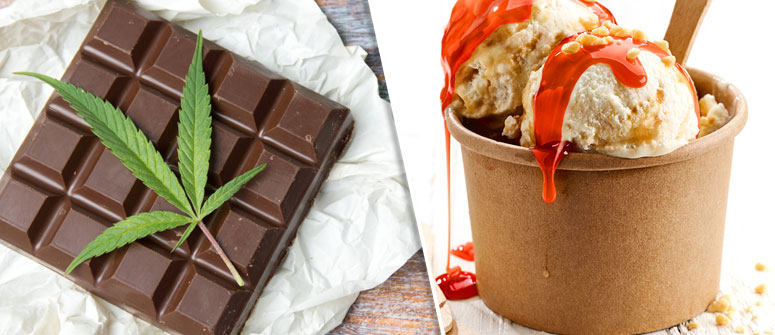 The sublime pleasures of letting ice cream trickle down your throat after ripping a toke have to be experienced to be believed. However pigging out on the entire carton of ice cream is also always a possibility when mixing ice cream and ganja. Go slow and at least try to be disciplined.
The one spoonful only rule before returning the rest to the freezer can work. Then again, this requires that discipline thing.
Oh, and don't forget the brownies. Think of them as a "second" desert course.
A BUCKET OF CRISPS AND A BUCKET OF SODA
We have all been there. You have the need for something salty and are longing for a bucket of neverending crisps. Of course this needs another bucket of soda drink to wash it all away. And while this is the ultimate combination, it might not be the healthiest way to settle your munchies.
Once in a while it just needs to be done though, so make sure to stock up your kitchen cabinet with your favorite brands as you don't want to end up dissapointed, eating some stale crisps with some even more more stale drink. Crispyness and bubbles are the ultimate combo.
FRESH VEGGIES? YUMMIE!
This might not be any smoker's first idea of nice food to eat while you have the munchies. Seriously, who wants to nibble on some broccoli of carrot when you could eat a fat slice of pizza? Well, imagine the look on your mate's faces when you bring out the carrots and the dip!
This is also a great way to prevent overindulgences of other kinds. Because this takes a little work, be prepared before you toke. However chopped up carrots, celery and radishes are a delicious snack that can satisfy your THC-inspired noshing.
Especially when added to a little sour cream or yogurt-based dip. For an extra special spicy kick, try adding a little salsa.
FRESH FRUIT?! YEP, FRESH FRUIT.
Just like vegetables, fruits are not really a popular snack amongst smokers. They are however a bit healthier than your usual pizza or bucket of ice cream and seriously, who doesn't like pineapple for instance? You can bet your ass that at least your ladyfriends would be amazed if you bring out a nice plate of freshly cut fruits.
If you want to increase the effect and overall euphoria of your high, there is in fact no better place to start than with fruit. Tart citrus is a particular fave. Why? It turns out that terpenes all enhance each other. That starts in the cannabis itself. But if you add to that by popping a few fresh juicy blackberries into your mouth too? Sheer bliss. Add a little fresh or whipped cream, and you satisfy several urges at once.
Apples dipped into peanut butter are also a weed smoker's classic. The crunchiness. The tart sweetness!
Even better? One of the best low cal options. Add some coconut shavings to your fruit concoction and you are adding a guaranteed palate and heart pleaser. Plus there are all those smoothie options.
GO NUTS WITH GRANOLA AND NUTS
Oral sensations are incredibly important to a lot of cannabis-enhanced edible sessions. Salty, sweet or extremely sour things taste good. This is also why nuts and granola are also a smart snack for THC-induced grazing.
Mixed with fruit, this can be an even more satisfying option. Plus it keeps you in the healthy column. Not to mention can satisfy both your sweet and salty tooth.
---