Hash and cannabis concentrates cover both ends of the spectrum. One is a process steeped in thousands of years of tradition, producing a thick, oily resin that is compacted into small brick-like blocks. The other is the modern equivalent, utilizing specific high-tech extraction methods to create a variety of outcomes like shatter, crumble, or wax.
Regardless of which one you choose, they both have some fantastic traits in common. Loaded with terpenes, they are rich and aromatic, unlocking a new sensory experience when smoked via a dab rig, bong, or pipe. Importantly, they are both far more potent than a standard smoke—perfect for cannabis aficionados or seasoned veterans.
If all this talk of top-class concentrated cannabis has you yearning to try, the following strains are perfect for making your own hash or concentrates

1. Hash Plant
A perfect strain with an apt title. You want hash; you use the Hash Plant strain—simple. Her thick, resinous buds ooze with indica goodness. 90% of it to be precise. As a result, anyone using her as a foundation for concentrates will be hit with a heavy blow, inflicting a sleepy, relaxing high. Medicinal users are well advised to attempt growing her; she is known to soothe various symptoms.
Encouragingly good yields, an affinity for hydroponic cultivation, and a love for Mediterranean sunshine means Hash Plant will reward you with a bounty of potent nugs if you show her some TLC. Even better, flowering time is only 6 to 7 weeks—a result of her iconic parent strains Afghani and Northern Lights.

2. 8 Ball Kush
There was a time in all our lives when asking the 8 Ball those problematic questions was the only way to move forward. We may have gotten older and perhaps a touch wiser, but 8 Ball Kush is still here to quell all your worries. If aches, pains, and the stresses of modern life have got you down, this luxurious, earthy Kush variant will pick you up and help you reach new spiritual and psychedelic heights.
Originating in the mountainous regions of Afghanistan and Pakistan, not many strains make a better stash for hash, especially when you consider that hash originated in these countries. Suitable to grow in almost all climates, her resin production will leave even the most entitled cultivators pleasantly surprised. Hash never tasted so authentic.

3. ICE
In case of emergency, this strain and its dense trichomes will alleviate all of your problems. If being locked to the couch with nothing but your favorite boxset and a deep feeling of relaxation is just what you need, Indica Crystal Extreme (ICE) is the right lady for you. Despite sounding like an '80s game show, ICE carries all the hallmarks of an excellent hash or concentrate candidate—outstanding lineage, a touch of sativa to balance the indica dominance, and up to 18% THC content.
ICE won't suit all occasions though; her enveloping high induces a calming, somewhat lethargic feeling. If prepping for a work meeting or doing chores around the house are on the agenda, then ICE is best enjoyed at the end of the day. In fact, those that struggle to sleep will greatly appreciate her ability to encourage a smooth journey to the land of Nod.

4. Strawberry Shortcake
Sweet and seductive, Strawberry Shortcake will leave hash and concentrate-lovers' mouths watering. She is every bit as pleasant and delicious as her name suggests. Saccharine strawberry aromas greet the senses, inducing an uplifting high capable of promoting an energetic physical boost. What's more, her potency is a sign quality has not been skimped in other areas. She still boasts up to 22% THC, making her incredibly potent.
She continues to impress growers as well. Her buds are so laden with thick resin that string is often needed to keep her branches intact. It is all too easy to allow them to bow and break under the sumptuous horde of buds she produces. Flowering takes up to 10 weeks, but is well worth the wait.

5. White ICE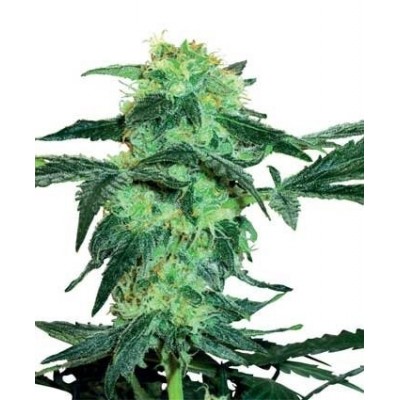 Buds literally dripping in resin are prime candidates for hash or concentrates like shatter and wax. With White ICE, that's precisely what you get. Stocky and dense, her plant structure is fantastically durable, which is essential given how extreme her trichome production is. A delightful flavor profile provides the perfect foundation for high-quality concentrates, especially when the rich terpenes can be fully retained to provide the ultimate aromatic experience.
With indica parents responsible for her sweet but pungent aroma, the high induced is calming and physical, with what feels like small currents of electricity pulsing to the extremities. The best way to get hold of her, by growing of course! Grown outdoors, White ICE can be harvested in mid-September, making her perfectly viable in less-than-perfect climates.

6. Mkage
Remember Mr. Mackey from South Park? Well, the verdict is still out on whether this strain is pronounced how Mr. Mackey would say it, "M'Kage," or instead "Em-Kage." Regardless, the result is the same—a thick crystal coating on mature buds. Even better, that thick coating of THC goodness contains potent amounts of its non-psychoactive counterpart CBD. Hash-lovers get the best of both worlds with this strain, which is unsurprising when you consider the award-winning parentage that supports MKage's genetics.
When her thick resin is compressed into bricks of hashy goodness, spicy herbal notes will entice smokers. The result is a jovial but relaxed high—the perfect complement to a quiet summer's evening. For growers restricted on space, you will be pleased to know MKage only reaches 110–130cm in height, making her brilliant for stealth grows.

7. Sour Banana Sherbet
Split down the middle, Sour Banana Sherbet benefits from both indica and sativa in equal measure. The highlight of this strain is the resulting high. Ever struggled to strike up a conversation when out with friends? Sour Banana Sherbet can help with that, providing a giggly, sociable high that leaves you relaxed at the same time. This selection of attributes also makes her perfect for sharing.
Conveniently, her sizable yields mean you won't lose out on dense hash for yourself, instead having plenty to pass around. As much as 600g/m² can be obtained when grown in optimal conditions indoors, unless of course you are blessed with a favorable cannabis climate. In this case, let her stretch outdoors. Be wary though, during flowering she really likes to climb, so make sure she is adequately supported.

8. California Hash Plant
There is something highly appealing about a strain with low THC content. That may sound like a strange statement, but for those that want to enjoy the taste and aroma of marijuana while only experiencing a mild high, the benefit is being able to stay productive and functional. To that end, picking California Hash Plant as your next candidate for a cannabis concentrate is highly advised. Containing 10% THC and indica in nature, CHP will still leave you plenty of room for activities, without locking you to the couch for the rest of the day.
This strain's name provides a glaring clue as to whether she should be grown indoors or outdoors. Even if you don't have the benefit of a Californian climate, outdoor cultivation is the best way to go. Some growers have reported double the yield compared to an indoor environment.

9. Alaskan Ice
Until recently, Alaskan ICE was an elusive strain. Fabled for its mind-blowing THC content, growers struggled for years to stabilize her genetics and provide consistent bud production. With so many enthusiasts desperate to get a taste of her earthy, citrus flavors once more, she is back with a bang. Unlike many of the previous suggestions, Alaskan ICE is driven by sativa genetics, elevating users to new euphoric heights. Proceed with caution though; novice cannabis-lovers may find it difficult to navigate the cosmos with such a potent THC content.
Her sporadic phenotype development does mean veteran growers stand the best chance of unlocking her real potential. If you are lucky enough to get a fully developed crop, up to 800g/m² is your reward—a haul well worth the effort.

10. Somalicious
Unsurprisingly, her spicy haze flavors and hashy aromas make Somalicious very...delicious. This abundance of terpenes makes producing concentrates like bubble hash a taste sensation. The distinct flavor of Somalicious is courtesy of a complex lineage. Various strains were hybridized to endow her with the diverse blend of aromas that growers and consumers have come to appreciate.
Enough about the flavors though, what kind of high does she induce? Imagine being held in a loving embrace—that is how many users describe the feeling Somalicious provides. The best part is, even though she is a mainly indica hybrid, the resulting high still provides bursts of creativity and mild productivity. Thick branches and a longer flowering time mean a warmer climate is recommended. Late-October may seem like a long time to wait, but you know what they say—patience is a virtue.