BitCanna is updating to Cosmos blockchain technology
---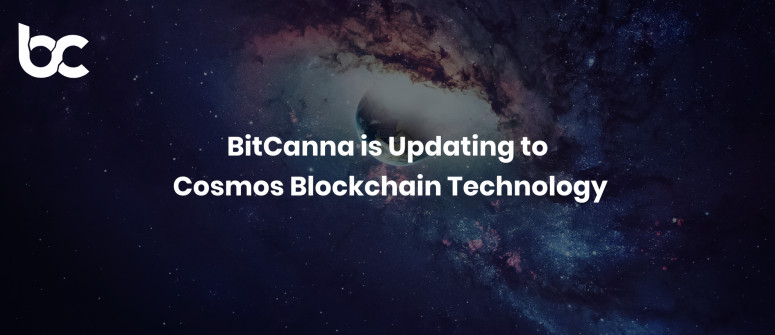 Click the link to read about exciting developments for BitCanna, and how upgrading to Cosmos technology will benefit the entire cannabis industry.
In the last few months, we've taken time to assess BitCanna's progress, but that doesn't mean we haven't been working on improvements. Keep reading to learn about exciting developments for BitCanna and BCNA holders.
The Current BitCanna Network
Our current blockchain operates on a custom-built version of BTC/DASH technology, which initially worked very well as a payment network. However, this technology was released over a decade ago (2009), and although we're delighted with how it's performed, blockchain tech has come a long way since.
As the blockchain world gained attention, better alternatives entered the space. With that in mind, we've decided to improve our blockchain technology to a better, faster, and ultimately more modern version—Cosmos. We're already trialling it on our testnet, and Cosmos' performance looks excellent!
Cosmos will improve the infrastructure of BitCanna, the transfer of BCNA coins, and, eventually, help us build a highly efficient supply chain layer and trust network. Given the limitations of previous technology, Cosmos is the right upgrade for the BitCanna network and its community.
What Are the Benefits of Cosmos?
The new Cosmos-based coin will facilitate lower transaction fees and even faster payments than our current network. But, those aren't the only reasons for the upgrade.
The Cosmos network's beauty lies in its interaction with other blockchains, thanks to the so-called IBC protocol (Inter-Blockchain Communication). If you're new to blockchain, this might sound confusing, but the premise is less complicated than it sounds. Essentially, Cosmos allows different blockchains to communicate with each other. The new BitCanna blockchain will be able to communicate with giants like Ethereum, Binance Chain, Polkadot, Cardano, and many more. Curious about how it works? Read more in this article.
For BitCanna, IBC means that Cosmos will give our developers more freedom to work. Cosmos' modern coding infrastructure allows for plenty of customization possibilities and faster development.
For instance, BitCanna will launch a tradable token variant of our BCNA coin on the ERC-20 (Ethereum) standard, rather than being limited to a single network (the BitCanna network).
We'll be launching this token next to our "normal" native coin, with both running on Cosmos technology. By introducing an additional ERC-20 token variant of our coin, we'll become listed on major cryptocurrency (decentralised) exchanges like UniSwap and Sushiswap (over $1 billion trade volume per day). And, best of all, you won't need a KYC or account sign-up to trade; you simply need to connect your wallet, and you'll be able to trade BCNA coins freely.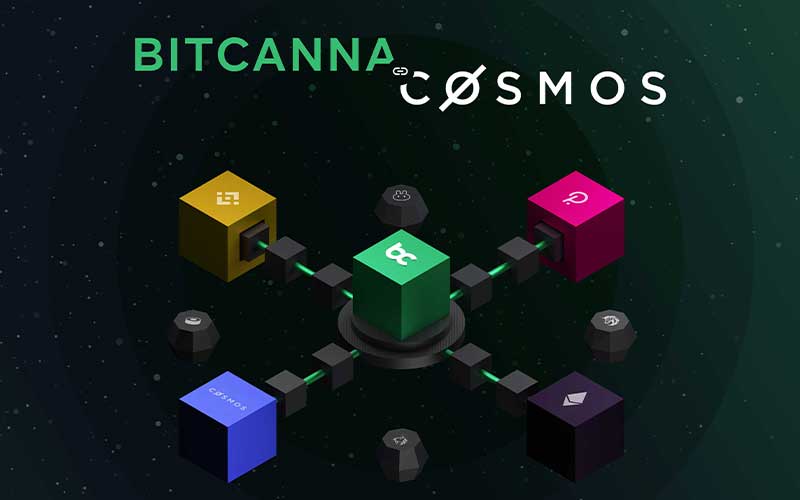 What Does Cosmos Mean for BCNA Holders and Investors?
If you're holding BCNA coins as a long-term investment, nothing will change for you in practise. Once our new wallets become available, you can transfer your coins to your new BCNA wallet based on Cosmos.
If you are an active participant in the BitCanna network (i.e. staking) and want to explore the possibilities Cosmos offers, we recommend reading this article. It helps to break down the updated staking and reward mechanism while also explaining how to become a validator of the network.
As a trader, you will be able to trade your BCNA tokens on more prominent exchanges while retaining access to webshops supporting the BitCanna currency, instant transaction times, and low fees on the main network. You will always be able to swap back to the native BCNA coin whenever you need.
Thanks to Cosmos, the BitCanna project will be exposed to millions of potential new investors using Uniswap, Sushiswap, and exchanges alike.
What Action Do BCNA Holders Need To Take?
At present, BCNA holders don't need to take any action. In the coming months, you'll be able to swap your coins to our new currency based on Cosmos. Once we've confirmed a time frame, we'll communicate accordingly, updating all investors via e-mail and our social media channels with full details of the swapping process.
We're close to launching a testnet with selected invites on their way soon. The testnet will initially run on Linux, so we're looking for enthusiasts familiar with Linux to test the brand new BitCanna token on Cosmos. Stay tuned for full details on sign-up!
You can now join our new Discord channel to talk about the Cosmos transition in more depth! Or, if Telegram suits you better, connect to our Telegram group.
Watch the video below to see Jan, our CEO, break down the Cosmos announcement!
---