How to choose the best cbd oil for you
---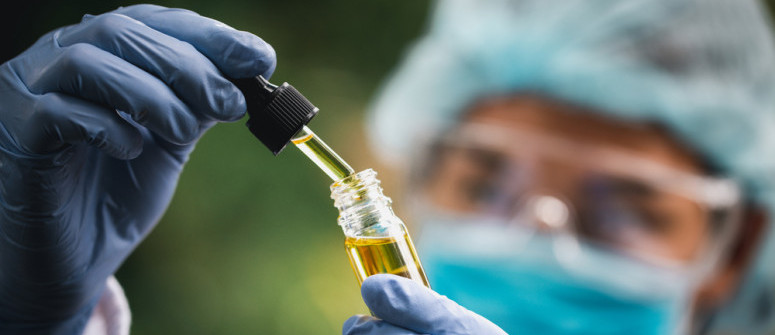 If you're confused by the growing selection of CBD oils and their different concentrations, formulas, and carrier oils, don't despair. We've put together a simple, three-step guide to help you choose the right CBD oil for you. Keep reading to find out more.
CBD oils are by far the most popular way to consume CBD. Simple, discreet, and available in a range of concentrations, oils make achieving your ideal CBD experience a straightforward venture. This guide will focus on CBD oils, but many of the principles apply to any CBD product you're interested in trying. With a few simple considerations and a basic overview of how each product differs, there's no reason you can't fully enjoy the cannabinoid's versatile effects—no matter your needs. With that said, let's jump straight into what you need to know to find the best CBD oil for your needs.
A STEP-BY-STEP APPROACH TO FINDING THE BEST CBD OIL FOR YOU
It may sound daunting, but finding the right CBD oil for your needs is easy—thanks to our step-by-step guide! We'll highlight three crucial factors to finding a CBD oil that is not only high-quality, but the right concentration for your needs, and comes with a host of secondary benefits.
1. FIND A QUALITY PRODUCER OF CBD OIL
Finding high-quality products that are third-party tested is an essential step in buying any CBD product, not just oils. The CBD industry is largely under-regulated, so knowing what is and isn't in your chosen oil is vital. Extracting CBD on a commercial scale is not a cheap or straightforward process. Independent tests have shown that the advertised CBD concentration of a retailer's product may not match what's actually inside the bottle.
By asking for third-party test results, you can verify how much CBD is in your oil, and, if applicable, what other cannabinoids and terpenes are present. You can read more about the specifics of the extraction process here. In the meantime, when it comes to knowing what should be in a CBD oil, products typically fall into two major categories—full-spectrum CBD and CBD isolate.
• Full-spectrum CBD
Full-spectrum CBD oils contain a complete selection of cannabinoids, terpenes, and flavonoids. Alongside CBD, you'll find cannabinoids such as CBC, CBN, and trace amounts of THC. Don't be alarmed by the presence of THC, though. The levels retained are negligible, and not nearly enough to pose a risk of side effects. If you're wondering why a CBD oil needs extra compounds, the answer is the "entourage effect".
The entourage effect is a phenomenon unique to full-spectrum hemp and cannabis products. When cannabinoids, terpenes, and other natural compounds inside hemp are retained in CBD products, their respective attributes are thought to synergise. According to Dr Ethan Russo—an expert on cannabinoids—CBD consumed alongside a diverse range of hemp compounds could prove more effective than CBD taken in isolation.
• CBD isolate
As the name implies, CBD isolate oils only contain CBD, with no other compounds. It may seem strange, especially when you consider the extra benefit of the entourage effect, but CBD isolates may be preferable for some consumers.
Even without the other cannabinoids, terpenes, and flavonoids, CBD still interacts with the body in the same way. The difference between isolate and full-spectrum products becomes more apparent once you start to increase your dose. High doses of full-spectrum CBD oil stay effective, while isolates have diminishing returns, no matter how much you consume.
2. CHOOSE A SUITABLE CONCENTRATION OF CBD OIL
You've found a quality producer of CBD oil, and decided between full-spectrum and isolate—now what? The next step is to pick how strong you want your CBD oil to be. CBD oils typically come in a range of concentrations—anywhere from 2.5–30% CBD.
If you're using CBD to tackle a specific condition, product labels should also display the CBD content in milligrams (mg). This measurement is especially useful if you're trying to consume a specific amount of CBD per day.
As you'd expect, low-concentration CBD oils provide a mild effect. If you're new to CBD, a low-concentration oil is a great place to start as it allows you to become acquainted with the cannabinoid and see how you respond. When you're more accustomed to the effects, you can increase the frequency of the dose or the concentration as needed.
3. MATCH CBD OIL CONCENTRATION WITH A PREFERRED TASTE
The last step in choosing the best CBD oil for you is to pick a suitable carrier oil. These provide a range of secondary benefits while also improving how easily the body absorbs CBD. If you're buying CBD from a reputable producer, the type of carrier oil used will make no difference to the efficacy of the CBD. Instead, carrier oils are merely a personal preference, with some variants being more suitable depending on your lifestyle or diet.
• Olive oil
The most common CBD carrier oil is olive oil. It is the default, and most CBD oils that do not make a point of the carrier are using olive oil. Not only does it have a pleasant taste, but olive oil is a rich source of monounsaturated fats and antioxidants.
• Hemp seed oil
If you're interested in an authentic hemp experience, hemp seed oil is a perfect choice. It doesn't contain any additional cannabinoids, but hemp seed oil is packed full of protein, amino acids, and omega fatty acids 3 & 6, while also having a much nuttier taste.
• Black cumin seed oil
The natural qualities (and taste) of black cumin seed (Nigella sativa) work in harmony with cannabinoids and terpenes for a well-rounded, holistic experience.
• Liposomal oil
Liposomes are microscopic vesicles designed to protect compounds as they travel through the body. When combined with CBD, liposomes provide a defensive barrier, increasing how much CBD reaches the bloodstream. As a result, liposomal formulas are more potent and take effect much quicker. The taste, however, is significantly stronger, and the inclusion of alcohol means they may not be suitable for everyone.
• Softgel capsules
If none of the options above sound appealing, or you cannot stomach the taste of CBD oil, softgel capsules are the answer. They're flavourless, odourless, and contain a predetermined dose of CBD and olive oil.
OTHER WAYS TO TAKE CBD
We don't want to complicate matters further; but, even if you've settled on a reputable producer with a full-spectrum formula, the ideal concentration, and a carrier oil that suits your lifestyle, there are still a few more ways to enjoy CBD. We won't go into detail on each one, but we will provide a quick summary of what to expect.
• Medical applications of CBD
The versatility of CBD extends to lotions designed to address skin conditions such as psoriasis, acne, and eczema. The cannabinoid works in combination with clinically certified ingredients to address numerous symptoms.
• CBD supplements
CBD supplements have a range of uses, but a common variation are sleeping aids. Infused with melatonin, CBD is believed to improve sleep quality by encouraging a healthy and natural sleep/wake cycle.
• CBD cosmetics
As part of a daily skincare regime, CBD cosmetics work in harmony with your skin's ecosystem to address fine lines or dry, tired skin.
• CBD for pets
It isn't just the human body that could benefit from CBD—your four-legged companions might as well. Both cats and dogs possess an endocannabinoid system, and thus could benefit from the therapeutic potential of CBD. Look for pet-specific CBD oils as these contain essential vitamins and minerals, and leave out any ingredients unsavoury to pets.
IF IN DOUBT, ASK YOUR DOCTOR OR PHYSICIAN ABOUT CBD OIL
According to the World Health Organisation (WHO), CBD exhibits minimal side effects. This should make experimentation with CBD oil a safe and straightforward affair. However, there is evidence to suggest a clinically significant interaction between CBD and prescription medicine, so if that applies to you, seek professional advice before taking CBD oil.
It also goes without saying that if you have any doubts about CBD, the type of formula, the concentration, or even the best carrier oil for your needs, a doctor or physician should be your first port of call. Your doctor will have an in-depth understanding of your medical history, and should be able to provide recommendations, or at least point you in the right direction.
---