Full-spectrum cbd oil vs cbd isolate: what's the difference?
---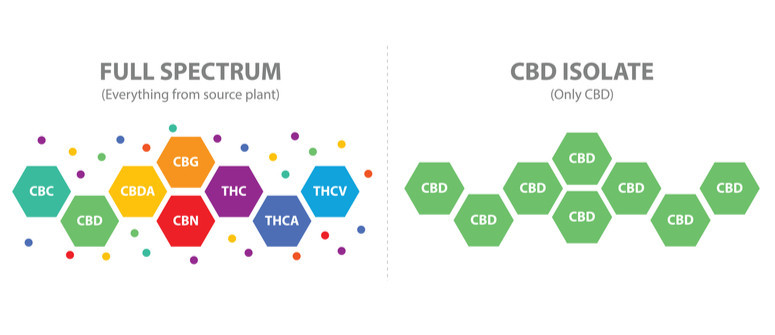 CBD oils have become some of the most popular wellness products to emerge in the past few years. However, people tend to assume they're all the same. Yes, they all offer the benefits of CBD, but full-spectrum and broad-spectrum oils, along with CBD isolates, are different from each other in several key ways.
CBD has become a dominant force in the wellness industry. You can get it in myriad forms, whether you want flower, edibles, or even tea. Out of all of these, however, it's CBD oil that has become the most popular in recent years. When you hear people talk about CBD oil, though, you might be under the impression that every oil is more or less the same.
The fact of the matter is that the world of CBD oil is nuanced. Specifically, it's what's included with the CBD that makes the difference. Some oils are "full-spectrum", some are "broad-spectrum", and some are known simply as CBD "isolate".
In this article, we'll walk you through the similarities and differences between all three.
UNDERSTANDING THE DIFFERENT TYPES OF CBD OIL
If you've done a bit of cannabis research before, you'll know you get far more than just THC or CBD when you consume it. Considering that, it shouldn't be surprising that many CBD oils contain more than just CBD. In fact, certain extracts contain up to 400 other compounds in trace amounts. Many of these are known as terpenes, and they're key in making many CBD oils what they are.
They don't do it alone, though; it's actually the combined efforts of terpenes and cannabinoids that make CBD oil stand out. This is known as the "entourage effect", a theory based on the proposed synergy between cannabis phytonutrients.
WHAT IS FULL-SPECTRUM CBD OIL?
Now that you have a clearer idea of what CBD oil is, we can get to discussing the different types. One of the most common you'll find on store shelves is known as full-spectrum CBD oil.
Simply enough, this refers to oils containing a full spectrum of cannabinoids and other compounds found in hemp plants. This includes terpenes, flavonoids, and other cannabinoids, such as CBC and CBN. Interestingly, full-spectrum CBD oils also contain THC, but not nearly enough to have an effect. Full-spectrum, hemp-derived CBD oils contain less than 0.2–0.3% THC (depending on country), ensuring there is no effect.
IS FULL-SPECTRUM CBD OIL LEGAL?
With the mention of THC, some of you may wonder whether full-spectrum CBD oil is even legal where you are. Unless your country has especially strict laws, it shouldn't be an issue. European CBD oil products must be derived from industrial hemp and contain no more than 0.2% THC. In the US, the threshold is slightly higher at 0.3%.
WHAT IS CBD ISOLATE?
Moving on, CBD isolate is pretty much what you'd expect it to be: pure (99%), concentrated CBD. During the manufacturing process, every trace of plant material besides CBD is filtered out. As a result, there is typically 990mg of pure CBD in every gram of CBD isolate. This can then be mixed into a carrier oil like other CBD oils. With everything else being filtered out, isolates are typically clear in colour. For those hesitant about THC and other plant matter in their oil, isolates may be ideal.
WHAT IS BROAD-SPECTRUM CBD OIL?
The only difference between most broad-spectrum and full-spectrum CBD oils is THC content. You'll still get the diverse terpene profile of a full-spectrum oil, but the THC level will be a clear zero. As there is very little difference, and no practical difference (a THC content of 0.2% causes no effect), it can be hard to find broad-spectrum oil.
HOW IS CBD OIL MADE?
With a clearer idea of what these oils are, it's easier to understand how they're made, and why it matters. When talking about the highest-quality oils, we're talking about supercritical CO₂ extraction. Utilising pressurised CO₂ and low temperatures, extractors use this special method to obtain concentrates with 90% of the available CBD. Ethanol extraction is a cheaper option that some companies use, although it's not quite as efficient.
At the end of either process, though, you'll have a fine, full-spectrum CBD oil. What if you want an isolate, though? As you'd probably guess, some additional processing is required. Using methods like chromatography and short-path distillation, chemists are able to separate the CBD from all other plant compounds.
HOW DO FULL-SPECTRUM, BROAD-SPECTRUM, AND ISOLATE CBD OILS COMPARE?
They're all CBD oils, but as we've learned, there are key differences between the three main categories:
FULL-SPECTRUM
• Combines benefits of CBD with those of other cannabinoids
• Trace but negligible amounts of THC
• Contains terpenes and other beneficial phytonutrients
BROAD-SPECTRUM
• Omits THC
• Still contains beneficial terpenes and ancillary cannabinoids
ISOLATE
• Best way to access large doses of pure CBD for an unadulterated experience
• Usually cheaper than full or broad-spectrum oils
WHICH CBD OIL IS BEST? FULL-SPECTRUM, BROAD-SPECTRUM, OR ISOLATE?
Keeping it simple, we can't outright say one is better than the other. If you find the THC, terpenes, and other compounds in CBD oil to be beneficial, full-spectrum is ideal. If you need to avoid THC but still want to benefit from other cannabis compounds, reach for a broad-spectrum CBD oil instead. If you need large CBD doses, isolates are your most budget-friendly option.
As with anything else in the world of cannabis, the CBD oil experience is relative and subjective. No matter which product you choose, just make sure to talk to your doctor before you start regularly taking it.
---