How to make cannabis infused salted caramel popcorn
---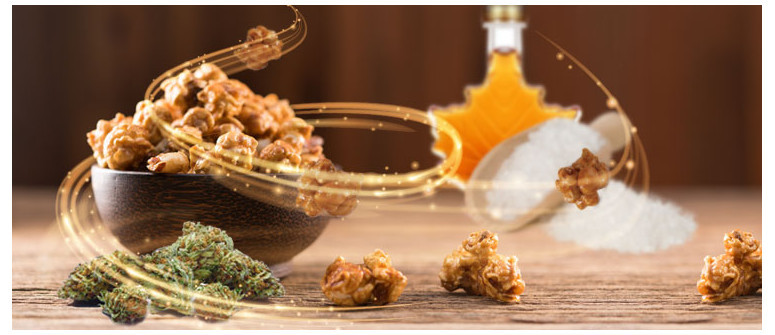 Looking to add a little something extra to your movie night? This cannabis-infused caramel popcorn is melt-in-your-mouth good! It's salty, sweet, and sure to get you high.
Wanna add some zest to your movie night? This recipe for cannabis-infused caramel popcorn is rich, delicious, and sure to get you very high! Turn on your favorite film, take a load off, and chow down on this caramel corn with a little something extra.
We made the recipe with maple syrup because we believe that you and your weed deserve the best. However, you can sub this out for corn or rice syrup for a cheaper (though less rich) alternative.
The total amount of butter and cannabutter combined cannot be changed, but you can change the proportion of each to make the recipe either more or less potent. This recipe requires some fast action, so you'll need to stay alert. It takes about an hour, the perfect amount of time to rustle up a snack for a night with friends!
Keep in mind, an edibles high is stronger and longer-lasting than smoking.
INGREDIENTS
½ cup popcorn kernels
¾ cup regular butter
¼ cup cannabutter
½ cup maple syrup
¾ cup brown sugar
1 teaspoon vanilla extract
½ teaspoon baking soda
1 teaspoon granulated salt
1 teaspoon coarse sea salt
1 tablespoon oil of your choice
HARDWARE
2 lidded saucepans—one should be big enough to hold 12 cups popcorn
2 baking sheets
Wax paper
Large mixing bowl
Large wooden spoon
PROCEDURE
Preheat oven to 150°C (300°F).
Heat oil in saucepan large enough to hold 12 cups. Add three kernels. When these kernels pop, add rest of kernels.
Add lid and let kernels pop. Shake pan periodically to loosen.
When popping stops, empty popcorn into large mixing bowl. Set aside
In the second saucepan, melt butter and cannabutter. Mix in sugar, maple syrup, and granulated salt.
Stir with wooden spoon and turn up heat to bring to boil.
Once the mixture is boiling, turn down to medium heat and allow to simmer for 3–4 minutes. Do not stir.
Stir in vanilla and baking soda. Stir til mixture appears glossy.
Remove mixture from heat and pour over popcorn. Stir continuously until popcorn is coated.
Place wax paper on baking sheets.
Spread popcorn evenly over baking sheets. Sprinkle coarse sea salt over top. Place in oven for thirty minutes, flipping popcorn every ten.
Remove popcorn from oven and allow to cool.
Be sure to refrigerate any leftover canna-popcorn. Also, be sure to pick an excellent movie to go with this excellent recipe!
---