The benefits of adding raw cannabis to your diet
---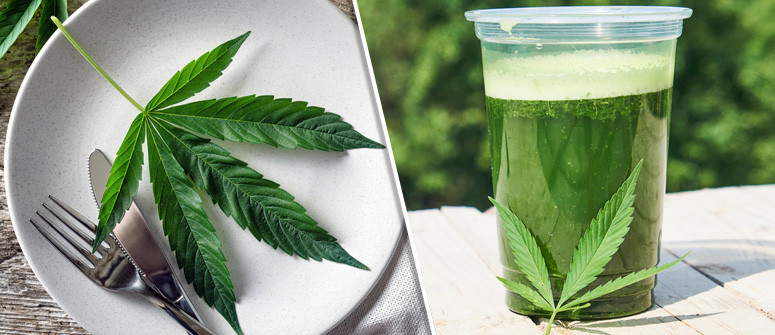 With all the focus on the end result, all the goodness packed within raw cannabis is usually bypassed, but a growing number of users are now integrating raw cannabis into their daily diet, and for good reason.
Smoking, vaping, and ready-made edibles are the most common ways weed is enjoyed. And each method has at least one attribute that connects them; they all use cannabis in its dried form, having been prepared and cured after harvest.
But there is a growing movement of people consuming our favorite herb in its raw state. Eating or juicing raw cannabis plant material, before the drying and curing stages, is not new—but it's more popular than ever. When it comes to cannabis, is there anything to be gained from ingesting it raw?
ENJOYING CANNABIS RAW DOESN'T GET YOU HIGH
The good news? Yes, eating raw cannabis brings a whole host of health benefits—so many in fact, that most users will be taken aback by just how healthy our fair green lady can be. The obvious question when it comes to consuming raw cannabis is, will it get me high?
In its raw form, cannabis doesn't contain active THC, the critical component responsible for getting users high. Instead, raw marijuana contains THCA, a precursor compound that is converted to THC during the drying and curing process.
Since this step is removed when ingested raw, users will not experience any psychoactive side effects—a significant benefit for those that want to enjoy the health-boosting properties of cannabis without the impairment of cognitive functions.
Furthermore, THCA, as well as the inactive precursor to CBD known as CBDA, contain a host of health benefits in their own right, and can be consumed in much higher amounts than their active forms.
WHAT DOES RAW CANNABIS CONTAIN?
Rich in healthy acids, vitamins, and essential oils, the leaves alone contain zinc, iron, calcium, potassium, selenium, and carotenoids. This is in addition to the dozens of cannabinoids and cannabinoid acids—compounds with notable antioxidant and anti-inflammatory profiles. Raw cannabis is the ultimate health kick.
While the leaves are packed full of nutrients, hemp seeds also contain their own superfood goodness. Rich in amino acids—organic compounds that assist with cell function and repair—the seeds can be enjoyed as a simple snack. One single teaspoon of hemp seeds contains up to 2,500mg of omega 6 fatty acids!
THE HEALTH BENEFITS OF CONSUMING RAW CANNABIS
With all the nutrients, oils, and cannabinoids packed into every part of the raw cannabis plant, you would be right to assume that the health benefits are extensive.
Proposed health benefits include its ability to enhance mood, stimulate appetite, and help with arthritis. Whether it's the leaves or the seeds, there are several quick and simple ways you can include raw cannabis in your diet.
HOW YOU CAN INCORPORATE RAW CANNABIS INTO YOUR DIET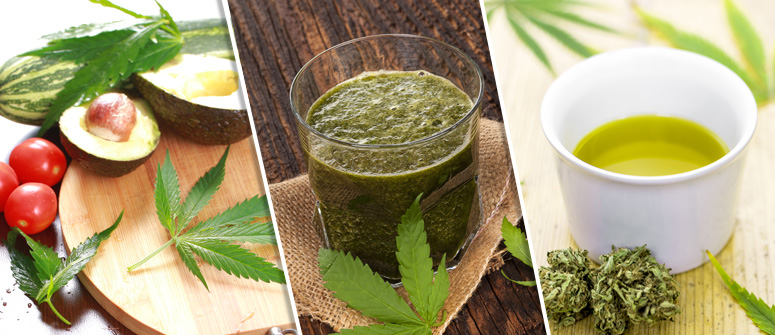 The crux of the matter; if you want to include raw cannabis in your diet, what is the best way to do so? Too many diets become difficult to maintain; let's face it, staring down at a bowl full of leaves, no matter how good for you they are, has never been very appetizing.
JUICING
Utilizing cannabis in its freshest form, juicing can be done in minutes. Experiment with adding other vegetables or fruits. The sky's the limit regarding different combinations. The best rule of thumb is to start with your favorite ingredients and create combinations you enjoy the taste of.
IN A SALAD
Making a salad to complement your meal? Use cannabis leaves instead. They do have a strong, bitter taste, so it is recommended to mix them in with others greens and not just use them on their own.
AS A QUICK SNACK
The hemp seeds we mentioned? They can be bought from health food stores in small packs. Quick and simple, the seeds can be eaten raw without any preparation. Next time those cravings kick in and you are searching the cupboards for a snack, grab those hemp seeds instead.
A HERB SUBSTITUTE
When you feel like sprinkling some parsley on a soup dish, add cannabis instead. Just by making a quick switch, you can reap the benefits the raw plant provides.
CANNABIS OIL
Cold-pressed cannabis oil can be used as an alternative to olive oil. With a means to add raw cannabis to your diet in nearly every situation, it can become and essential and accessible part of your diet.
---