What is twaxing?
---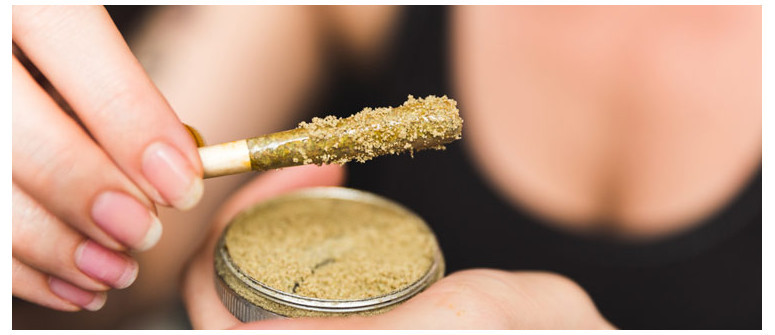 With the rise of concentrates came a new approach to enhancing a joint. Twaxing. So what is it? And how does it work?
With the vast expansion of social media networks, new sources for pure weed-porn and new cannabis trends have spread like wildfire. Unless you if you live under a stone or behind an iron curtain, you have already seen the term 'twaxing' come by and probably must have seen some amazing pics of juicy looking joint creations in places like instagram or facebook.
Twaxing is the art of adding cannabis concentrates, in any form, to your marijuana before you smoke it - be inside, outside or at the end of the joint. It isn't really a new practice though, as people have been adding hash and other concentrates into their joints for ages - especially in places like the Netherlands.
However, it has never really been a recognized thing with a name, but the new term "twaxing" has slowly but surely been spreading through the cannabis community. Many advocates claim that once you twax, you'll never go back to a regular joint.
WHY SHOULD YOU TWAX?
If nothing more than morbid curiosity, the benefit is simple: a stronger high. Concentrates on their own already give a much more intense high, as concentrates such as shatter or wax can boast cannabinoid concentrations of up to 80%.
Concentrates are great, but they are usually consumed with a vaporizer or a dabbing rig, and if you are a fan of rolling joints and don't feel like walking around with a dabbing rig, there are solutions.
By adding them to a joint you can use concentrates but still retain the act of smoking, which many cannabis lovers enjoy. Besides this, many now use it as an opportunity to express their creativity, using the shatter to develop weird and wonderful creations. No matter your reason, it looks like twaxing is a trend that is here to stay.
TWAXING THE END OF A JOINT
Twaxing with Kief
The simplest way of enjoying cannabis concentrates with your joint is by added kief to the end of it you burn before smoking it. Kief is a loose collection of the trichomes that form predominantly on buds. If you have a grinder, than it is the powder that you find in the bottom compartment of your grinder. Just sprinkle this on the end of your joint and light.
Twaxing with Shatter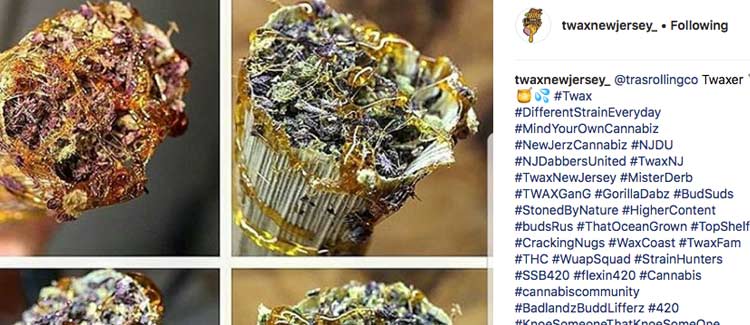 The second method involves using shatter. This process is slightly more tricky. You will need an incredibly stable shatter, but by gently heating the shatter you can give it a malleable consistency.
This is where the art aspect comes in. Now that your shatter can be sculpted, you can create designs as imaginative as you dare. Often shatter 'webs' are used on the end of a joint. In its heated form, the shatter can be layered over the end of the joint giving a web-like effect before being smoked.
TWAXING THE INSIDE OF A JOINT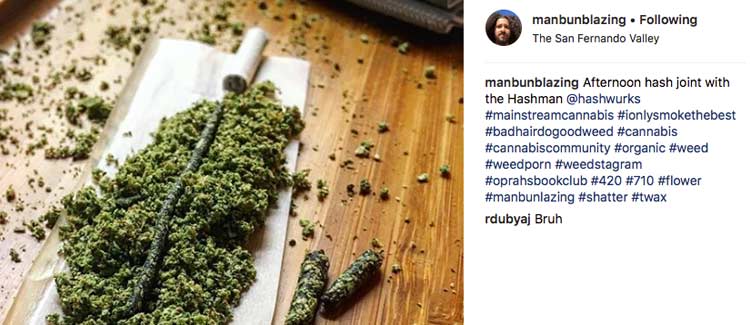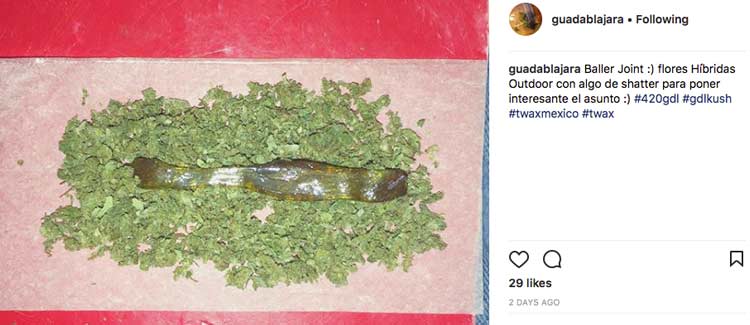 This is probably a middle ground in terms of difficulty to incorporate concentrates into your joint. The most straightforward approach is to add your shatter or other concentrate as a strip down the center of the joint.
Do this before you finish adding bud so it is in the center of it all. Then when rolled and smoked you will have the hit of the weed and the hit of the concentrate contained within the center. You could also use the kief referenced earlier instead of the shatter, or hash - or any concentrate you can run down your joint.
There are some advantages and disadvantages to this method.
Joints with concentrates will be stronger and burn slower, giving you longer to enjoy. However, use too much kief and the joint won't burn properly - the same outcome can apply if you are using shatter. If the shatter isn't sat centrally in the joint and comes into contact with the rolling paper, then the joint won't burn evenly - often running down one side.
Like all things, it is about experimentation and moderation. Just start with a little and add as much concentrate as you feel comfortable with.
TWAXING THE OUTSIDE OF A JOINT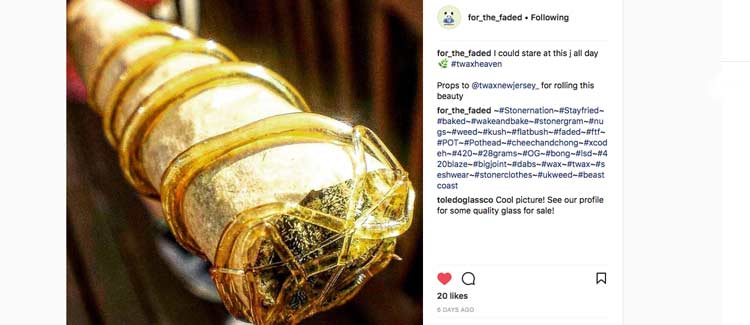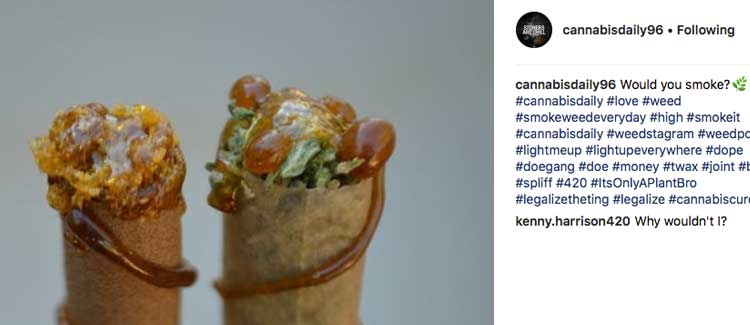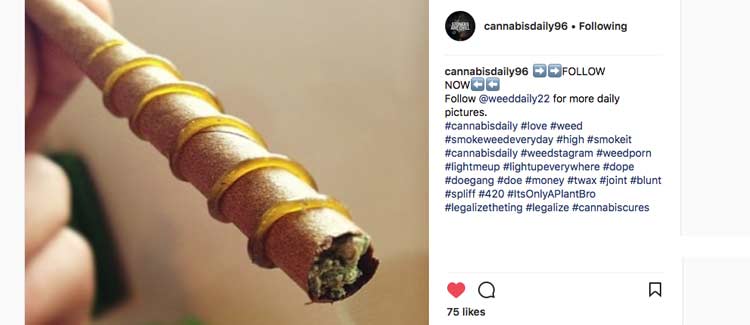 This is the most artistic and creative approach. The method is the same as applying shatter to the end of a joint. Gently heat your shatter until it's supple, so you can wrap the shatter around the joint, creating just about anything.
For example, a simple spiral or strips down the side. You could even add letters, shapes, or intricate patterns. Honestly, your limit is your imagination. We do have to mention that even though these type of decorated joint may look great, they do not always give the best smoking experience due to uneven burning, so that is a factor to bear in mind.
A handy tip for this approach is to use a dabber once the shatter is heated, making it easier to shape.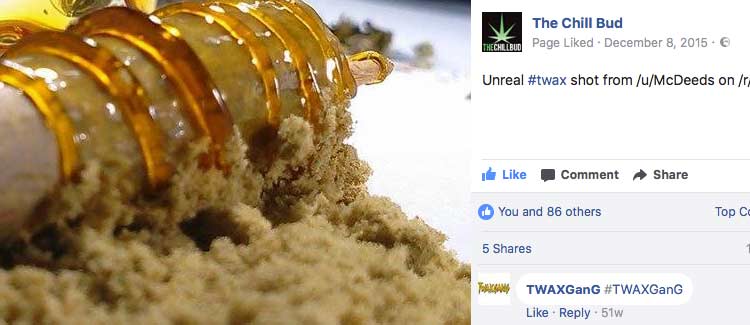 Finally, in a similar approach to applying concentrates to the inside of a joint, you could use a mix of both shatter and kief. Follow the steps above except this time once a thin layer of shatter is applied to the outside of the joint, roll that in some kief. The kief will stick to the shatter giving you a double hit effect. Plus, we have to admit, it does make it look super-tasty.
---