Legal status of marijuana in the state of michigan
---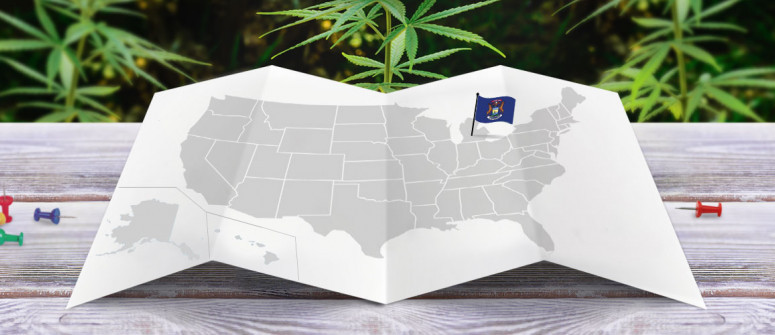 Find out about the legal status of medical and recreational marijuana in the state of Michigan. Is marijuana illegal? Better safe than sorry!
MEDICAL MARIJUANA IN MICHIGAN
Medical marijuana is legal for patients who have been diagnosed with a qualifying condition by a licensed physician. Any patient that has been diagnosed with such a condition, or his or her primary caregiver is allowed to possess up to 2,5 oz (70 grams) after receiving a registry identification card issued by the Michigan Department of Community Health.
Cultivation of plants for medical usage is also allowed, as long as the amount of plants is not greater than 12 and the plants are grown and kept in an enclosed and safe (locked) facility.
The qualifying conditions to become a medical marijuana patient in Michigan include:
Alzheimer's disease
Cachexia (wasting disease)
Cancer
Crohn's disease
Glaucoma
Hepatitis C
HIV/AIDS
Lou Gehrig's disease (Amyotrophic lateral sclerosis, or ALS)
Nail-patella syndrome
Post-traumatic stress disorder (PTSD)
Seizures (including those characteristic of epilepsy)
Severe and chronic pain
Severe nausea
Severe or persistent muscle spasms (including those characteristic of multiple sclerosis)
RECREATIONAL MARIJUANA IN MICHIGAN
Although the state of Michigan is working to update the medical marijuana program, legalization of recreational usage is still far away. The cultivation, sale, and possession of cannabis for recreational purposes are illegal in Michigan.
The state of Michigan treats possession of cannabis as a misdemeanor. Getting caught just using cannabis can already get you send to prison for up to 90 days and get you an additional fine of up to $100.
However, getting caught with any amount of cannabis can be punished more severely and penalties can get as high as up to 12 months in jail and/or a fine of up to $2,000.
Getting caught for possession in or near a park is considered a more serious crime and might get you a jail sentence of up to 2 years and/or a fine of up to $2,000.
Well. in 2017 a petition has been set up to gather signatures to approve the legalization of recreational marijuana use amongst adults. 252,000 signatures from registered voters must be gathered within a 6 months period in order to be able to submit the ballot to the Legislature.
Most probably Michigan's lawmakers will not act on this but it might mean that the proposal will go to a statewide vote in November 2018.
---