How to make cannabis balm
---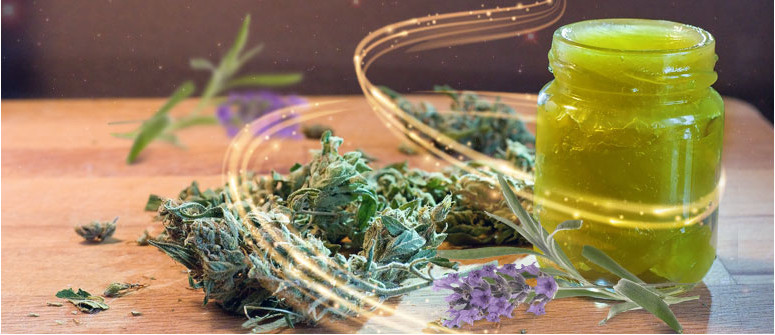 Making your own cannabis balm is relatively easy - actually, it's very easy. Learn how to make it never be without it again.
Cannabis does not have to be ingested to have medicinal effect, as numerous studies have shown for at least the last decade. Topical application of THC-containing salve has been shown to be effective in many cases.
While hemp oil-based creams and other topical treatments have been available on the market for years, it is still difficult to find ointments and salves, that actually contain cannabinoids and in particular, THC as active ingredients.
Thankfully, however, making cannabis balm is not so different or much more difficult than making cannabis butter. In fact, the process is much like it. All you have to do is substitute a rich, heavy oil like coconut oil for butter.
For more fluid end products, and for oral applications, some people like to use sunflower or olive oil – or a mix of all. Just remember, that temperature, particularly for olive oil, is an issue to consider.
INGREDIENTS
2 Cups/28 grams marijuana (pulverized)
2 Cups coconut oil
2 Ounces (approximately 46 grams) beeswax
1 Oven dish or baking sheet
1 Saucepan or double boiler
1 Jar
1 Cheese cloth
Fragrant oil of your choice (i.e. lavender oil)
DIRECTIONS
First, decarboxylate the marijuana. Place the shredded bud on a baking sheet for 15 minutes in an oven, that has been preheated to 120°C.
In the meantime place the coconut oil in the saucepan or double boiler over low heat and stir continuously.
After 15 minutes, remove the marijuana from the oven and fold it into the warming oil. Continue to stir the entire mixture for the next 20-25 minutes to allow the THC to leach into the oil.
After 25 minutes, remove the mixture from the heat and pour the infused oil through the cheesecloth filter into the jar. Make sure to squeeze the cheesecloth thoroughly, so that all excess oil is collected into the jar.
Now melt the beeswax in the double boiler. Once it is melted, add 5 parts coconut-infused oil to one part beeswax, mixing slowly and thoroughly.
Once you have combined all the coconut oil with the melted beeswax, remove the saucepan from the heat and add the fragrant oil of choice to the mixture. Pour back into the jar and let sit.
---