Royal Queen Seeds Nominated as Cannabis Seed Bank of the Year at The Emjays Awards
---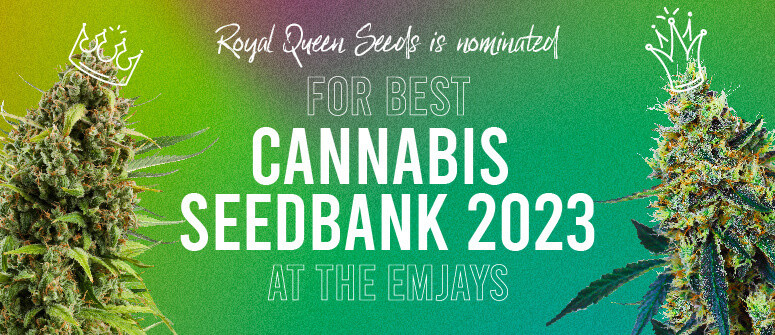 Published
Despite only being set up in the USA for under a year, Royal Queen Seeds has been nominated for Seed Bank of the Year at The Emjays—the USA's first black-tie cannabis awards event.
Barcelona, SP – [27/09/2023] – Royal Queen Seeds, a globally well-known leader in the cannabis seed industry, is thrilled to announce its nomination for Seed Bank of the Year at The Emjays—the world's first-ever black-tie cannabis industry awards ceremony—after only one year in the US market. This prestigious event is scheduled for November 30th inside the elegant Pearl Concert Theater in Las Vegas, Nevada, and will provide a unique platform for cannabis enthusiasts and industry professionals to recognise and celebrate businesses and individuals propelling the cannabis industry forward.
Royal Queen Seeds, known for its commitment to providing top-quality cannabis seeds, has earned this coveted nomination after establishing its presence in the United States: "We are deeply honoured to be nominated as Seed Bank of the Year at The Emjays Awards. This recognition reflects our unwavering commitment to delivering the finest cannabis seeds to our customers. We would like to express our heartfelt gratitude to our loyal customers for their trust and support—we truly couldn't have achieved this without you. We also encourage all cannabis enthusiasts to participate in The Emjays and cast their votes for their favourite brands in the industry. This event is groundbreaking, as it marks the first of its kind to acknowledge and celebrate the incredible achievements within the cannabis industry", says Shai Ramsaha, president of RQS.
The Emjays ceremony promises to be a night of glamour, innovation, and celebration featuring the most influential and pioneering figures in the cannabis sector. With categories ranging from Advocacy Group of the Year to Cannabis-Friendly Bank of the Year, The Emjays aims to recognise the remarkable contributions that have shaped the rapidly evolving cannabis landscape.
Voting for The Emjays is now open, and cannabis enthusiasts are encouraged to cast their votes for their favourite brands and individuals in the industry. To participate and support Royal Queen Seeds in their quest to become Seed Bank of the Year, please visit www.theemjays.com and click on "Vote" to contribute to RQS' chances of winning The Emjays Seed Bank of the Year award. Email registration is required to cast a vote. The final round of voting and judging for the awards will commence on August 15th and run through October 15, 2023, with the winners being announced at the ceremony on November 23rd in Las Vegas.
---