Royal Queen Seeds opens cannabis seed shop and lounge in Thailand
---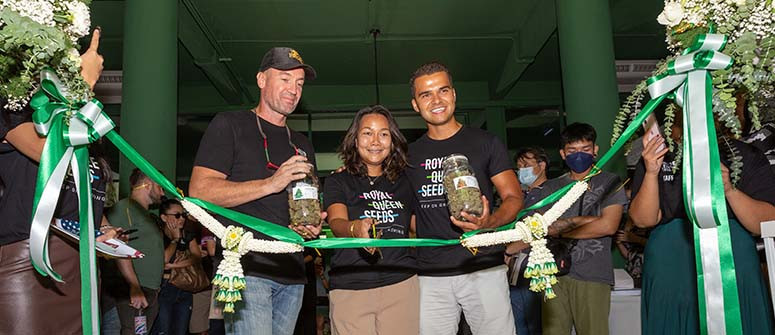 Last updated Published
After establishing themselves as one of Europe's biggest and best seed banks, Royal Queen Seeds has become the first company to set up a cannabis store and smoking lounge in Thailand. Located in Bangkok, this 5-floor building saw hundreds of excited customers during the grand opening on October 14th. Find out how things went and what's on offer.
Royal Queen Seeds broke new ground on October 14th by becoming the first cannabis seed bank to open in Thailand. Not only does the 5-floor store sell some of the best flowers in Bangkok and beyond, but it also has a legal smoking lounge where customers can sit back and blaze.
If you've ever visited Thailand, you'll have fond memories of soaring temperatures, fresh tropical fruits, ancient temples, and jaw-dropping views. If somebody offered you a joint of legal weed to puff in a luxurious smoking lounge, we're sure you wouldn't have turned it down! Now, that scenario is a real possibility.
On the day of the grand opening, Bangkok's Khlong Toei district bustled with excitement. Cannabis enthusiasts quickly made their way to Royal Queen Seeds' new Asian Headquarters. After stepping through the doors, customers caught glimpses of glass jars filled with manicured cannabis flowers, shelves packed with smoking accessories hitherto unavailable, and the attractive layout and colour scheme that makes the RQS brand stores in Amsterdam and Barcelona so popular.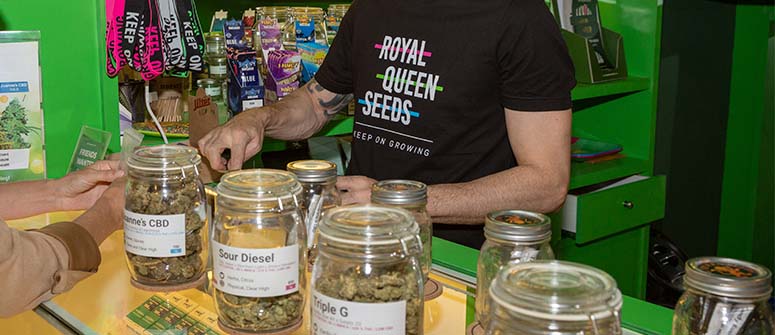 Behind the counter, expertly trained budtenders waited to dispense their knowledge on all things cannabinoids and terpenes. In between informing customers, they cracked open large stash jars filled to the brim with finely cured nugs. Not only did this moment mark a milestone for RQS, but it made history in Thailand following legislative changes surrounding cannabis.
Far from a grab-and-go dispensary, the RQS store offers an immersive customer experience. After acquiring top-shelf buds and trendy smoking supplies, visitors have the option to settle into a comfy seat in the smoking lounge. Here, terpenes permeate the air and trippy artwork adorns the walls. In between joints, smokers have the option to grab a cold beer, conquer the munchies with some snacks, or play a stoned game of pool.
Not every seed bank could have pulled off this monumental feat. With over 10 years of industry experience and contacts on the ground in Thailand, RQS knew it was all about timing. Their success in Europe, combined with their passion for breeding world-class cannabis genetics and designing innovative products, fuelled their rise. We do not doubt that their stellar seeds and industry-leading growing gear will quickly make them a go-to brand for smokers and growers in the new Amsterdam of Asia: Bangkok.
---