How to roll a joint: step-by-step guide
---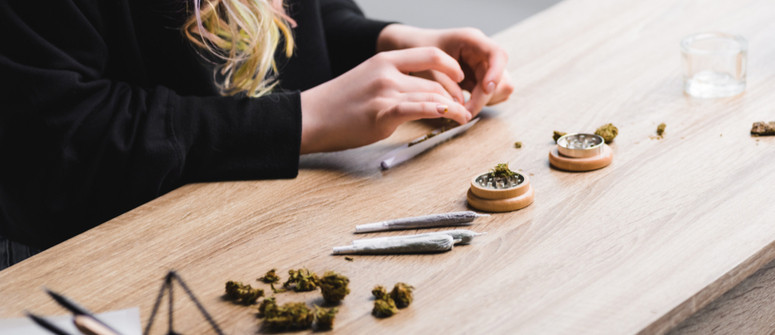 Being able to roll a joint puts you in a special class of stoner. When your friends want to smoke weed without fiddling with a bong, you can come to the rescue! Even when you don't have friends around, there's nothing wrong with rolling joints for yourself. We'll detail everything you need, and show you exactly how the perfect joint comes together.
Considering how beloved joints are amongst weed smokers, surprisingly few know how to roll one themselves. We've all been at those parties: Someone has weed, you pick up papers at the store, but nobody knows how to roll. It's like having everything you need for a meal without knowing the recipe; there's a lot of potential, but no way to realise it.
Your parties aren't far from saving, though, because rolling a joint is easier than you'd think. You don't need much to get it done, and it doesn't take much time once you know the steps. We'll break it all down in detail to make sure you get it right, quick. It may not be on your first try, but it won't be very long after.
WHAT DO YOU NEED TO ROLL A JOINT?
As you could guess, you don't need many tools to roll a joint. Your shopping list is as follows:
• Weed: While you'll need more bud than you'd use for a bowl, you shouldn't need more than half a gram of weed for a decent joint. You can use more (bigger joints are always fun), but don't feel pressured to go beyond your budget. Between 0.5–1 gram is common.
• Grinder: Once you've got your weed, you'll need to grind it up so you can actually smoke it. There are ways to grind weed without a herb grinder, of course, but we think they make the job a lot easier. Don't overwork it, though; one pass through the grinder will do the job.
• Rolling papers: You can't just use any old paper for a joint, but you can find paper for hand-rolled cigarettes at most convenience stores and gas stations. There are specially made papers for joints as well, often made of hemp, but don't worry if those options aren't available.
• Filter tips: Unlike a cigarette filter, a joint filter is a thicker, smaller piece of paper that's folded and rolled into a small cylinder. Also known as a crutch, it's meant to keep the joint together and stop weed from flying into your mouth when you inhale. Filters will come with some joint paper packages, but you can also make your own out of business cards or something similar.
WHICH PAPER SHOULD YOU USE TO ROLL A JOINT?
We touched on it briefly just now, but we want to dive deeper into what sort of rolling paper you should use for your joint.
Now, in most stores, the main options are designed for hand-rolling cigarettes. When rolled up, these papers are slightly shorter than a conventional cigarette, and the resulting joints are best for solo smoking. Appropriately enough, they're known as singles.
Some stores will also have 1¼ or 1½ varieties. As their names suggest, they're 1¼ and 1½ the width of singles, and are usually used for joints shared between 2–3 people. This extra width also allows rollers to form the iconic cone shape many associate with joints.
The largest joint papers you'll be able to roll yourself are known as king size and king slim varieties. The king size variety is best for those who want to roll up a full gram and share with more than three people. King slims can fit a similar amount, but they give you less paper to work with, which makes it slightly trickier.
As it goes with size, papers also vary by material. While most smokers will only encounter run-of-the-mill unbleached rolling papers, high-quality hemp paper, cellulose paper, and more can be used to alter the taste, burn, and overall rolling experience.
HOW TO MAKE A CRUTCH
If you're lucky, you'll get perfectly cut and measured filter tips in your pack of joint papers. If you're like most, though, you'll have to use a thicker piece of paper, or perhaps a business card, to make your crutch. Be careful, however, to not use any paper with ink on it, as it can become a hazard when hot smoke warms it up.
Once you've got everything in front of you, measure out a piece of thick paper that's around 5 x 1.3cm, roughly the width and length of a small nail clipper. Then, begin folding the 1.3cm end into itself in small increments, creating a lightning bolt pattern if you look from the side.
Once you get about four in, tightly roll these folds into themselves in the same direction you were making them. The end result should be a compact cylinder with the folds snug in the middle. As you'll see, it's designed to not only be a physical foundation for the joint, but a barrier that lets smoke pass through without small pieces of weed tagging along.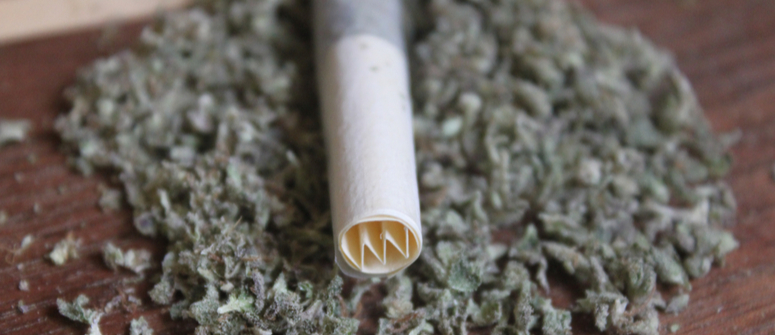 HOW TO ROLL A JOINT FREEHAND
With your crutch fully formed, it's time to start rolling your joint! As we said before, you may not get it right the first time, but you shouldn't feel discouraged. The hand and finger motions get easier with practice.
DIRECTIONS
With that being said, let's break down the exact steps that lead to a perfectly rolled joint.
GRIND YOUR WEED AND PREPARE YOUR CRUTCH
You've likely already done this if you've gotten this far in the guide, but make sure you grind your weed and make your crutch. Once that's done, you can grab one of your papers and officially begin the joint rolling process.
PLACE YOUR CRUTCH AT THE END OF YOUR JOINT
To begin the assembly, place the crutch at one end of the paper's folded seam, making sure the adhesive end is directly facing you. It doesn't necessarily matter which end of the seam you pick, but the crutch should be on the same side as your dominant hand.
Then, using your index finger and thumb, hold onto the crutch from the outside of the paper, ensuring the crutch is tight and snug within.
After that, roll your thumb down and towards you while your index finger rolls up and away, stopping when a sort of trough is formed by the paper and foundational crutch. That trough, as you might guess, is where you'll put the ground-up flower.
DROP WEED INTO THE OPEN PAPER
Begin dropping your weed into the trough with your other hand, lightly padding it out with your index finger to ensure it's tightly packed and doesn't spill over the edges. It should look like a fairly uniform cylinder when you're done finger-padding.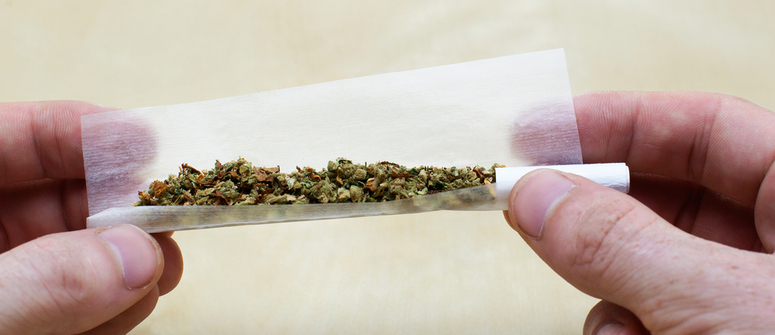 LICK THE PAPER AND PREPARE TO ROLL
Now, you may have felt like a joint-rolling prodigy up to this point, but this is where it gets tricky.
While still keeping your grip on the crutch, lick along the adhesive end using the very tip of your tongue. Don't get it too wet, as this will ruin the structural integrity and you'll be unable to roll. Don't hold back too much either, though, as the adhesive might not take effect at all. If you've ever licked an old-fashioned envelope to seal it, just picture the joint as a more fragile version of one of those.
Once that's done, your next task is to roll the short edge of the trough into the other end. This is a matter of tucking the paper into the other side, and involves not only your dominant thumb and index finger, but your middle finger as well, along with fingers on your other hand.
First, lightly wedge your middle finger under the crutch (outside the paper, in case that wasn't clear) so it can act as a foundation. Then, while your non-dominant thumb and index finger press down the other side of the trough's short edge, begin rolling your dominant thumb up and away while rolling your dominant index finger down and towards you. As you do this, ensure you're still keeping a tight grip on the crutch.
You may mess up this part a couple of times, but the ideal result should be the crutch end of the trough's short end fully tucked into the tall end, covering the weed as a result.
ROLL THE JOINT
Don't celebrate nailing that step for too long, as now it's time to actually roll the joint.
Once you ensure the crutch is tucked within the paper and held in place by your fingers, lightly tuck the rest of the trough's short end into the long end. Then, simply complete that earlier motion with your dominant thumb and index finger (thumb rolling up and away, index rolling down and towards).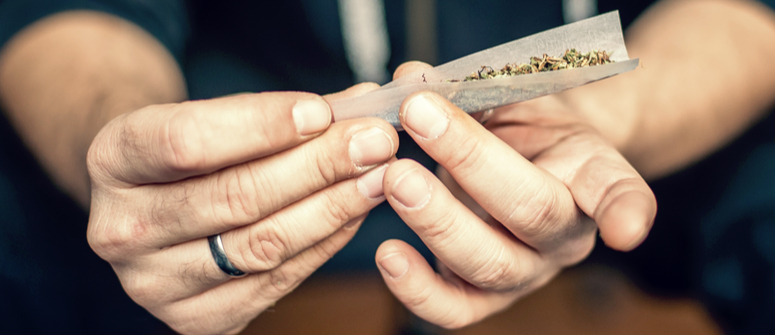 Once you've completed the slightly cone-shaped cylinder, use your non-dominant index finger to lightly tap down the licked adhesive end. This seals the joint's shape, so there's really no turning back after this point. You shouldn't want to, though, as completing this step means you've essentially rolled a joint!
If you find the adhesive isn't taking effect with your initial lick, don't worry too much! Many don't talk about this, but licking the adhesive from the other side of the paper can help it take effect as well! See, the paper is so thin that the moisture passes through and interacts with the adhesive. In turn, you can save some joints that many would consider to be defective.
PACK AND FILL
So the joint is rolled at this point, and the hardest part is over, but you're not done yet. Now, however, you simply have to pack in the weed you've rolled, and possibly put in more if the paper isn't full.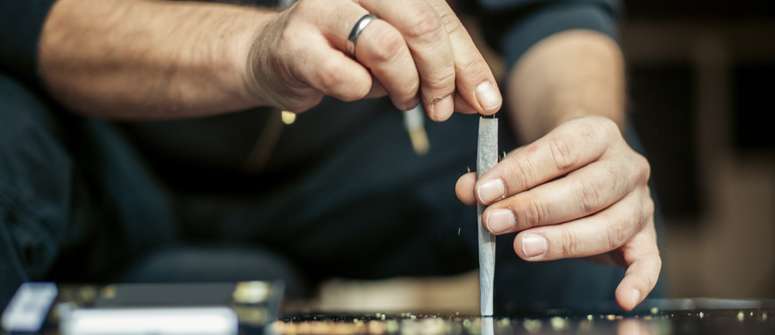 To pack in the weed that's in there, simply grab the open end, use your fingers to close it, and begin lightly shaking it while letting it hang from the tip. This will get your ground-up weed to settle closer to the bottom, ensuring there are no air spaces or loose sections throughout.
This packing method also doubles as a test for your crutch. If it can withstand the shaking, it'll be sure to stay in while you smoke and pass the joint around.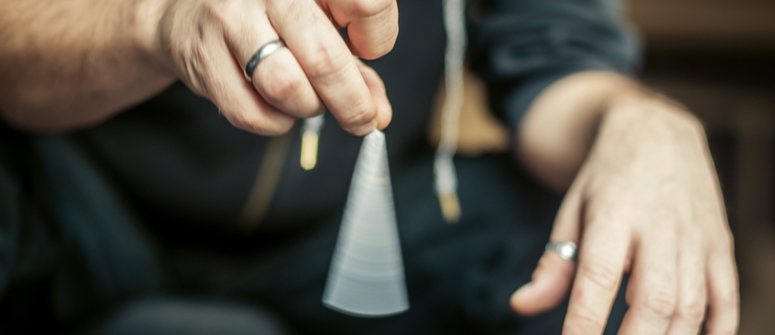 Once the weed is packed in, you can go ahead and add more until it's full, then repeat the packing process. Once your joint is packed and filled, go ahead and twist the open end shut. With that, you have a fully rolled and smokable joint!
HOW TO ROLL A JOINT WITH A ROLLING MACHINE
As fun as hand-rolling a joint can be, not everyone has the fine hand coordination required to get it done. If you fall into this camp, we don't judge you at all, and we still want to make sure you can roll your own joints! Thankfully, there are special, affordable devices out there to simplify the process: rolling machines.
DIRECTIONS
Rolling machines are small, convenient, and designed to help everyone enjoy a tightly rolled joint. They can be confusing without knowing the directions, though, so we want to walk you through machine-assisted rolling as well—step-by-step.
OPEN UP THE ROLLING MACHINE AND ADD YOUR CRUTCH
You'll need to check the specific instructions that come with your rolling machine, but the popular ones follow a general design mechanism. Specifically, you'll want to open the machine by shifting the rollers up and to their respective side. This should reveal a small trough.
With the machine open, go ahead and place your crutch into one end, just as you would with a hand-rolled joint.
FILL THE TROUGH WITH WEED
Once you have the crutch placed, your next step is to fill the trough with weed. Make sure it doesn't spill over the crutch, as it won't roll properly if that happens.
CLOSE THE MACHINE AND ROLL
Close the machine up via the same mechanism you used to open it, then begin rolling: Grab the machine with both thumbs and index fingers, and roll your thumbs downward while your index fingers roll up. This will compact the weed into a tight cylinder.
SLIP NON-ADHESIVE END OF JOINT PAPER IN THE CREVICE
Then, without opening up the machine, slip the non-adhesive end of the paper into the crevice. It should look like you've loaded a typewriter with paper (Google that if you don't know what it looks like).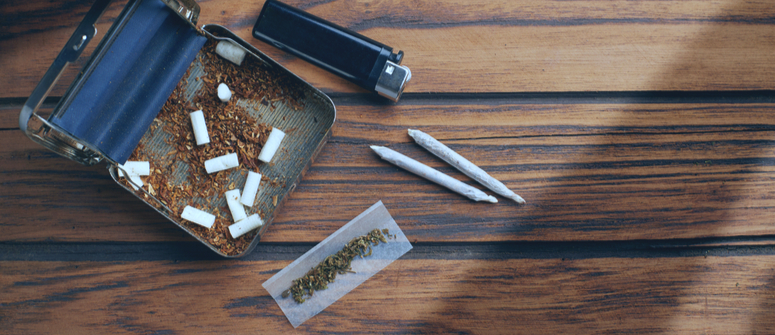 KEEP ROLLING, LICK, AND FINISH ROLLING
With that secured into place, continue the rolling motion you were doing earlier. Then, once the adhesive end gets close to the crevice, lightly lick along that entire edge. Once you've done that, do a few more full rolling motions to fully seal the joint.
OPEN THE ROLLER
After that, the only thing you have left to do is take the joint out! Open up the machine as you did before, and pull out the fruit of your labour. It may not be as big as some hand-rolled joints, but it's decent, it's smokable, and you rolled it!
TAKE JOINT ROLLING TO THE NEXT LEVEL
Now, we said it before, but we want to emphasise that no one rolls a perfect joint, or even a successful one, their first time around. It may take a few attempts, but we're confident you'll get it right before you know it.
Once you've got that mastered, you can try elevating your technique and replicating the more advanced joints you'll find people enjoying on YouTube. The good thing about joint rolling; there's always room to improve your craft!
---