Girl scout cookies: cannabis strain review
---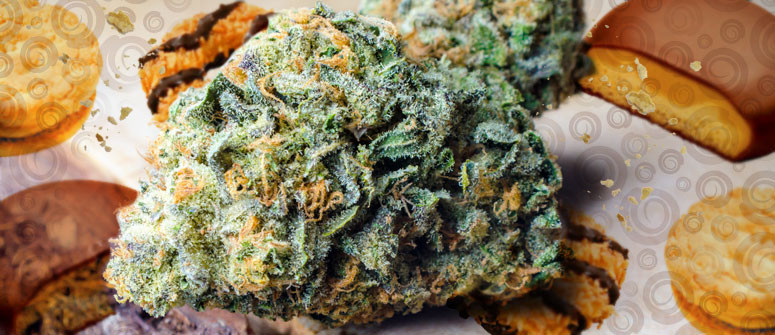 Girl Scout Cookies (GSC) is famous, and she deserves it! Few strains can compete with GSC in potency, and none equal her unique profile of effects.

While girl scouts selling cookies door-to-door may seem whimsical and adorable, there's nothing diminutive about this strain. Girl Scout Cookies (GSC) packs a serious, adult-sized punch. She'll leave you reeling, euphoric, and definitively wanting another toke.
Girl Scout Cookies' indica-dominant side will chill out and relax your body, while her sativa side will uplift and open your mind. This strain is a must-try for connoisseurs and a useful tool for medicinal users!
After much deliberation, we grant this award-winning strain a whopping five stars!
THE ORIGINS OF GIRL SCOUT COOKIES
Girl Scout Cookies was born on the West Coast. She descends from sativa hero Durban Poison and indicas OG Kush and Cherry Kush. She's 60% indica-dominant, but her sativa side adds a euphoric boost rarely seen in the indica-dominant world.
Girl Scout Cookies packs an unbelievable THC content up to 28%, crowning her the queen of potency. These numbers make GSC attractive both to consumers looking to test their limits and medicinal users seeking a powerful strain.
EUPHORIC, RELAXED, AND CEREBRAL
Girl Scout Cookies brings together the best of all worlds. Upon first toke, the Cookies flavor stands out: sweet, earthy, and a little spicy. Then comes the euphoria—a sharp blast that feels like the swelling of an emotional balloon, over which the rest of the experience plays out.
Girl Scout Cookies is a good strain for relaxing and letting one's thoughts wander. She chills out the body on a very deep level while opening a clear and soaring mental space. Consider vaping for a high that feels lighter on the body and emphasizes the cerebral aspects.
With Girl Scout Cookies, you may experience waves of introspection, silliness, and space-bending philosophizing alternating throughout your experience. Keep a notebook, paintbrush, or other creative implements handy in case inspiration strikes, but note: this girl is powerful, so don't count on being productive. While GSC loves the solo experience, she can also do well with friends—smoke GSC in a group for a goofy and creative hangout.
Acoording to some users, GSC's chill indica nature is great for soothing nausea, pain, stress, and lack of appetite. For those who want to help treat these conditions while maintaining the uplifting "sativa personality" of their bud, GSC might be a great choice. She's known for a long high, with her effects sometimes outlasting other strains by hours.
GROWING YOUR OWN GSC
Unlike her high, GSC's growth metrics tend to be middle of the road. She's not too hard to grow, nor is she overly simplistic. Moreover, she's not too tall or too short. GSC takes around 9 weeks to flower, average relative to other strains.
Girl Scout Cookies is mainly an indoor strain, though she can be grown outdoors in the Mediterranean and other temperate regions. She thrives within hydroponics, with relatively low fertilizer requirements. She's pest and mildew-resistant, making her all the more suited to hydro and soil to boot. When ripe, she's got purple sugar leaves, orange hairs, and a thick layer of frosty trichomes.
The plant reaches heights of less than one meter, with average yields of around 400g/m². Even if the yield seems low compared to other strains, fear not: her potency more than makes up for it!
Have you tried Girl Scout Cookies?
---