Get high with pumpkin pie
---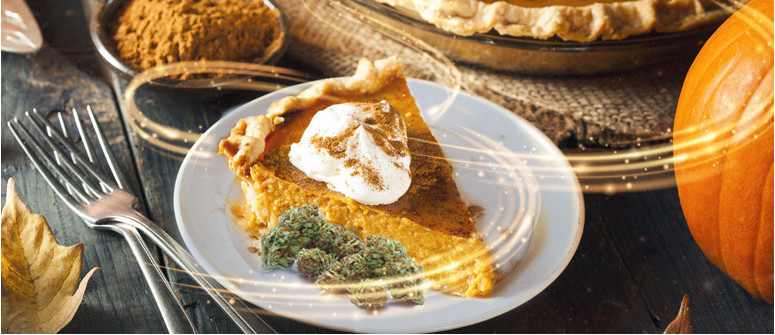 The holidays can be tough, especially with all the jingles, family get-togethers, etc. Luckily, we have a simple recipe to make a delicious weed-infused pumpkin pie to help get you through it all.
Looking for a tasty recipe to dish up this holiday season? Look no further! Here's a simple recipe for delicious cannabis-infused pumpkin pie. How else did you expect to put up with all the Christmas jingles and family get-togethers?
For this dish we used cannabutter, which is very easy to make. Depending on the strenght of your cannabutter and your tolerance, you could opt to switch up half the butter with normal salted butter.
INGREDIENTS
For a delicious pie crust, you'll need:
1 stick cannabutter (8 tbsp.) 
1 tbsp. vegetable oil
1 tbsp. granulated sugar
1 pinch salt (roughly ¼ tsp.)
1⅓ cups (roughly 170g) all-purpose flour. Note: Keep some extra flour on hand, as you may find you need a little extra to give your crust the right texture.
For a smooth, sweet pumpkin pie filling, you'll need:
1 can (425g) pumpkin purée
1 can (400g) sweetened condensed milk
2 eggs
1 tsp. cinnamon
½ tsp. nutmeg
½ tsp. salt
⅛ tsp. ground cloves
Cream, for whipping and serving
HARDWARE
2 large mixing bowls (one for the filling and another for the crust)
Whisk (to mix the filling)
Spatula (to fold the crust)
Pie dish (roughly 9.5 inches/24cm)
Plastic wrap (to cover and rest pie crust)
INSTRUCTIONS
Preparing the crust:
Melt and cool your cannabutter. Do this slowly (preferably in a water bath) and make sure not to boil and burn your butter.
Combine butter, oil, sugar, and salt in a big bowl using a spatula.
Fold in your flour until you get a soft, smooth dough. Remember that you may need a bit extra flour to get the right consistency.
Put your dough into a pie dish. Push the crust into the base and up along the sides of the dish to create an even crust. You can do this using your hands or the bottom of a glass or cup, just remember to use some extra flour to keep the dough from sticking.
Cover the pie dish with plastic wrap and refrigerate for at least 45 minutes.
Filling and baking the pie:
Preheat your oven to 350°F (180°C). Set up a baking rack in the lower third of the oven and line it with a single piece of baking paper.
In a large bowl, combine the pumpkin purée, condensed milk, eggs, salt, and spices. Whisk together until everything is well-combined. Make sure to taste your filling and add any extra spices to your taste.
Evenly pour the ingredients into your cooled pie crust and bake for roughly 50 minutes. Make sure to check on your pie regularly. You'll know it's ready when the top starts to brown and the filling sets but is still slightly jiggly. Once done, let the pie cool completely on a cooling rack.
Whip the cream, either with or without sugar (depending on your taste). Top each slice of pie with a nice dollop of cream and enjoy!
There it is; a simple, delicious recipe to make cannabis-infused pumpkin pie this holiday season. Always remember that the potency of your pie will vary depending on the strength of your cannabutter.
As always, stick to small portions and wait at least 30–60 mins before serving yourself another slice. Happy holidays!
---