How to make weed oreo cookies
---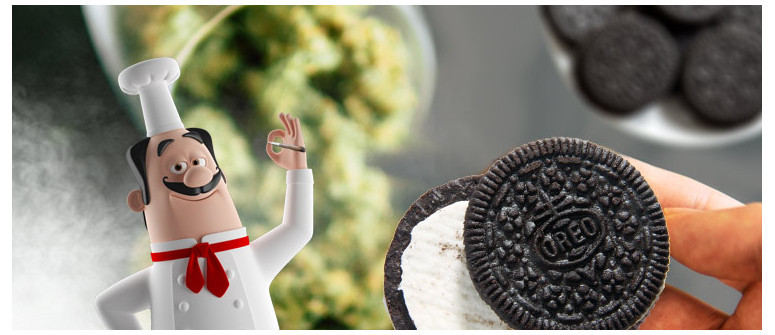 Cannabis enthusiasts understand the sheer power of Oreos. Enter this guide, and we'll show you how to make a delicious cannabis Oreo treat.
It's a universally established fact that there's a strong bond between cannabis aficionados and Oreos. This super delicious cookie treat has provided munchie-driven cannabis consumers with tasty memories for eons. We decided to step it up a notch by providing you with a recipe merging Oreos and cannabis.
Here's an easy recipe, since your attention span may be playing tricks on you. The concept here is simple—covering Oreos with cannabis-infused white chocolate.
INGREDIENTS & HARDWARE
100g white chocolate
5–10g cannabutter
300g (24) Oreos
Big pot
Metal bowl (must fit partially inside the big pot with several inches of space between the bottom of the pot and bowl)
DIRECTIONS
Simmer an adequate amount of water in the big pot—enough so that the water doesn't quite touch the bottom of the bowl.
Place the white chocolate and your desired dose of cannabutter into the metal bowl.
Place the bowl on top of the big pot containing simmering water. The heat from the water allows the white chocolate and cannabutter to melt, while preventing the cannabutter from being exposed to extremely high temperatures that may degrade the desired cannabinoids.
Wait until the white chocolate and cannabutter begin to melt, then begin to stir in order to infuse the cannabutter into the chocolate as consistently as possible.
Take the metal bowl off the heat, and start dipping your Oreos into the mix. Place the dipped Oreos on a plate, and put it in the fridge so the white chocolate solidifies.
Take out the Blissful Cannabis Oreos whenever you wish, get that delicious snack, and embrace a delicious high.
After taking a bite of this delicacy, you'll taste sensational flavors and experience a nice high. Just be careful; when those munchies hit, you may want to eat more of those Oreos, which might elevate you to dysfunctional levels. Enjoy!
---