Legal status of marijuana in the state of louisiana
---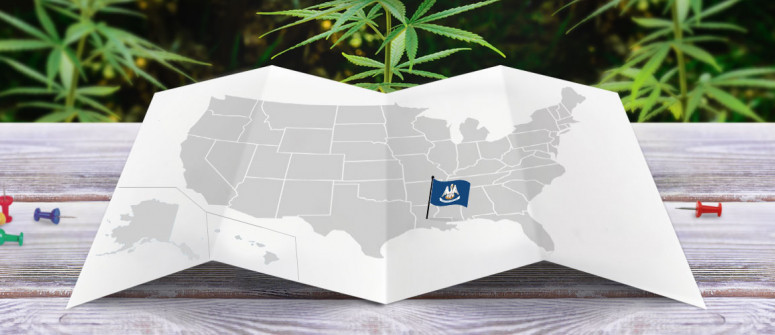 Find out about the legal status of medical and recreational marijuana in the state of Louisiana. Is marijuana illegal? Better safe than sorry!
LEGAL STATUS OF MEDICAL MARIJUANA IN LOUISIANA
The state of Louisiana has a very modest medical marijuana program that only allows CBD, as long as it is in non-smokable form and with the lowest THC percentage possible. Patients can only get their medicine directly from a licensed physician.
The production, sale, and possession of any other form of medicinal marijuana products are illegal in Louisiana.
The qualifying conditions to become a medical marijuana patient in Louisiana include:
Cachexia/wasting syndrome
Cancer
Crohn's disease
Epilepsy
HIV/AIDS
Multiple sclerosis
Muscular dystrophy,
Seizure disorders/spasticity
LEGAL STATUS OF RECREATIONAL MARIJUANA IN LOUISIANA
The cultivation, sale, and possession of cannabis for recreational purposes are illegal in Louisiana.
WHAT COULD HAPPEN IF YOU WERE TO GET CAUGHT BY THE POLICE WITH CANNABIS ON YOUR PERSON?
Getting caught with any amount of cannabis up to 60 lbs is considered a misdemeanor and penalties start with 6 months in jail and/or a fine of up to $500 for first-time offenders.
Getting caught a second time might land you in jail for up to 5 years and on top of that get you a fine of up to $2,500.
ARE THERE ANY POSSIBLE CHANGES REGARDING CANNABIS LAW AND LEGISLATION SLATED FOR THE NEAR FUTURE?
In 2016, Gov. John Bel Edwards signed a bill that will allow medical marijuana patients access to medical grade pot with the lowest acceptable levels of THC. So far, the state has not processed the bill yet which is set to allow up to 10 dispensaries in the state.
SUPPORT THE LOCAL LEGALIZATION GROUP(S) IN LOUISIANA
Unfortunately, we do not know of any cannabis legalization groups in Louisiana.
---