Sativa dominant Bd is getting harder to find. 7 leaf sets of sweet/sour blueberry/pine that bear heavy yields of stimulating, happy, cerebral sticky bud. IMHO the Bd strain has become more of a 50/50 with broad 3 and 5 leaf sets. Both are wonderful and fairly easy to grow. However, IMHO I believe that long 7 leaf sets are true to the strain.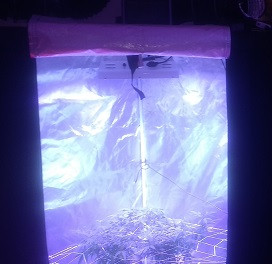 This was an indoor grow using LEDs. The light cycle was during daylight hours using the ambient temperature of the room @ 65 - 70 degrees (the standard home heating method is gas) while venting the enclosures directly back into the room. I can have 3 systems running like this during fall, winter, and early spring with an internal temp of 72 to 79 degrees. Gotta love cool LEDs. Viparspectra 450 dimmable is awesome! All my enclosures have 2' 25-watt fluorescent "fills" running vertically on either side of the plant to light the lower part of the canopy. 1 or 2 3" fans move air across the top of the canopy. Not whipping, but fluttering the leaves. For ventilation, I use inline duct fans that are designed for server rooms and home theaters. They are super quiet and have mountable LED control panels and sensors that adjust the fan speed based on the temperature of the probe. Not much more than $ others that suck. I use DWC with "silent" air pumps and a water pump on a top feed system that feeds between 4 to 6 times a day. If the air goes the plant can hang on for a day or two with the top feed. It also encourages outward root growth. White thick rectangular reservoirs with no light penetration (algae). Black gets hot under lights and water above 70 degrees can start to cause problems.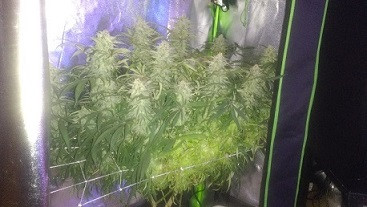 Technoflora @ full strength. Diluted to 50% - 90% PH between 5.7 and 6.2 try for 5.9 average. 80% Reverse osmosis water and 20% tap for hydro. 100% Reverse O water for soilless. Hydro 200 - 400 developing, 600 - 800 veg, 800 - 1200 Flowering Soilless (70 - 30 coco - perlite) 300 developing, 600 -900 veg 1000 - 1400 flowering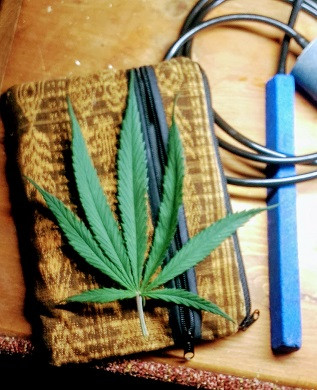 7 leaf Bd example. week 5.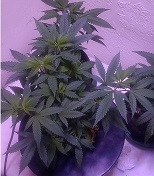 3 to 5 broadleaf sets Bd strain example.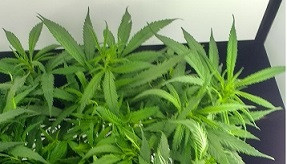 Long thin 7 leaf sets.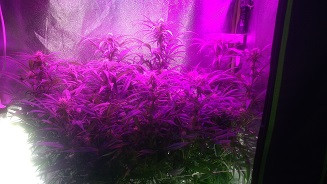 Stretching is a good thing.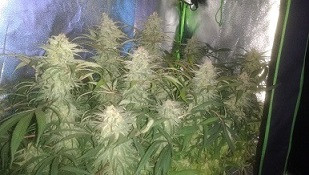 True Blue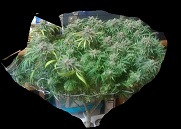 Stage two harvest is 7 days after the harvesting the colas. Push sugar conversion nutrients 2 days and flush/ripen for 5 days. It's ready! Yield: From 36x20x60 and 2.5 gal. rez 10, 8" colas - Dry weight 2.3 oz 21 3" - 5" buds - Dry weight 2.8 0z 2" - 1" Popcorn - Dry weight 1.1 0z Tip Trimmed Sugar Shake Dry weight 0.8 oz