How to make a bubbler
---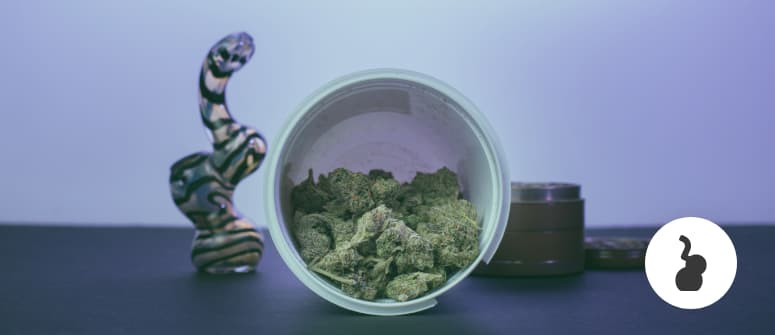 So you've heard about bubblers and you would like to try one. If you don't feel like forking out for a new piece of glassware, in this article we'll show you how to make your own using basic household items.
A bubbler is a must-have accessory for any smoker who loves filtering their cannabis with water. And while the prices for solid glass bubblers are pretty reasonable, you don't necessarily have to fork out your hard-earned cash to enjoy the benefits of owning a bubbler. In this article, we'll walk you through two different ways to make a bubbler at home using materials already laying around the house.
What are bubblers and how do they work?
Bubblers are essentially a halfway point between bongs and pipes. Designed to be used on the go to smoke and vaporize your favourite flower and concentrates, bubblers tend to come in compact sizes and as a one-piece design. Bongs or dab rigs, instead, can be made of several separable pieces. As opposed to regular glass pipes or one-hitters, bubblers feature a water chamber that percolates and filters smoke/vapor to provide smoother, more flavorful hits.
How to make a weed bubbler: 2 ways
If you're strapped for cash or can't get a hold of a store-bought bubbler for some other reason, don't fret. Below, we'll outline two simple ways to make a bubbler at home with only a few basic tools.
How to make a bubbler with a plastic bottle
Arguably one of the simplest ways to make your own bubbler is using a pre-made plastic water bottle. The bottom of the bottle will hold the water that'll percolate your smoke, and the top of the bottle—the screw neck—will serve as the mouthpiece from which you'll inhale. Below, there's a list of materials and instructions on how to make your bubbler.
Equipment
A plastic drinking bottle
15–20cm of plastic garden hose
A utility knife or pair of sharp scissors
Aluminium foil
A toothpick
Duct tape
Directions
To start, take your plastic water bottle and use a utility knife to cut a small hole along one of its sides. This hole will hold the piece of garden hose, which will serve as the stem that'll connect the bowl of your bubbler to the bottle. Try to make the hole just the right size to fit snuggly around the garden hose. This will minimize air leakage.
Push your hose through the hole you've just made. Use duct tape, or a similar adhesive, to close any small gaps around the hose and help keep your bubbler as airtight as possible.
To make your bowl, use kitchen foil (aluminium foil) to cover the tip of your hose. For better results, try using multiple layers of foil, then punch little holes to allow air to flow from the bowl down into the chamber. Try to keep these holes fairly small so they can act as a screen, stopping whatever you're smoking from falling into the water chamber.
(Optional) If you like, you can use your utility knife to cut another small hole on the other side of your water bottle to create a carb. This hole shouldn't be bigger than a few millimetres in diameter and should be easy to reach as you light your bowl and inhale.
How to make a bubbler with a pill bottle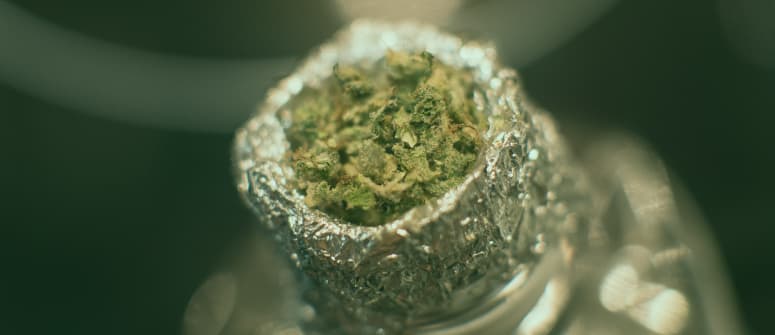 Another popular way to make a homemade bubbler is using a pill bottle or cough syrup bottle. The process is fairly similar to the process we've outlined above, but a few minor changes make the final result very different.
Equipment
An empty pill/cough syrup bottle
Duct tape
2 metal straws
A pipe screen
A metal coupler
A utility knife or scissors
A hack saw
Directions
Use your utility knife or scissor to cut a hole into the lid of the pill bottle. This hole needs to be wide enough to be able to fit one of your straws, which will serve as the stem of your bubbler. Remember to keep the hole as tight as possible to minimise air leakage.
Use a hacksaw to cut the first of your metal straws to size. The straw should stick out roughly 3cm above the lid of your jar and roughly 3/4 down into it.
Attach the metal coupler to one end of the straw to create a bowl. Use duct tape to ensure the coupler sits firmly in the straw and to keep the fit airtight. Now insert a metal pipe screen into the coupler.
Insert the metal straw through the hole in the jar's lid, and screw the lid onto the jar. Use duct tape to seal any areas around where the jar lid and straw meet.
Use your utility knife or scissors to cut a second hole into the side of your pill jar, roughly 3cm below the lid. This is where you'll insert the second metal straw, which will serve as the mouthpiece of your homemade bubbler.
Cut your second metal straw to size. 7–10cm should be a good length for your mouthpiece, but feel free to use whatever size you prefer.
Feed the straw through the hole in the side of your pill jar, and seal the edge with duct tape to avoid any air leakage.
(Optional) Use a utility knife or scissors to make a small carb hole on the side of the pill jar. Make sure the carb is easy for you to reach while you light up.
How to use your homemade bubbler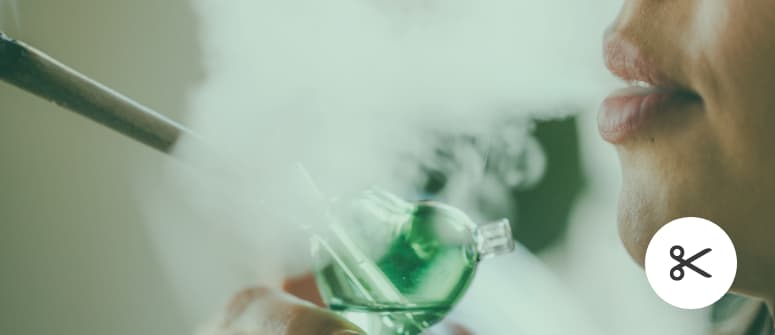 Using your homemade bubbler is a very simple task. Below, you'll find a walkthrough of how to use both homemade bubblers that we've just described.
Fill your chamber with water. If you made your bubbler using a plastic drinking bottle, simply fill it through the bottle's mouthpiece. If you used a pill bottle, on the other hand, you can either unscrew the lid of the bottle and fill it that way, or fill it through the carb hole (if you chose to make one).
Load your bowl. To do so, grind some cannabis to medium consistency and pack it into your bowl. Remember that you want your bowl well packed but not crammed full, as you won't be able to pull enough air through it to create a nice cherry and enjoy big hits.
Plug the carb hole, put your mouth on your bubbler's mouthpiece, and light up. Try to keep the lighter a few millimetres away from your bud to avoid torching it completely.
Gently suck air into the chamber and inhale. Unplug the carb when you stop inhaling and plug it again when you choose to inhale again. Once you have filled the chamber with smoke, you can also try repeatedly plugging and unplugging the carb to keep your bowl lit.
Get creative: make a homemade bubbler today!
Bubblers are fun, portable, and allow you to enjoy the smooth, cool hits of a bong without having to pack a big, fragile piece of glassware wherever you go. And while your bubblers are available all over the internet and from brick-and-mortar smoke stores, it's always fun, and inexpensive, to practice some DIY!
---